The Pan Ohio Hope Ride (POHR) is a noncompetitive one–, two–, or four-day cycling event that supports the American Cancer Society. Either as an individual or part of a team, participants can ride up to 328 miles from Cleveland to Cincinnati. Riders of all levels (age 18 and older) are encouraged to join. There are flexible participation levels such as "Create Your Own 328," where participants can complete the miles at their convenience. The "Pan Ohio Hope Ride Supporter" option allows enthusiasts to help raise funds for the mission, wherever they might be. Since its inception in 2007, this unique statewide event has raised nearly $11 million for the fight against cancer!
While the 2022 event is over, it's not too early to start planning for next year. Here are ways to participate:
Four-Day Rider: Experience all four days of the POHR, Thursday, July 20 to Sunday, July 23, 2023. Registration is $195 through December 31, 2022 and $225 from January 1, 2023 until the event. There is a fundraising minimum of $1,328 to participate.
Two-Day Rider: Any two days of the event. Registration is $100; fundraising minimum is $750.
One-Day Rider: Any single day of the event. Registration is $50; fundraising minimum is $500.
Create Your Own 328: This option allows the flexibility to structure rides when and how you prefer. You can ride 328 miles over the traditional four-day period or ride a little bit every day of the month—whatever works for you. Registration is $35. While there is no fundraising minimum, the suggested goal is $328. All Create Your Own 328 participants receive a custom bib and finisher medal, are eligible for all fundraising incentives, and are welcome to join participants for celebrations and other events.
Pan Ohio Hope Ride Supporter: Sign up as a volunteer supporter if you are interested in having a personal fundraising dashboard and other perks. Registration is free.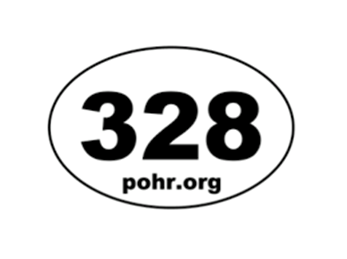 https://www.facebook.com/PanOhio/
Now that you know what this event is, you might be asking, "What does it have to do with ham radio?" The answer: POHR is a real-world example of how EMCOMM and AUXCOMM are wonderful tools (see previous OnAllBands article: "EMCOMM: What is AUXCOMM and Why is it Important?").
All great events need communications, and this event is no exception. Mat Nickoson, KC8NZJ, is the co-lead of Support and Gear (SAG) vehicle support for POHR. Mat and his non-profit Event Support Group specialize in coordinating communications support, SAG vehicle support, and emergency communications during incidents and disasters. This is a great group out of the Cleveland area, and I encourage anyone who needs support or is interested in working special events with a great group of people to look them up. Find them here.
Several years ago, I was privileged to get involved with POHR when the Event Support Group inquired about the use of the Dayton Amateur Radio Association (DARA) EMCOMM vehicle. Nicknamed the Big Amateur Truck (BAT), the vehicle is uniquely qualified to be used as a mobile net control station for events such as this. It has four operator positions and plenty of extra room for equipment and people. It is able to follow the entire length of the course but can stay at home in Dayton while conducting the net on the last day of the ride from Dayton to Cincinnati.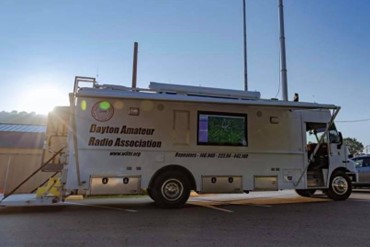 This year's POHR took place July 21to 24. I participated on the SAG team as net control. We actually use commercial radios–Ohio's MARCS (Multi-Agency Radio Communication System). Tactical calls are implemented for identification, including the two medic trucks. As the riders can start at many different times, days for those providing communications support can be very long but a lot of fun!
This year—for the first time— we encountered a major situation on the third day of the ride. A huge, tornado-producing storm rolled into the area.
We had several SKYWARN-trained people and a couple of National Weather Service (NWS) folks even closer. However, the group from Cleveland wasn't familiar with the area and what announcements were happening. They asked me to make a map of the counties and overlay the day's course. No artistic abilities here, but I was able to deliver the basics to provide a better understanding of where our participants were located.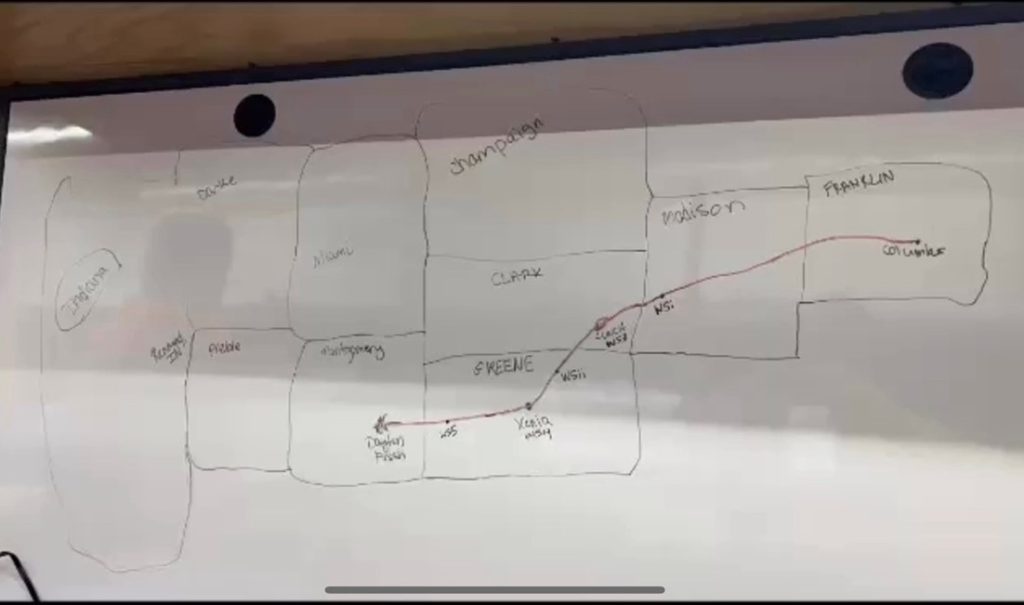 The ride got stopped and people were told to shelter the best they could. The ones at the rest stops were advised to stay put. Some riders were invited into garages of kind homeowners along the course. A few riders had made it to a more distant rest stop where race volunteers hadn't arrived yet. It just so happened that the rest stop was in the city where I live—in the county where I am the Emergency Coordinator. When I learned that the rest stop was unmanned, I called in a ham reinforcement. He was able to be there in minutes and communicated with us in net control on our backup ham radio frequencies. He was able to relay to the riders that they should shelter in place until the storm passed.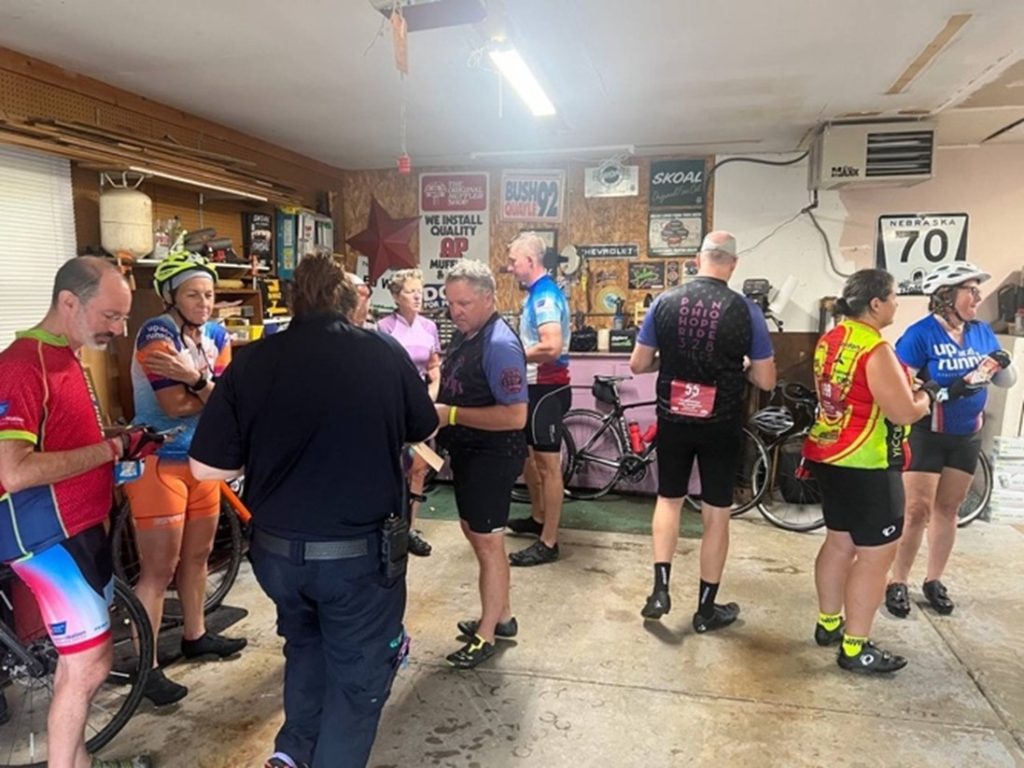 Riders in the garage of a kind homeowner along the course.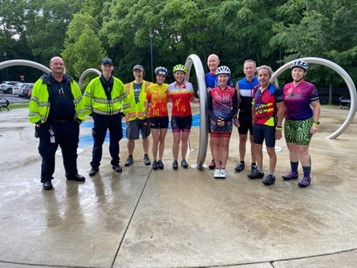 Riders with an emergency ham and one of the medic teams that arrived later.
The storm eventually passed, and the riders continued on their way. Everyone was safe and accounted for through a flurry of net control calls.
The SAG team received a standing ovation at the awards dinner that evening. Another first, at least for me personally. It filled me with pride being a part of this wonderful team providing such a necessary service. We are hams and we are prepared.
Questions? Share them in the comments below or email me at KE8FMJ@gmail.com.