On June 17, children from around the globe will come together for a little ham-motivated fun during ARRL Kids Day 2023. The biannual event (also held in January) provides youngsters the opportunity to go on the air with Elmer-led assistance, hear tales of tricky contacts made, and, hopefully, join the amateur operator ranks by obtaining an amateur radio license of their own.
As some may know, there's no age requirement to earn operator credentials, and the youngest we've heard about to date, Veronica Harrington, KC6TQR, earned her Technician's class license at the age of five in 1991.
Kids Day runs from 1800 UTC through 2359 UTC. Suggested bands are 80 through 10 meters. ARRL recommends using the following exchange: Name, age, location, and favorite color.
The fun-filled experience is ideal for your own kids, grandkids, Scouts, schools, or any STEM-minded group. It's a great introduction to a hobby that, though this may sound biased, we consider to be the best! But hey, we won't just say that. We're willing to get down to the nitty-gritty specifics of just a few of the benefits amateur radio can offer kids. So, hang onto your handhelds, here we go!
Building something together: Kids like to create, and with ham radio, building anything from a sky-high antenna to one that can be carried in your hand is all in a hard day's work. One popular DIY project is making a three-element, two-meter tape measure Yagi (below) that can be used in fox hunts as mentioned in this OnAllBands article.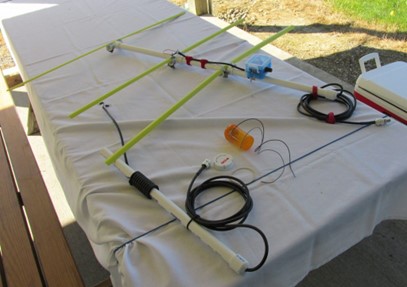 Check out more complex building projects like the DX Engineering NOISELOOP Portable Receive Flag Antenna Kit,which could make a good adult-guided antenna build project for kids to observe or help out when appropriate. The kit contains everything you need to build the receive-only portable directional HF loop antenna that's only 48 by 24 inches with a 36-inch mast-handle. Only simple hand tools and a soldering iron are required for assembly. Typical build time is one to two hours.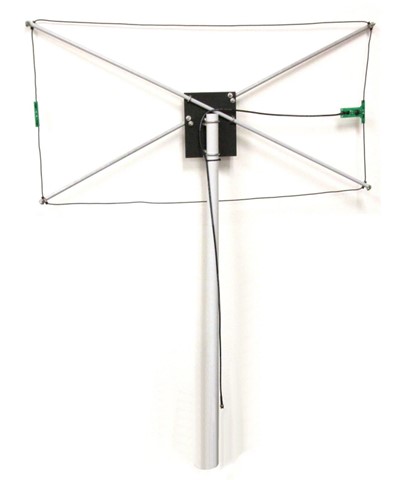 Helping out: When talking to kids about amateur radio, explain that there are lots of ways for hams to make a difference in their communities. Organizations like ARES, Skywarn, RACES, and many more are wholly dedicated to protecting and serving communities during natural disasters or crises situations. Plus, young people can lend a hand at community events like marathons and parades. Read more in this article, "Public Service: Why Ham Radio Operators Help Out in Their Communities."
Global connectedness: Making contacts at any age is always loads of fun. But it's even better when you can survey your conquests! Why not buy or print out a world map to allow kids to track contacts made with pushpins? They'll gain a better understanding of global geography and the vastness of the global network that is the amateur radio operating community.
Hanging with astronauts: What kid doesn't want to talk with an astronaut? And with amateur radio's ARISS (Amateur Radio on the International Space Station) program or a ham-savvy adult mentor, kids can!The program's goal is to foster enthusiasm for STEM-based careers in science, technology, engineering, or math using amateur radio. But don't take our word that kids love participating. Watch thisclip of the kids at Estes Park Elementary in Colorado to see just how much fun there is to be had chewing the rag through the ARISS program with ham astronaut Shannon Walker, KD5DXB.
Field Day, Fox Hunts, and Contesting, oh my! The fun never stops in amateur radio with lots of cool events for kids and adults to attend:
Field Day is an annual in-person event that allows newbies and Elmers alike to participate by trying to contact as many stations as possible on the 160-, 80-, 40-, 20-, 15- and 10-meter HF bands plus all bands 50 MHz and above. Come rain or shine, it can be a great opportunity for new operators or those interested in becoming one to operate in less-than-optimal conditions with lots of teachable moments from those in the know. Read here about introducing young people through setting up a Field Day GOTA (Get On The Air) station.
The aim of the Fox Hunt is to find a series of low-powered, hidden transmitters operating on 2 or 80 meters before rushing to cross the finish line like a fox on the run. Competitions can take a whole host of forms including by foot, vehicle, or even, in the case of a fixed-transmitter hunt, from the cozy confines of your own shack. Depending on how yours operates, participants can use anything from a directional antenna, compass, or map to plain old physical prowess, downright determination, and intellectual acuity to emerge victorious.
Contesting is always a favorite among hams. Tell kids about the thrill of competing with other amateur operators to make as many two-way contacts as possible with DXCC entities, states, counties, ARRL sections, grid squares, etc. Kids will build technical skills, become more proficient operators, and learn accurate traffic handling. Basically, everything you need to become an operating pro!