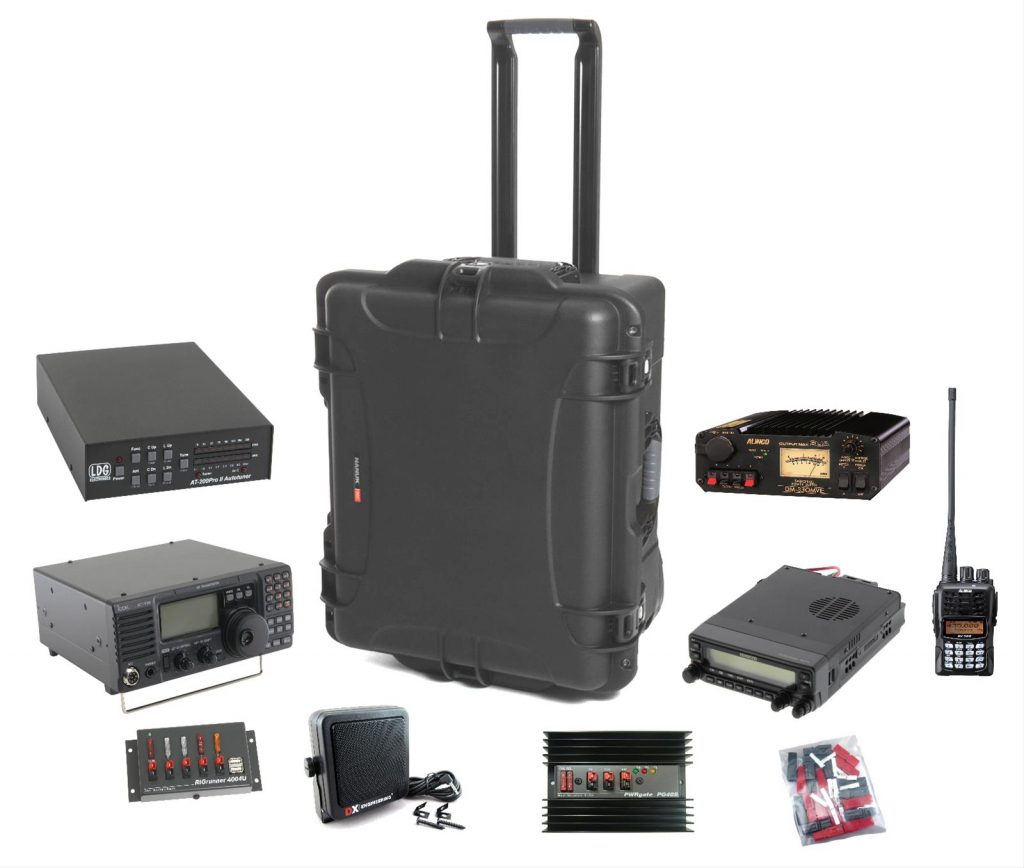 As ARRL Field Day 2019 nears (June 22-23), many in the Ham Radio community are preparing for the serious business of honing their emergency communications skills. Field Day gives Amateur Radio operators the chance to work under adverse conditions and for an extended time, testing their acumen and stamina, while preparing them to serve if a true crisis hits. Part of the challenge of emergency communications deployment is setting up temporary stations quickly, when seconds matter and lives are at stake. Go-Kits provide a "grab-and-go" solution. They're perfect to take to Field Day or use whenever emergency Amateur Radio services are needed, such as after severe weather and power outages.
DX Engineering offers two HF Plus Field Day Go-Kit Combos and one Two Meter Field Day Go-Kit combo that can help outfit your EMCOMM station and make sure you're ready for the next disaster or RACES/ARES® event.
DX Engineering's HF Plus Go-Kits come with a compact HF transceiver, 200 watt automatic antenna tuner, 50 watt dual band transceiver, communications speaker, dual band handheld transceiver, speaker mic, 30 amp power supply, 4-outlet DC panel, a combined battery backup switch unit and 40A smart charger (for transceiver power, battery not included), a sturdy wheeled carrying case and pocket repeater directory. Click for details on the two available kits: DXE-GOKIT-2 HF Plus Field Day Go-Kit and DXE-GOKIT-3 HF Plus Yaesu Field Day Go-Kit.
DX Engineering's 2 Meter Go-Kit includes an 85 watt 2 meter mobile rig, 2 meter handheld transceiver, HT earhook headset, an external communications speaker, 4-outlet DC panel, an aluminum body LED flood/flashlight and carrying case: DXE-GOKIT-1 Two Meter Field Day Go-Kit.
What else will you need in your Emergency Go-Kit?
While DX Engineering Go-Kit combos provide the basics of what you'll need to operate, experienced EMCOMMers know their Go-Kits should be equipped with a variety of other essentials depending on where they will be operating and how long they'll be on the air. Check out this ARES® Field Deployment Checklist. You'll find many additional items for HF or UHF/VHF operation—including antennas and supports, coaxial cables, tool kits for preparing and installing coaxial cables, SWR meters and generators—at DXEngineering.com.