For Hams who have just become licensed or new contesters who may be intimidated by the skill of more seasoned operators, ARRL's six-hour-long Rookie Roundups (held in April/SSB, August/RTTY and December/CW) are a great way to get your feet wet in the world of competitive radiosport before jumping into the fray of more chaotic competitions. If this sounds like fun and you've been practicing your Morse code (even though it wasn't required for the test—good for you!), start preparing for the next ARRL Rookie Roundup, CW, December 22, Sunday 1800 to 2359 UTC.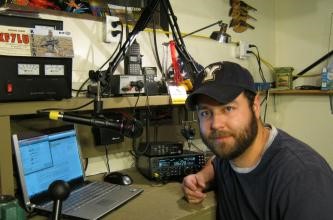 From the ARRL's Rookie Roundup web page:

"Mission: To encourage newly-licensed operators ("Rookies") in North America (including territories and possessions) to operate on the HF bands and experience competitive Amateur Radio operating. Experienced operators ("Non-Rookies") are strongly encouraged to participate and help new operators – either on the air or in person. Objective: Rookies exchange information with as many other stations as possible on the 80, 40, 20, 15, and 10 meter HF bands. Rookie entrants are encouraged to read "HF Contesting—Good Practices, Interpretations and Suggestions."
Interested in the Rookie Roundup or other contests for newbies? Check the official rules to see if you qualify as a rookie. Then read this OnAllBands article from blogger Sean, KX9X, on contesting tips for Technicians. Need to equip your station? You'll find everything CW at DX Engineering.