One of DX Engineering's most popular and versatile products, the DXE-UE-2P Utility Enclosure Kit is used by hams around the world in a wide range of configurations for the outdoor mounting of lightning protectors and other equipment.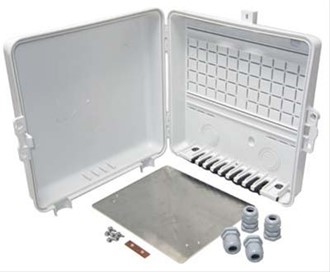 Its weather-resistant design protects the inside components against rain and directed water spray. The thermoplastic housing and wire entrance materials used in the enclosure are fire retardant, UV stabilized, and resist degradation from environmental contaminants, chemical fertilizers, and insecticide sprays. The housing can be painted with latex or oil base paints. As one five-star reviewer noted, "Just does what is needed. Easy to install, work with, and use. Will take paint to match the house as well. Wife likes it because it's not too intrusive."
Before we get to the video below showing a complex and well-organized installation using the enclosure, here are a few examples from DX Engineering customers of how they use it around their shacks:
For neat and clean cable entry into a home:
For a satellite antenna implementation as a wiring junction box and as a weatherproof housing for preamps and duplexer: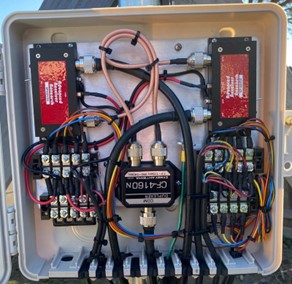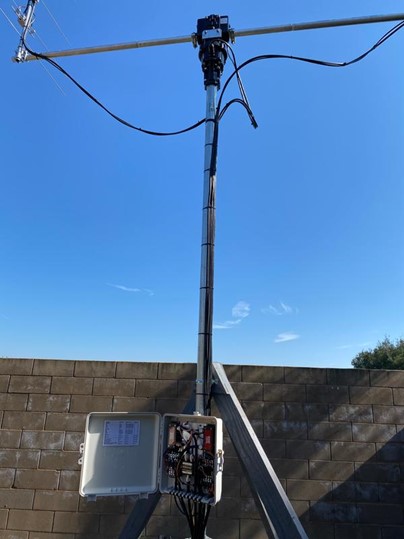 For installation of two lightning protectors, ground rod, cat6 internet cable, and telephone line: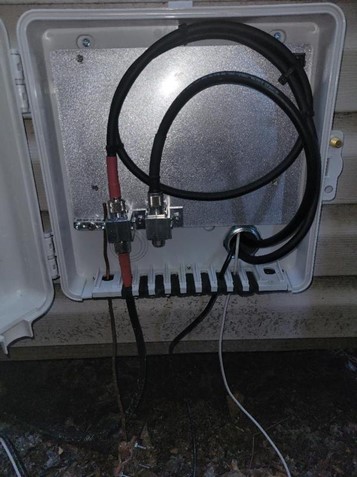 For installation of two lightning protectors mounted to the aluminum plate, along with a braided copper strap to ground the station, and a grounding wire connected to grounding rods: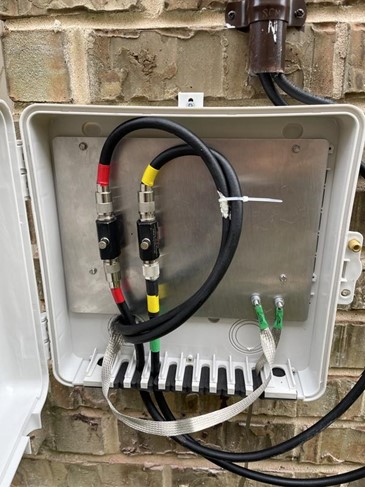 For installation of three PolyPhaser coaxial lightning protectors with LMR-400 runs: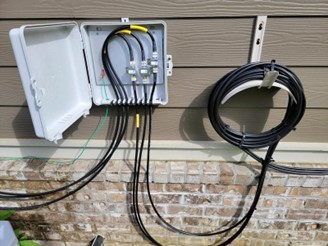 The kit includes:
· Weather-resistant 13″ x 14″ x 4″ (exterior) enclosure
· Stainless steel hex washer head slotted sheet metal #8 x 1/2″ screws
· Pre-drilled 6061-T6 aluminum mounting plate, 11″ x 8″
· Four weather-tight coaxial cable feed-through couplers (DXE-CFT-1P) ideal for most RG8U or RG-213 sized coaxial cable*
· One 2″ x 1/2″ x 1/8″ thick copper strap clamp with two drilled holes
* For smaller cables (RG-6, F6, RG-8X, etc.) there are optional feedthrough connectors (five pack) available from DX Engineering (DXE-CFT-2P)
No holes have been drilled in the enclosure so users can customize it to fit many applications. Mounting holes are pre-drilled in the aluminum mounting plate. Four of the six sheet metal screws are included to secure the mounting plate to the enclosure; the other two sheet metal screws are for mounting the copper strap clamp to the mounting plate.
Now to the Video!
Watch this informative video from the HOA Ham YouTube channel on installing an outside coax single point ground panel. The video prominently features the DX Engineering UE-2P Utility Enclosure Kit and DX Engineering coax cable prep tools for installing connectors.