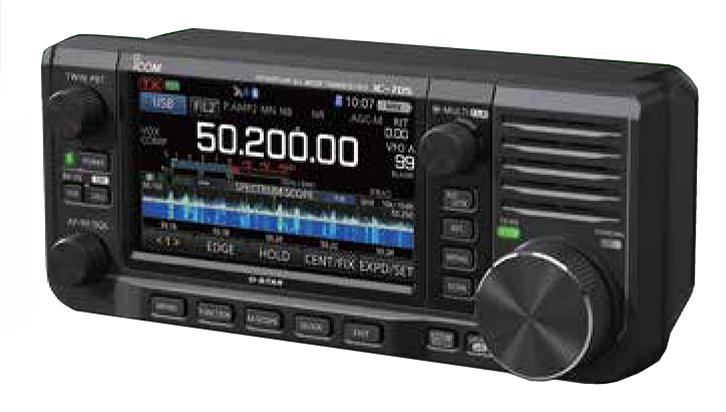 Now that summer is here and the pandemic is winding down, grab some radio gear and head outdoors. It's the season for portable operations and finally getting out of couch-potato mode.
This is also a great opportunity to update your transceiver. Icom has introduced the IC-705 All Mode Portable Transceiver. There is no current QRP radio that has the same feature set as the IC-705. The closest examples may be the Elecraft KX3 or perhaps Yaesu's FT-817D/818ND with its additional 2M/70cm coverage. Both are good radios but don't have the technology found in the 705.
Compact Shack in the Box
Icom's IC-705 is essentially a hybrid of the IC-9700 and the IC-7300, two well-established radios that are popular with the ham community. If you've used the IC-7300 or IC-9700, the menu structure and features are very similar. The IC-705 adds features like Bluetooth, APRS, D-STAR, and WLAN.
From HF to 50/144/440 MHz, you can enjoy a variety of modes: D-STAR, SSB, CW, RTTY, AM and FM. Like the 7300, it's already equipped for working digital modes like FT-8, JT-65, and others. A micro USB to USB cable and software is all you need. The IC-705 receives continuously from 30 kHz through the 144 MHz band plus 400–470 MHz, a direct conversion SDR that operates much like the IC-7300 up to 25 MHz and then becomes a superheterodyne over the rest of the spectrum. It has features that should appeal to both hams and shortwave listeners.
The large 4.3 inch screen color display improves visibility in the field and allows you to make tuning, menu, and mode changes with just a touch. An internal GPS receiver and antenna provide location logging RX/TX locations via D-PRS, "Near Me" repeater search/scan, QSO recording with metadata, and internal clock synchronization. A microSD memory card is required for some of these functions.
Without going into extensive detail, the IC-705 offers features usually found on larger base transceivers and is much easier to transport. At 2.2 pounds, it's a complete station you can hold in your hand.
Building Your Go-Kit
The IC-705 is a great radio for SOTA, POTA, and Field Day, but your go-kit isn't complete until you round up the accessories and get a rugged, lightweight carrier to store your equipment. Icom makes a custom backpack; my personal choice is a hard-sided case with internal foam padding such as a NANUK Equipment Case. It stands up well to rough treatment and accidental falls.
The IC-705 doesn't have a built-in tuner, but neither does the FT-818ND–and the ATU option for the KX3 adds money to the bottom line. This leaves two options for the 705: an external tuner or choosing resonant antennas for your operation.
Fortunately, there are several compact autotuners built specifically for, or are compatible with, the IC-705. Icom's AH-705 will accommodate random wire, Yagis, verticals, or dipoles. The Vibroplex MAT-705PLUS supports 50 ohm antennas and has standard BNC connectors. The LDG Z-100A, MFJ-939I, and others that support the Icom can be used in "semi-automatic" mode by transmitting a carrier and pressing the tune button or by using a control cable compatible with the radio.
Resonant antennas need to be light and small so they won't take up too much space in the go-kit. SOTABeams Band Hoppers take full-length linked dipole kits and pack them in a compact storage bag. Par EndFedz antennas are half wavelength single wires that cover multiple HF bands. Magnetic loops are a small but interesting type of antenna. Chameleon loops like the F-Loop 2.0 generally offer quiet reception because they are rarely affected by electrical interference and can cover 80-10M when tuned properly.
Batteries are the power supply of choice, especially when operating in remote areas. An HT-style battery (which also fits Icom's ID-51 and ID- 31) is included with the radio, allowing it to produce 5W maximum output. It's good for a few hours of typical operation, depending on the amount of transmitting you do and the power output level. Lithium Iron Phosphate (LiFePO4) batteries are the preferred choice of many hams for portable operation since they are lightweight and offer a large capacity. In addition, these 12V batteries will allow you to double the output power on the IC-705 to 10W. You may also want to consider a compact solar charging panel for extended operations.
Phone, CW or digital? The IC-705 comes with a speaker/microphone combination, or you may prefer a lightweight headset such as the Heil BM-17.  You'll need to add a computer for digital and a key or paddle for CW. The GHD Palm-Size Travel Iambic Paddle is a good choice. Digital only requires a USB cable between the computer and radio, just like the IC-7300.
To complete your go-kit, add these useful items:
Weights for tossing antennas and support lines
Coax cable and adapters
Rope and stakes
Extension cords/Powerpole splitters
Computer cables
Spare batteries
Basic tool kit
Antenna analyzer (optional but helpful for antenna setup)
Pick a Park
There are thousands of local, state, and national parks around the country, ready for you to set up a portable station. If you enjoy operating in the great outdoors, Parks on the Air (POTA) provides opportunities to hone your portable operating skills, win awards, ragchew with other hams, take in some spectacular views, and maybe even see some wildlife (hopefully small and friendly).
Another popular activity, SOTA (Summits on the Air) is a test of your peak operating skills in mountainous areas. You can participate actively (Mountain Goat) or chase SOTA activations (Shack Sloth.) But wait–there's more. Here are some other organizations that provide awards for activators and chasers:
Amateur Radio Lighthouse Society (ARLHS)
Beaches on the Air (BOTA)
Islands on the Air (IOTA)
Mines on the Air (MOTA): operating near (but not in) mines
U.S. Islands Awards Program (USI): operating from river, lake, and shore islands
World Castles Award (COTA): operating from castles and other important historical structures around the world
Google them for additional information, rules, and operating procedures.
Getting the Word Out
Let fellow hams know about your upcoming portable operation. Many of the organizations listed above have websites that include spots that show station call, time, frequency, and location. Websites like DX Summit and DX Watch are also ready to share your information. Encourage your contacts to post spots on these sites so others will know you're on the air.
Announce yourself on social media. Use Facebook, Twitter, Instagram, YouTube, and other platforms. If you have a blog or website, include an entry about your upcoming trip. Appearing on social media and spotting networks can improve your chances of making contacts.
Interested in Going Portable?
It's great to get away from it all, especially those high noise levels that are common in densely populated areas. Forget about the HOA and deed restrictions and breathe in some of that fresh air.
You can find additional information about operating away from home in the ARRL book, Portable Operating for Amateur Radio by Stuart Thomas, KB1HQS.