For those who are passionate about the challenges and rewards of building a homebrew Amateur Radio antenna, details matter when it comes to durability, performance, and appearance. In other words, your magnificent backyard six-element Yagi that took days of planning and toil to finish doesn't happen without the right saddle clamps, brackets, strut tubes, side-arms, and hardware. And it certainly doesn't hold up to harsh weather if you've focused on the big picture without paying attention to the antenna's "supporting cast."
One of the unsung heroes in an antenna building project is the versatile antenna plate that can be used for boom-to-element and boom-to-mast applications. DX Engineering pre-drilled aluminum plates—combined with its saddle clamps—have been a go-to component for use on tower legs, booms, cross-booms, elements, and more for adding strength to a Yagi, Log-Periodic Dipole Array, or other antenna.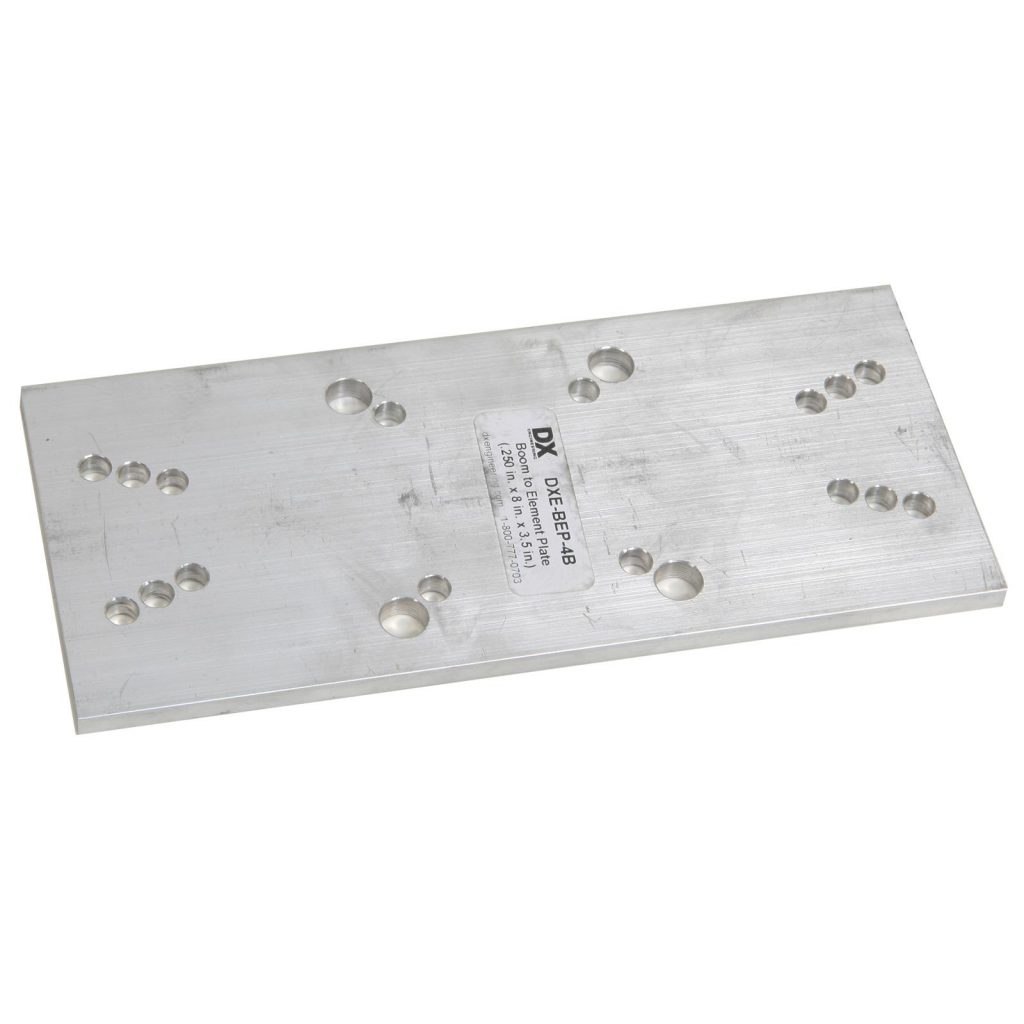 Some applications of DX Engineering BEP-4B and BEP-5B Antenna Plates include building or mounting:
Smaller VHF and UHF beams all the way up to larger 20 meter beams
Side brackets
H-frames
Truss brackets
Strut tubes
Tower side-arms
Tubing splices
Vertical antenna mounts
Grounding rods
The plates are fabricated from 6061-T6 aluminum and are suitable for use on galvanized steel, aluminum, and fiberglass. The 3.5″ W x 8″ L plates are a hefty .25″ thick.
DX Engineering BEP-4B and BEP-5B Antenna Plates provide a convenient method for grounded Yagi beam elements to be attached to booms. BEP-4B plates work with saddle clamps to hold 0.750″, 1″ or 1.250″ tubing for the center portion of a tapered antenna element on one side of the plate, and to mount the assembly onto a 1.500″ or 2″ boom, perpendicular, on the other side of the plate. The BEP-5B plate works with 1″, 1.250″, or 1.500″ clamps and mounts the assembly onto a 2″ or 3″ boom tubing.
Plates Versus Insulated Brackets
Like DX Engineering Insulated Boom-to-Element Brackets, the antenna plates function to securely attach an antenna's elements to the boom. The primary advantage of the antenna plate is its mechanical format that makes it simpler to install. Unlike the brackets, the plates do not insulate the element from the boom, which will require you to make adjustments to element lengths. DX Engineering non-metallic, non-conductive brackets secure the Yagi beam elements to the boom while electrically insulating them against the shortening effect of the boom and metallic plates, eliminating the need to correct element lengths. Which is right for you? It's best to consult with an Elmer at DX Engineering about the best option for your antenna project.
Also available are DX Engineering pre-drilled DXE-BMP-2B Boom-to-Mast Plates for mounting a 1.500″, 2″, or 3″ boom using DX Engineering Saddle Clamps. DX Engineering Multi-Purpose Mounting Plates, available in aluminum or non-conductive black polymer, come undrilled or pre-drilled for many applications. The .25″ thick undrilled plates  come in two larger sizes: 11.5″ W x 7.5″ L and 16″ W x 7.5″ L.
What do Hams think?
DXE-BEP-4B—Five Stars: "These plates are very beefy and will serve their purpose well!"
DXE-BMP-2B—Five Stars: "This boom plate was used to replace the original boom plate on my Cushcraft AS-4 Tri-bander when the antenna needed to come down for repairs from an ice storm. This plate is so far superior to the original plate it makes the original look like a child's toy. Granted, the cost is higher but you get what you pay for and DXE products are generally the best you can buy."