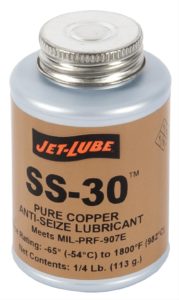 Have you checked the ground connections on your station? Inside and outside as well. Make sure everything is still solidly connected. Double-check anything outside that a critter could chew, step on, or otherwise break.
Have ground rods? Some soils have been known to corrode ground rods to the point that they disappear. Wiggle them to ensure they still exist under the upper ground level. Is everything tight and clean? Use Jet-Lube SS-30 Pure Copper Anti-Seize, which is the top choice of engineers and technicians in government, industry, and leading Amateur Radio contest stations for protecting mechanical assemblies of aluminum tubing, general hardware, and copper grounding systems!
On bonded metal surfaces Jet-Lube SS-30 assures electrical and RF conductivity while preventing oxidation and corrosion. Surpassing the capabilities of other aluminum anti-oxidants, the wide temperature range of Jet-Lube SS-30 prevents long-term drying and caking, and allows easy disassembly and effortless cleaning of parts.
Do you have the proper parts and hardware for grounding your station? DX Engineering has what you need. Check out the Grounding and Lightning Protectionarea on our website.