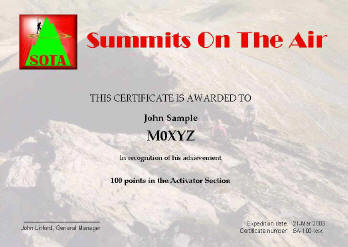 The fun of Ham Radio reaches new heights with Summits on the Air (SOTA), a program that encourages Amateur Radio enthusiasts to operate from atop the world's hills and peaks. Even if you're afraid of ascending a stepstool, you can participate without leaving your shack by contacting Hams who are on the air from high altitude. If you're not into serious climbs but can manage a more modest ascent, you can operate from a local qualifying hilltop.
Nearly 100 countries have SOTA associations. Some entities are divided into separate associations (e.g., New Zealand-North Island and New Zealand-South Island). New Zealand-North Island is sliced into nine regions with a total of 1,256 qualifying summits.
The higher the summit, the more points you can receive by activating it and making QSOs. In New Zealand-North Island's Waikato region, activating Karikaringa (alt. 1,694 meters/1.05 miles) will net you ten points, while Motutapere Island (alt. 175 meters/.108 miles) is worth a single point. New summits worldwide are regularly added to the roster.
In Northeast Ohio—home of DX Engineering—there are currently nine qualifying summits . Check out the complete list of thousands of worldwide summits waiting to be conquered here.  
Before you activate a summit, read these FAQs and get familiar with the official SOTA website. It's free to register. Certificates and trophies—the "Mountain Goat" and "Shack Sloth"—are awarded for elite performers. Finally, visit DX Engineering.com for all your portable operation needs, including radios, antennas, portable masts, guying ropes, coaxial cable, tool kits, log books, and more. Feel like you're at the bottom of a mountain looking up? Contact one of our Elmers for expert help at Elmer@DXEngineering.com.