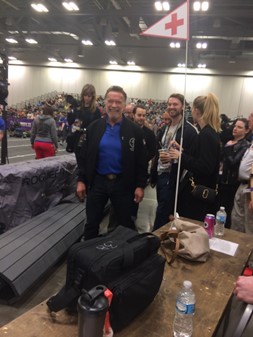 Arnold Schwarzenegger greeting athletes and spectators
It takes a lot of heavy lifting from volunteers to manage an event as large as the Arnold Sports Festival. Among these volunteers are ham radio operators. More about their important contributions in a moment.
About the Event
From the Arnold Sports Festival website: What began as a one-day professional bodybuilding competition in Columbus, Ohio in 1989 has grown into the world's largest multi-sport fitness festival. It features four days of sports competitions, demonstrations, seminars, entertainment, and the latest fitness products.
The Arnold Sports Festival story dates back to 1970 when Columbus sports promoter Jim Lorimer invited a young Austrian bodybuilder named Arnold Schwarzenegger to Columbus to compete in the Mr. World contest that was part of that year's World Weightlifting Championships.
Schwarzenegger won the contest, earned $1,000 and vowed to return to Columbus one day to partner with Lorimer and promote the sport of bodybuilding. After winning the Mr. Olympia contest every year between 1970-1975, Schwarzenegger was true to his word.
Schwarzenegger and Lorimer promoted the Mr. Olympia contest in Columbus six times between 1976 and 1986 before founding the Arnold Classic in 1989.
When Schwarzenegger was appointed the chairman of the President's Council on Physical Fitness and Sports, he charged Lorimer to expand the scope of the Arnold Classic weekend to include other sports. Martial arts and gymnastics were among the first added.
More events were added each year and the weekend was renamed the Arnold Sports Festival in 2006. In 2023, more than 50 sports and events featuring more than 15,000 athletes will be held at the annual celebration of health and fitness, as the nation's largest multi-sport festival celebrates its 35th anniversary.
The weekend includes strength and Olympic sports, seven IFBB Pro League contests, the NPC Arnold Amateur Bodybuilding Championships, and the Arnold Strongman Classic.
The Arnold Sports Festival expanded worldwide in 2011 with the inaugural Arnold Classic Europe in Spain. Arnold Sports Festival South America debuted in 2013, and the first Arnold Sports Festival Australia was held in 2015. Arnold Sports Festival Africa in Johannesburg was held for the first time in 2016, and the first Arnold Sports Festival UK was held in 2021.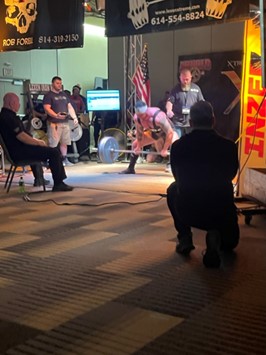 Hams Get Involved
Each different event within the Arnold Sports Festival has a team assigned to it. Depending on how strenuous the event, at least one or two doctors, one or two physician's assistants, and multiple trainees or nurses are in attendance. Along with these medical professionals, each team has a ham radio operator. The event is held in a large building with bad cellular signal. In addition, tens of thousands of people are in attendance, causing any cellular signal to overload. This is where amateur radio comes into play. With our own network, we are able to order supplies, relieve and replace doctors, and transfer pertinent information to net control, which is stationed with the main medical area. Sometimes athletes are brought to the main station for treatment, or sometimes the squad is needed to take them off-site for more care.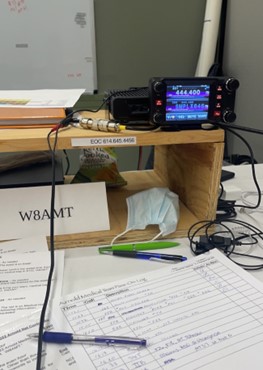 Net control located in conjunction with the main medical area
OhioHealth Sports Medicine has been in charge of the medical staff for the last few years and will provide medical coverage at the 2023 Arnold Sports Festival, March 3-5. Medical Director Dr. Ben Bring is the man in charge of the vision to run things as smoothly and efficiently as possible.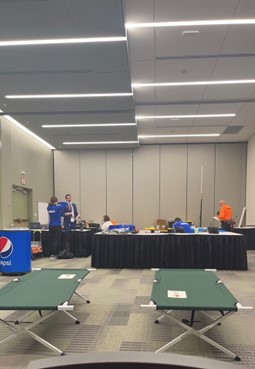 A couple of cots in the main medical area with the medical director at the net control area to start the day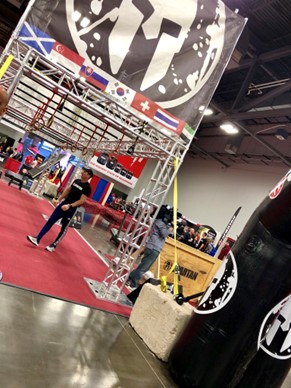 A section of the Arnold Sports Festival emulating American Ninja Warrior
Questions? Share them in the comments below or email me at KE8FMJ@gmail.com.