Here's a great chance to make contact with North Cook Islands—the 63rd ranked most-wanted DXCC entity per Clublog as of August.  
Four operators—HA5YG, HA7RY, KN4EEI, and AA7JV— are scheduled to be operating several Rig in a Box (RIB) stations from Penrhyn Atoll, also called Tongareva, until September 9 (actual date is subject to weather conditions). The activation will also include remote operators from around the world.
The 3.8-square-mile circular coral atoll has a population of around 200 and is located in the northern group of the Cook Islands in the South Pacific. Omoka Village is the larger of two main settlements on Penrhyn Atoll, featuring two main roads and 150 buildings, including a church, hospital, and government office.
You can read more here about the revolutionary Rig In a Box DXpedition concept created by George Wallner, AA7JV, which allows DXpeditioners to activate rare locations without having to camp onsite or leave much of a footprint on environmentally protected lands. The North Cook activation follows a successful venture in which RIB stations were employed on Ducie Island in June.
From AA7JV's QRZ page, "We will be on 160 to 6 m on CW, SSB, and FT8. While early in the low-band season, we will make an effort to be on 160 and 80 meters on most nights."
For updated details on the North Cook RIB DXpedition, visit AA7JV's QRZ page.
In addition to the self-contained RIB stations, the activation will be relying on gear provided by DX Engineering, including:
This kit consists of 11, six-foot sections and one three-foot section of DX Engineering's rugged 6063-T832 drawn aluminum tubing. The kit also includes required stainless steel element clamps. The overall length of the assembled sections can reach up to 65 feet. These kits are well suited as vertical radiators for a custom-designed single vertical antenna or in multiples in a two- or four-element array.
The antenna may be set to resonate on any HF band at any length up to 65 feet by simply removing or telescoping the sections and clamping them at the desired length. Intended for portable or temporary operations, these kits may also be used in a well-guyed permanent vertical antenna installation. They're a good DIY vertical antenna element for Field Day, DXpeditions, RVs, SOTA, camping, and more. Guying is required (three or four levels of rope guys are needed when these kits are extended beyond 30 feet), so guy rings are included.

Perfect for operating on the go, these kits come with finely finished, high-quality pultruded fiberglass tubing featuring nominal 0.120-inch wall thicknesses, offering strength, durability, and smooth telescoping. Depending on the kit, tubing is collapsible to either 4 or 7.5 feet for easy storage, convenient loading in a vehicle, and reduced shipping costs. Choose from these tubing options:
Four 48-inch telescoped sections extending to 15 feet
Seven 48-inch telescoped sections extending to 25 feet
Seven 90-inch telescoped sections extending to 46 feet, with standard two-inch O.D. base section
Seven 90-inch telescoped sections extending to 46 feet, with heavy-duty three-inch O.D. base section
See all Complete Telescoping Fiberglass Tubing and Cam Lock Clamp Kits at DX Engineering.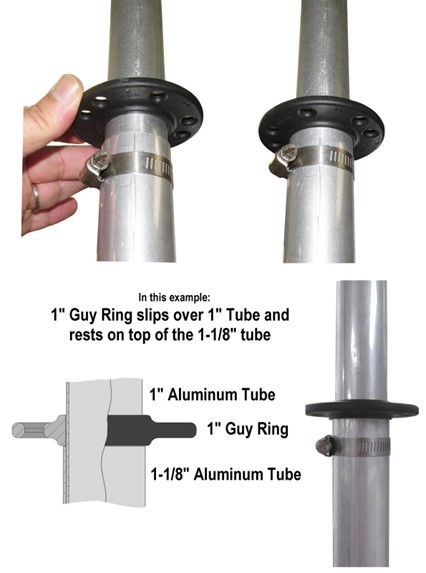 The North Cook Islands DXpedition will also be using Synthetic Textile Industries Antenna Support Rope and Amphenol Adapters provided by DX Engineering.