Operating from parks, islands, summits, or anywhere outside the shack is one of the fastest-growing aspects of ham radio, whether it's about providing emergency communications when disaster strikes or executing a mini DXpedition of your own at a cost that won't obliterate your piggy bank.
It's always important to keep in mind that, just like other elements of the hobby, the quality of gear you choose for your portable pursuits is often directly proportional to the success of your operation. Today, we'll be focusing our attention on a lightweight, highly portable, and proven telescopic mast that provides excellent support for temporary antennas and will give you one less thing to worry about when getting on the air in the great outdoors.
Lighter than aluminum and fiberglass and stiffer than steel of the same thickness, these well-built masts are available in three extended lengths (24, 33, and 49 feet, plus a heavy-duty 33-foot option). They feature short section lengths designed for low-cost shipping and easy transport, with the 49-foot model collapsing to 81 inches and the other three masts sliding down to an impressive 69 inches—perfect for your outdoor adventures and EMCOMM deployments. These black, UV- and corrosion-resistant masts include adjustable lever-action cam-lock clamps that secure the next smaller tube in place and allow for fast and simple raising and lowering. The included 3mm Allen wrench lets you remove clamps for placement of optional guy rings and to make adjustments to lever grips. Each section features a red color at the bottom to indicate minimum overlap when extending.
As one ham said, these masts are "an absolute must" for Field Day.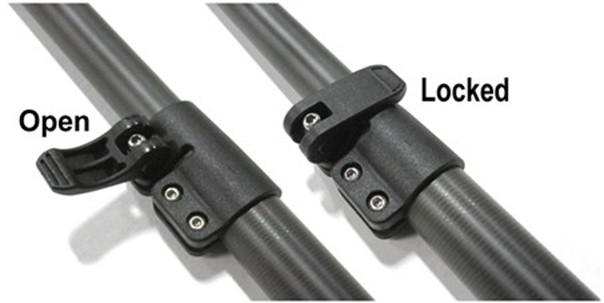 Choose from these models:
What do hams say?
Five Stars (DXE-TCFP-33HD): "Just the best mast. I have tried a few steel masts, and while effective, they are incredibly heavy and cumbersome. This carbon fiber mast is light, smooth and strong. Easily handled by one person, even at 33 feet. I have a SatPack dual eggbeater setup on mine, and I am able to easily raise and lower my antenna above my roofline for satellite passes and drop it down below the shed when not in use. There doesn't seem to be any guying necessary, even with this relatively bulky antenna on top, at normal wind levels."
Five Stars (DXE-TCFP-24): "This mast gets an A+ from me! After a poor experience with a small-diameter fiberglass mast last year, I purchased this carbon fiber mast for portable use in this year's Illinois QSO Party. It held up extremely well fully extended with an Alpha Delta DX-CC antenna clamped near the top, in inverted V configuration, supported at the base with a drive-on mast mount. I barely had it guyed at all (for a longer-term setup, I would have done a more thorough job). Wind gusts were 25-30 MPH all day. It swayed a little but held up very nicely. This is not an inexpensive mast, but I believe you get what you pay for."
Five Stars (DXE-TCFP-33HD): "Expertly crafted product. It is strong and lightweight, easy to install at my antenna site, and provides good control over the antenna and mast while raising a Cushcraft 10-3 10 meter Yagi. I did not use all the sections but instead went up about 20-24 feet. The ease of placing the antenna in position first and then raising the pole sections made this a one-man operation. I guyed the mast with three lines of black parachute cord. A bowline knot at the top of the mast gripped the mast adequately."
Also check out these OnAllBands articles for even more options: