Antennas are such a critical part of Field Day (June 24-25) that we're devoting another part of this series to highlighting some of the best options available at DXEngineering.com.
Since much of ARRL Field Day weekend is centered around keeping emergency operational skills finely tuned, we would be remiss not to mention the NVIS (Near Vertical Incidence Skywave) antenna—an easy-to-deploy antenna that has been a longtime option for military applications and in-state disaster communications.
If you're not inclined to gather the pieces and parts to build your own NVIS antenna, DX Engineering makes it easy by providing everything you need in handy full-size and shortened antenna kits.
DX Engineering 8040 NVIS Antennas
Both the full-size DXE-NVIS-8040 (below) and shortened DXE-NVIS-8040S dual dipole kits come with everything you need to build a high-performance NVIS antenna: fiberglass mast (four, 4-foot sections that extend to 15 feet); a DX Engineering Maxi-Core® 20 1:1 Balun, model DXE-MC20-1-1T; a balun mounting kit; coax strain relief bracket; antenna wire; insulators; four tent pegs; rope; and a 100-foot RG-8X coax assembly with PL-259 connectors. The four legs of the antenna, each deployed 90 degrees apart, provide the mast guying.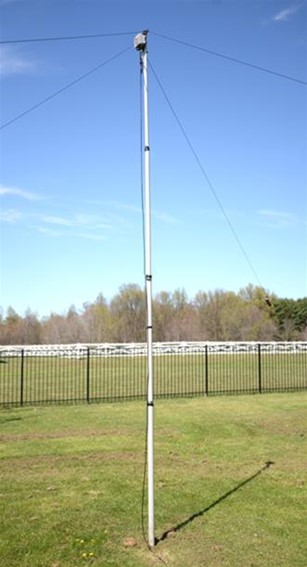 For a detailed look at what you receive and how to put the antenna together, check out the comprehensive instruction manual. It includes a complete parts list, tools required, assembly steps, instructions on setting up the antenna, notes on tuning it, accurate and detailed illustrations, and notes on NVIS propagation.
Also available are the DXE-NVIS-8040SNM and DXE-NVIS-8040NM kits, which are exactly the same as the kits above except they do not include a mast. Simply use your own non-metallic mast or hang the feedpoint 15 feet above the ground from the limb of a tree.
The shortened NVIS kits features loading coils to make the 80-meter dipole legs the same length as the 40-meter dipole legs, 34 feet, so this antenna fits into a square area that is only about 50 feet by 50 feet.
The full-size kits feature 67-foot wire dipole antenna legs for 80 meters and 34-foot legs for 40 meters. The antenna fits into a rectangular area approximately 100 feet by 50 feet.
DX Engineering Multi-Band Off-Center Fed Dipole (OCF) Antenna Kits
Take advantage of the proven effectiveness, ease of construction, and hassle-free installation of the Off-Center Fed Dipole, now available in this high-quality kit from DX Engineering. The rugged yet lightweight DXE-OCF-KIT features a power rating up to a legal limit of 1.5kW. It includes two lengths of premium 14 AWG stranded copper, relaxed PVC antenna wire (48′ and 113′) that can be trimmed based on desired coverage (80M-10M); the DXE-MC20-C4-1, Maxi-Core® 20 4:1 Dual Core Balun; wire antenna balun mounting bracket including end insulators; and stainless steel hardware.
On most of the bands, the internal tuner on modern transceivers will be able to fine tune this OCF antenna when the SWR is 3:1 or less. On the bands that may be above 3:1 SWR, an external tuner may be needed. Enter "DXE OCF-KIT" at DXEngineering.com to check on availability.
For an excellent primer on this popular antenna, read this article from OnAllBands blogger Mark, K8MSH,  Off-Center Fed Antennas, Multitalented or Misunderstood? And for a historical perspective, read Kim Klimas' post on General Loren Windom, W8GZ, inventor of the Windom antenna.
6M Antennas for Field Day
Many enthusiasts and clubs enjoy working the "Magic Band" on Field Day. Read these OnAllBands articles to get a better understanding of why hams everywhere will be hoping for summer openings on 50-54 MHz:
Ham Radio 101: Six Meter Magic
The Hows and Whys of Operating Two Meters or Six During the Summer Months

If you're looking to join other 6M operators on Field Day, you'll find a number of portable antenna options at DX Engineering, including Chelegance's 13-foot-tall JPC-12 Portable HF Vertical (below) and 21.5-foot-long JPC-7 Portable HF Dipole Antenna, both of which cover 40-6M, handle up to 100W, and are built for easy assembly.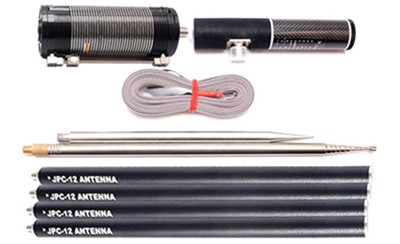 DX Engineering also carries:
Additionally, choose from DX Engineering's Premier Telescoping Carbon Fiber Masts—a great choice as a temporary antenna support on Field Day. Available in four versions (24-, 33-, and 49-foot, and heavy-duty 33-foot), these masts collapse down to a compact size for easy portability. They are lighter than aluminum and fiberglass, yet stiffer than steel of the same thickness.

Also available are DX Engineering Complete Telescoping Fiberglass Tubing and Cam Lock Clamp Kits. Made for easy deployment and transport, the kits feature high-quality pultruded fiberglass tubing with nominal 0.120-inch wall thicknesses for strength, durability, and smooth telescoping. Depending on the kit, tubing is collapsible to either 4 feet or 7.5 feet for easy storage and convenient loading in a vehicle.
For many more antennas and accessories perfect for Field Day, visit DXEngineering.com.