The Pitcairn Island VP6R DXpedition team battled muddy trails, challenging propagation, lightning, gale force winds, torrential rains, and even feral cats pouncing on keyboards to log more than 82,000 QSOs (20,000+ unique call signs) during their successful stay on this much-coveted DXCC entity in the South Pacific.
From all of us at DX Engineering, our sincere congratulations to the entire VP6R team for a job well done! The avid DXers at DX Engineering joined the outpouring of Hams around the world in their quest to fill bands and record Pitcairn Island as an All Time New One. Many thanks to the exceptionally skilled operators who made this DXpedition possible.
As reported by the VP6R team, one of the rock stars of the DXpedition was DX Engineering's custom-designed 90-foot top-loaded 160M vertical antenna, featuring heavy-duty hinged pivot base (a "work of art," according to VP6R's Nodir, EY8MM) with custom base insulators to accommodate a 40-foot falling derrick made with three-inch diameter pipe. It was noted that because of the antenna's modular design, it would have been easy to downsize if weather conditions made it difficult to install it at full size on the island.
The crew sent us this photo of the well-traveled antenna poised against a starlit sky.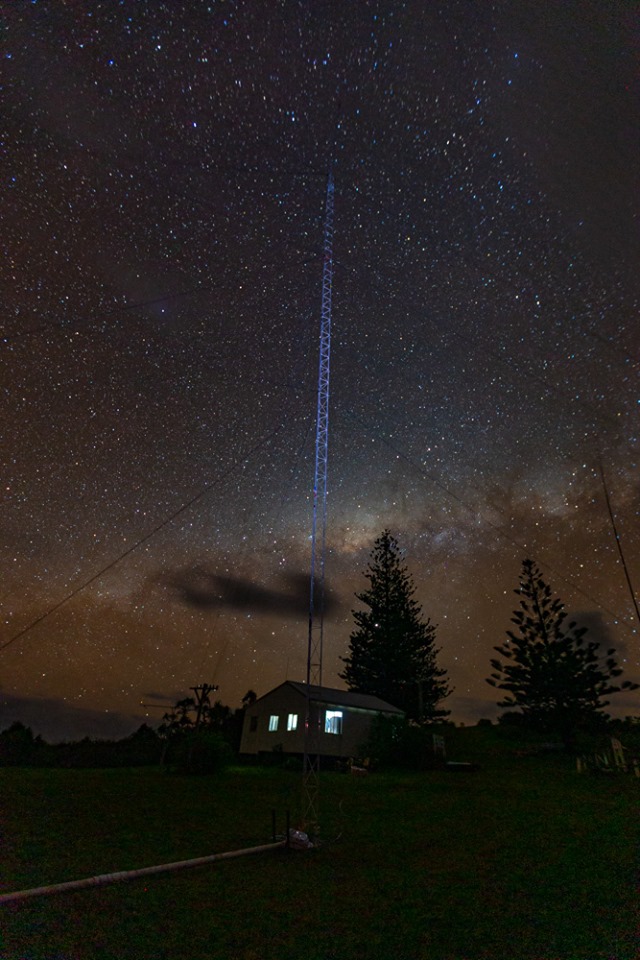 And check out this great video highlighting installation and use of the 160 on the island!
Originally designed to handle the brutal conditions on Bouvet Island, the 160M vertical proved its mettle against the heavy rains and 100 MPH gusts that hammered the island.
"The DX Engineering team did an incredible job fabricating our 90-foot 160M antenna," wrote Glenn, W0GJ. "It went up and came down easily. The DX Engineering falling derricks for the Yagi masts made raising and lowering (and repairing) the Yagis very easy."
Now the big question: How well did the 160M antenna perform during this less-than-ideal phase of the sunspot cycle? By all reports from Hams who worked the DXpedition and operators on the other side of the pile-ups, the signal on 160M was loud and clear. As one VP6R team member noted, "It performed amazingly well."
A total of 3,935 160M QSOs were recorded (3,154 CW, 739 FT8, and 42 SSB)—impressive numbers considering the closest Hams were located 5,000 miles away. This ranks as the 13th most 160M QSOs recorded on a DXpedition (topping the list is 2006 5A7A Libya, with 7,653 QSOs). On October 28 alone, during the CQ World Wide SSB Contest, the VP6R team made 500 contacts on 160M FT8. Hams in Europe logged 900 QSOs on 160M despite the distance and propagation obstacles.
Here's a video from WX0V working Pitcairn Island on 160M from Minnesota.
In addition to the use of the custom antenna, the VP6R team depended on a range of DX Engineering gear, including:
400MAX DX Series Low-Loss 50-ohm Coax Assemblies

NCC-2 Receive Antenna Phasing System

RF-PRO-1B Active Magnetic Loop Antenna

TFS4 Series B Transmit Four Square System and Phasing Cables

Phased Array Quarter Wave Tuned Cable

RADP-3 Radial Plates
"The VP6R DXpedition team wants to thank DX Engineering for the incredible logistical support you provided for our just completed Pitcairn DXpedition!" wrote Glenn, W0GJ. "EVERYTHING was so very well marked, packaged and organized for deployment!"