If you've been bitten by the DXing bug or have been considering adding this endlessly entertaining and challenging pursuit to your ham radio repertoire, OnAllBands is excited to announce this comprehensive addition to the many references available at DXEngineering.com.
Ham Radio DX, a Complete Guide by Lucas L. Ford, W6AER, features close to 300 pages of information with more than 100 photos and illustrations covering everything from building your DX station to busting through pileups, choosing an antenna to proper DXing etiquette (a topic of great importance these days—read here about increasing problems with DQRM).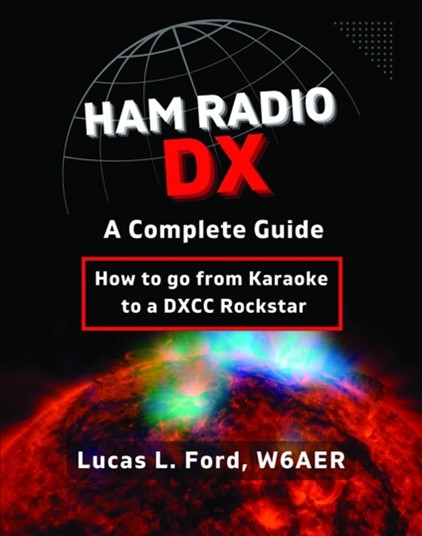 Lucas, W6AER, delivers practical, real-world advice from someone who achieved extraordinary DXing results from a tiny lot during the bottom of the last solar cycle, earning numerous awards in various modes including phone, CW, satellite, RTTY, JT65, JT9, PSK31, FT4, and FT8. Lucas' life memberships include the ARRL (American Radio Relay League), AMSAT (Radio Amateur Satellite Corporation), NCDXC (Northern California DX Club), NCCC (Northern California Contest Club), San Francisco Radio Club, Ten-Ten International, and QRZ. He is also a member of the Intrepid DX Group.
What do hams say about Ham Radio DX, A Complete Guide?
"Regardless of skill level, there is something in the book for everyone."
"I think you would be hard pressed to find a DX enthusiast at any level who couldn't pick up this book and learn several new tips, tricks, and perspectives. This book would be an excellent guide for someone who is just becoming interested in DXing and wants to find out what is involved."
"This is perhaps the last book in DXing you will ever need."
"For the competitive sport of DXing, or contacting as many unusual and 'rare' foreign countries as possible, refining both operating techniques and equipment setup, many specialized skills are required. For once, all of the requisite skills needed for this challenging and enjoyable hobby are in one place."
"It is well illustrated and spiked with entertaining anecdotes. Throughout the book, Lucas stresses the importance of not just DX success, but also ethics and good etiquette."
"This is an outstanding resource for longtime DXers and new DXers. I highly recommend this book for anyone interested in learning more."
Among other topics, the book covers:
DXpeditions and DX Awards Overview
Getting Past Limitations to DXing
Focus on 160m to 6m DX
Blueprint for a DX Station, Hardware
Radios, Antennas, and Everything in Between
Extensive Coverage of Computers and Requirements
Ham Radio Software Overview, Focus on DX
Separate Chapters on CW, Phone, and Digital Operating
How to Bag the DX, Pileup Techniques for All Three Modes
FT8: Setup, Operating, Etiquette, Support Software
Cleaning Up Your Signal and Dealing with RFI
How Not to be a "Lid"
Ferrites, Low Band Antennas, Baluns, and Grounding
Dealing with DX Challenges
When and Where to Work DX and Propagation
How to QSL, Manually and Digitally
Designing Your QSL Card
Ham Radio Specific Glossary
Find many more reference materials at DXEngineering.com, including books from the ARRL and RSGB. Also available are Nifty mini-manuals for a range of transceivers.