Here's some exciting news for hams who are in the market for a solidly-constructed, transportable, easy-to-use, and lightweight but rugged antenna system that makes a smart choice for your POTA, SOTA, IOTA, and EMCOMM operations.
DX Engineering is pleased to now carry the Ranger 80 precision-made portable antenna system from REZ, a Texas-based company that was launched with the goal of "improving the design and construction of amateur radio antenna systems," per its website. "With a focus on reliability, we design easy-to-use antenna systems made from premium materials for a refined user experience."
Assembled in the USA and built, in part, from American-made custom components, the REZ Ranger 80 comes with an adjustable coil (200W SSB/100W Digital) that allows for tuning from 80M-15M with the included seven-section tapered military whip made from brass and stainless steel (9.3 feet extended, 17 inches collapsed).


You also receive:
• 17-inch stainless steel ground spike for use in soft to medium soils
• Radial system with four lengths of 33-foot, 18-gauge stranded copper wire terminated with 4mm banana plugs that fit into the system's quick-deploy radial puck (below)
• Premium laser-cut MOLLE backpack to keep everything organized (below). Made from water-resistant coated fabric, the backpack comes in your choice of black, gray, green, and operational camo or multi-camo patterns.
• Some Ranger 80 packages come with a heavy-duty stainless steel 12-inch-high tripod for mounting the antenna.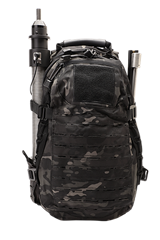 REZ antenna components are CNC-machined and made from premium materials, including Delrin, anodized aluminum, and stainless steel, so you can be confident the Ranger 80 will deliver even in the toughest conditions. REZ products are backed by a one-year limited warranty. Please check DXEngineering.com to see if the Ranger 80 is on the website and ready for sale.