In the days ahead OnAllBands will be highlighting new vendors that are featured in the upcoming DX Engineering 2023 Amateur Radio Products Catalog—coming soon. We've already spotlighted a few including BongoTies Multi-Purpose Tie Wraps, Penta Laboratories RF Vacuum Tubes, and microHAM products: ARCO Smart Antenna Rotator Controller and DXP Portable and micro KEYER III Digital Mode and Radio Control Interfaces.
Next on the list is Bioenno Power, a Southern California-based company that has become a go-to source in the ham radio community. The company provides advanced power solutions centered around Lithium Iron Phosphate (LFP, LiFePO4) batteries. Bioenno also offers Lithium-Polymer (LiPo) batteries primarily for RC model applications, solar controllers and foldable solar panels, mobile power stations, battery chargers, and a range of adapters (Female DC Plug to PP45 Power Adapter, Female DC to Small Alligator Clips Adapter, et. al.). DX Engineering will be carrying the full lineup of Bioenno Power products. Enter "Bioenno" at DXEngineering.com to check if their products are available yet on the website.
The addition of Bioenno Power to DX Engineering's lineup should be great news for fans of portable operating. Read this article from Sean Kutzko, KX9X, on "Power Options for Portable Ops," in which he discusses the benefits of lithium batteries—like those offered by Bioenno—for backpackers; POTA, SOTA and IOTA operators; EMCOMM specialists; QRPers; or simply hams who bring a radio along on vacation. Per the Bioenno website, here are some of the advantages they list for their LFP batteries:
Lower weight
Increased capacity
Enhanced power delivery
Expedited efficiency
Longer lifetime than other lithium-ion batteries
Better power density
Constant and stable discharge voltage
Increased battery safety due to thermal and chemical stability
Low environmental impact due to usage of phosphate rather than cobalt
Higher current/peak power ratings
Greater calendar life
Further, Bioenno Power offers customers its True Lithium Capacity Assurance policy, meaning the company individually inspects and quality-checks every battery when it is stocked into inventory and when it is shipped.
DX Engineering will carry Bioenno's 12V LFP series, 24/36/48V LFP series for higher power applications, and 6V/9V LFP series for times when you need a quality battery but space is at a premium.
Solar Products
Bioenno's line of compact and lightweight foldable solar panels are perfect for outdoor ops, EMCOMM preparedness, and many other professional and recreational pursuits. Looking for serious bonus points on Field Day? Bioenno Power has you covered. Solar panels are available with power capacities from 28W to 150W. For example, the BSK-120 Solar Panel Controller Battery and Charger Kit (shown below) is a high-output monocrystalline solar panel system designed for ease of use. Featuring dual large-sized panels, this unit is ideal for Field Day applications and other times when you are outside for extended periods with plenty of sunlight but no access to the power grid. When paired with Bioenno Power Packs, the BSK-120 allows you to use the sun to power most electronic devices, ranging from laptops to radio equipment, communications gear to PA systems.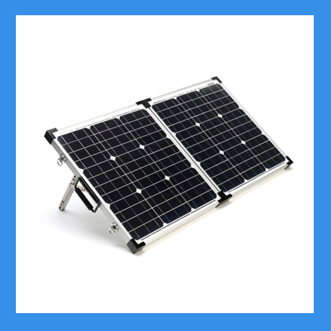 All-in-one mobile power systems offered by Bioenno include its 160 Watt-Hour Renewable Power Pack; 500 Watt-Hour Renewable Power Pack; and the state-of-the-art LiFePO4 48V, 100Ah Battery, which is ideal for solar storage systems and other higher power needs.
Look for much more about Bioenno Power on OnAllBands in the days to come.