In the next few months, OnAllBands will be featuring news from some of our favorite vendors at Dayton Hamvention 2023. Today we're spotlighting Icom, which had its new ID-50A VHF/UHF Multi-Function D-STAR Handheld Transceiver on display. While not currently for sale or FCC-approved, Icom's latest HT is available for "virtual" reservation at DXEngineering.com. Click on the link for full details of the reservation program.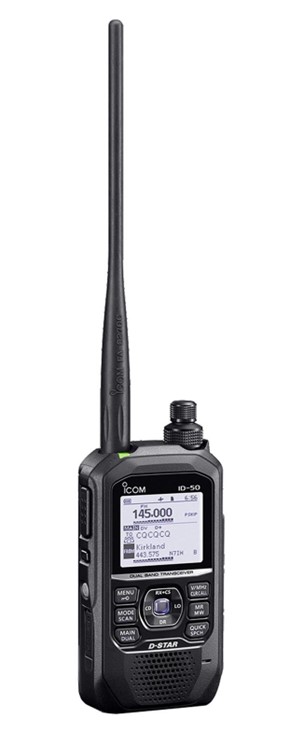 Billed by Icom as a "perfect travel companion," the compact and waterproof 2M/70cm ID-50A comes with pro-grade construction, user-friendly menu icons, excellent readability, and an impressive array of features:
Band scope and waterfall displays visually show active channels with a wide span and timeline, making it easy to find active channels by sight.
Dual-watch function doubles QSO opportunities to monitor VHF/VHF, VHF/UHF, and UHF/UHF bands at the same time and can receive both FM and Air bands.
Built-in GPS receiver displays the current grid square information; GPS position data can be used for Position Auto Reply, Near Repeater Search, and GPS log functions.
Connecting the ID-50A to a D-STAR network allows you to call a friend in another city or in other regions around the world.
You can build your own internet gateway to access the D-STAR repeater network. Use Terminal Mode to send voice and data over the internet to D-STAR repeaters and Access Point Mode to connect to other D-STAR radios even in an area with no D-STAR repeaters nearby.
D-STAR DV Mode can send not only voice but also image data. Download the ST-ID50A/W picture utility software from the Icom website and import photos from a smart device into the ID-50A to exchange photos and QSL cards with others.
USB Type-C port is included for charging and PC programming functions.
In single-band mode, characters on the display are big, bold, and easy to see from a distance.
Most of the optional accessories for the ID-52/ID-51/ID-31 series transceivers are compatible with the ID-50A, including the Icom BP-307 large-capacity lithium-ion battery pack.
Other features include output power options of 5W/2.5W/1.0W/0.55W/ 0.1W; wideband receive: 88.0–174 MHz, 375–479 MHz with a guaranteed range of 144-148 MHz, 440-450 MHz; easy D-STAR settings; weather channel receive (USA/CAN); 500 channels; DV/FM Repeater Search function; DV Fast Data Mode; high-visibility LCD with backlight function that lets you use the transceiver in dark places; 750mW loud audio; MicroSD card slot; voice recording function; and external DC power jack.
DX Engineering carries a great selection of handheld transceivers and accessories from Alinco, AnyTone, Bridgecom, Icom, Kenwood, and Yaesu. Find them all here.