Looking for easy-to-use ham radio software that gives you full command of your transceiver from your computer screen, lets you monitor amateur radio satellites, makes logging and tracking your QSOs a breeze, provides simple rotator control, supports the full range of digital modes, and offers many more features and benefits in a single package?  
HRD (Ham Radio Deluxe) Software for Windows—billed by HRD as the "World's Most Popular Ham Radio Software"—delivers loads of user-friendly functionality in a complete suite for amateur radio enthusiasts. Why purchase separate programs when you can get it all from the software pros at HRD, along with excellent support after your purchase.
Here's even better news—HRD Software for Windows full version key is now available for purchase from DXEngineering.com. Use it after you click and install the FREE TRIAL download at the Ham Radio Deluxe website. The software suite is available for purchase as a perpetual license. That means you pay a one-time cost for the software that will function indefinitely, plus one year of updates AND DIRECT SUPPORT! An annual fee obtains updates and support beyond the first year.
Ham Radio Deluxe is a comprehensive collection of five modules. Here's an overview:
HRD Rig Control provides full command support for a range of Alinco, Elecraft, FlexRadio, Icom, Kenwood, Ten-Tec, Yaesu, and other transceivers. Using your interface cable, Rig Control lets you take better advantage of computer control features built in by the radio's manufacturer. With a few mouse clicks, it enables you to easily optimize your rig by bringing out features buried in its menus.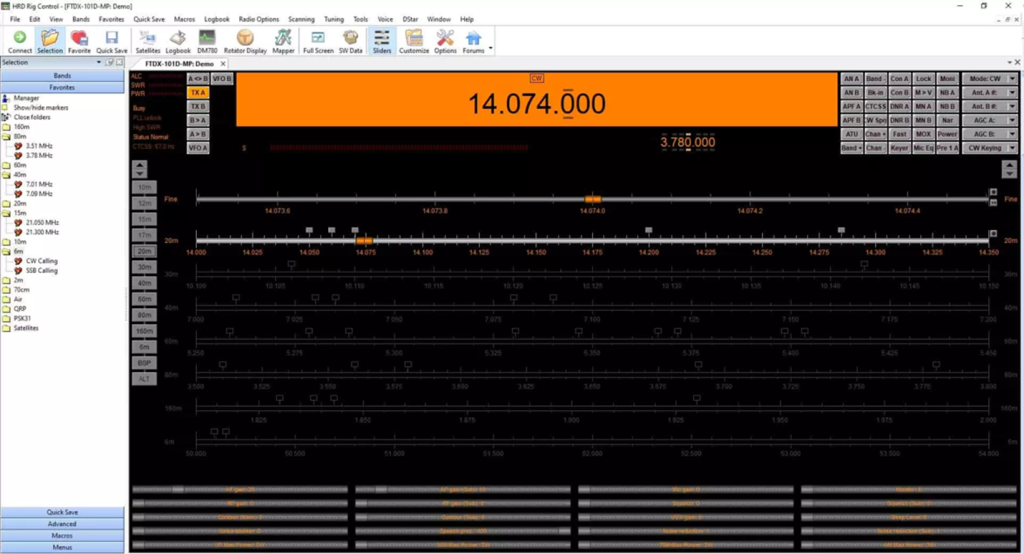 HRD Rig Control Screen
From the Rig Control screen, you can customize the controls of your transceiver: organize buttons, sliders, and drop-downs to toggle radio options, select modes and filter settings, control various level inputs, and more. Rig Control also provides the interface for Ham Radio Deluxe's other modules to communicate with your radio.
HRD Logbook provides QSO logging that supports DXing, awards tracking, and digital modes integration with WSJT-X. HRD Logbook is directly integrated with Rig Control to obtain frequency/band and mode for your ham radio equipment. Used by more than 40,000 hams in 130 countries and described by HRD as "the last logger you will ever need,"HRD Logbook has everything you need conveniently arranged on one user interface, which lets you keep track of all essential amateur radio contact information in your log.
In your log, look up the name, QTH, and other important information about your amateur contacts using various online and offline sources.
Interface with QRZ.com's call sign database (subscription required) or a free lookup service. Logbook also interfaces with DX Spider cluster servers for spotting the rare ones.
HRD Logbook Screen
Its Bandmap feature graphically displays spots within a band with up to 10 bands visible simultaneously.
With a mouse click, swing your beam to the DX station's heading.
Once you have the rare DX in your log, integrating Logbook of the World (LoTW) is easy. Obtain your callsign certificate from the ARRL, install Trusted QSL (TQSL), and you are ready to upload your QSOs to your ARRL LoTW account. 
Downloading from LoTW is just as simple. HRD Logbook interfaces with many popular electronic logging and electronic QSL services, including eQSL, HRDLog, and ClubLog.
Among its many other features, HRD Logbook supports 200 awards in 16 award programs; includes gray line map software; provides DX cluster support for DX Spider, CC Cluster, and AR Cluster; includes integration to automatically log QSOs from WSJT-X, JTDX, and JTAlert for JT65, FT8, and FT4 digital modes; shows you in DX Cluster what DX you need to work and confirm; continually updates solar weather via WWV and WCY; automatically backs up log files to local hard drive or cloud service; and much more.
The HRD website further explains Ham Radio Deluxe and how it handles FT8:
"… the makers of these modes are updating them quite often. We have taken the position that we interoperate with other applications such as WSJT-X and JTDX. With this integration, you can make FT8 (or FT4 and other WSJT modes) QSOs and they will automatically populate into your log. This enables the modes to always be up-to-date without a development lag."
Digital Master, formerly known as DM-780, provides digital modes support for CW, RTTY, SSTV, PSK31, MT-63, and many others. It uses your computer's sound card interface and radio connection to offer a wide range of communications options.
For CW enthusiasts, Digital Master interfaces with the popular K1EL WinKeyer. True frequency shift keying (FSK) and audio frequency shift keying (AFSK) are available for RTTY operation. The program's SuperSweeper function allows you to copy up to 40 QSOs at once in CW, RTTY, or PSK. Once the QSO is complete, Digital Master interfaces directly with HRD Logbook to record the contact. Digital Master works with a variety of audio and multi-mode interfaces including the Timewave Navigator, Tigertronics SignaLink USB, and West Mountain Radio RIGblaster.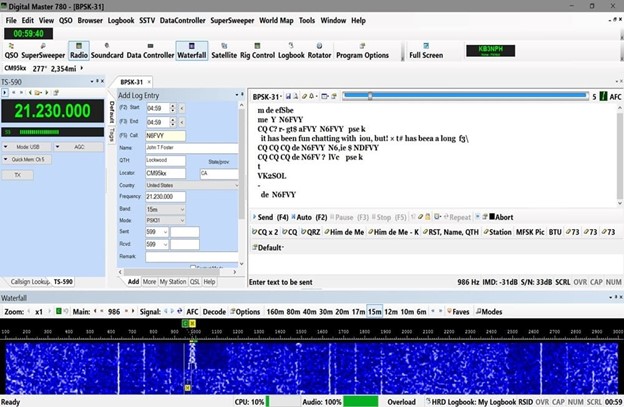 Digital Master Screen
Other features of Digital Master include:
Wide variety of sound card data communications modes (CW, RTTY, QPSK, Contestia, Domino, Hell, MFSK, Olivia, Thor, Throb
Waterfall or spectrum display
PTT Control (COM port, VOX, TNC or via HRD)
Adjustable waterfall data
SuperSweeper Mode (up to 40 active signals can be displayed; continually sweeps passband via sound card; decodes CW, RTTY, and BPSK)
HRD Satellite Tracking provides satellite communications with rig frequency adjustment for Doppler and Azimuth/Elevation tracking. Enjoy real-time tracking, interface with HRD Rotator Control for automatic Az/El positioning of antennas, automatic tuning for Doppler shift, next-pass predictions, and the ability to download Keplerian elements for active satellites from web sources.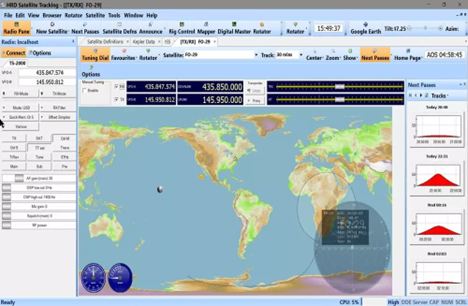 HRD Satellite Tracking Screen
Using the latest orbital mechanics equations and up-to-the-minute Kepler element information downloaded from a variety of trusted sources, you can predict satellite passes with confidence. Stay apprised of the satellite's footprint, projected path, and predicted elevation for given passes. A real-time link to Google Earth allows you to see what the satellite "sees" as it flies overhead. Real-time tracking feeds azimuth and elevation information directly to the rotator control for automated positioning of satellite antenna systems. Satellite Tracking automatically calculates Doppler shift for the satellite's transponders and sends tuning data to HRD Rig Control, keeping your radio locked in the transponder's passband.
HRD Rotator Control puts you in full command of turning your antennas using azimuth and azimuth/elevation rotators by Yaesu, Hy-Gain, Green Heron, M2, AlfaSpid, Easycom, Idiom Press, FoxDelta, and others. Integrating with HRD Logbook and HRD Satellite Tracking, HRD Rotator Control manages beam headings via any computer-interfaced rotator controller.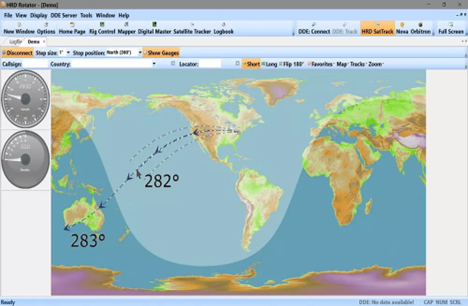 HRD Rotator Control Screen
HRD Rotator Control displays a Mercator or great circle projection map that enables click-to-point rotator operation. Drop-down country lists also make it easy to find those rare DX entities. Simply select the country name to point your beam and start calling. Features include automatic positioning from HRD Logbook; built-in DDE server that interfaces with HRD Satellite, Nova for Windows, and Orbitron; controls of azimuth and elevation; and provisions for built-in stops and offset correction.
Visit DXEngineering.com and enter "HRD Software" for more details about Ham Radio Deluxe Software for Windows!