While we all recognize the usefulness and fun of ham radio, we also know that it comes with its share of dangers. Any pursuit that deals with electricity, sharp tools, hot soldering irons, operating in extreme heat or cold, and towering antennas (see our video series on safe climbing practices) will undoubtedly result in the need for medical attention from time to time.
This is a good thing to remember as Field Day 2022 (June 25-26) approaches and the weather makes it more inviting for outdoor operating. Having a well-stocked, well-marked, and well-protected first-aid kit is essential for portable ops, especially in harsh environments. You can make sure your vital bandages and medical creams are safe from the elements with a First Aid Logo NANUK Equipment Case. These red equipment cases come in various sizes and feature a prominent first aid logo in white, plus all the ruggedness and durability you've come to expect from strong, lightweight, and waterproof NANUK cases. In addition, they feature NANUK's PowerClaw™ latching system, which makes sure the lid stays closed. Cases do not include foam insert. Choose from these options:
Series 903, 9.1″ L x 6.8″ W x 3.8″ H
Series 904, 10.2″ L x 7.9″ W x 4.5″ H
Series 905, 12.5″ L x 10.1″ W x 6.0″ H
Series 908, 12.5″ L x 9.8″ W x 8.0″ H
Series 909, 11.64″ L x 9.0″ W x 4.38″ H
Series 910, 14.3″ L x 11.1″ W x 4.7″ H
Series 915, 15.8″ L x 12.1″ W x 6.8″ H
Series 920, 16.7″ L x 13.4″ W x 6.8″ H
Series 935, Wheeled, 22″ L x 14″ W x 9.0″ H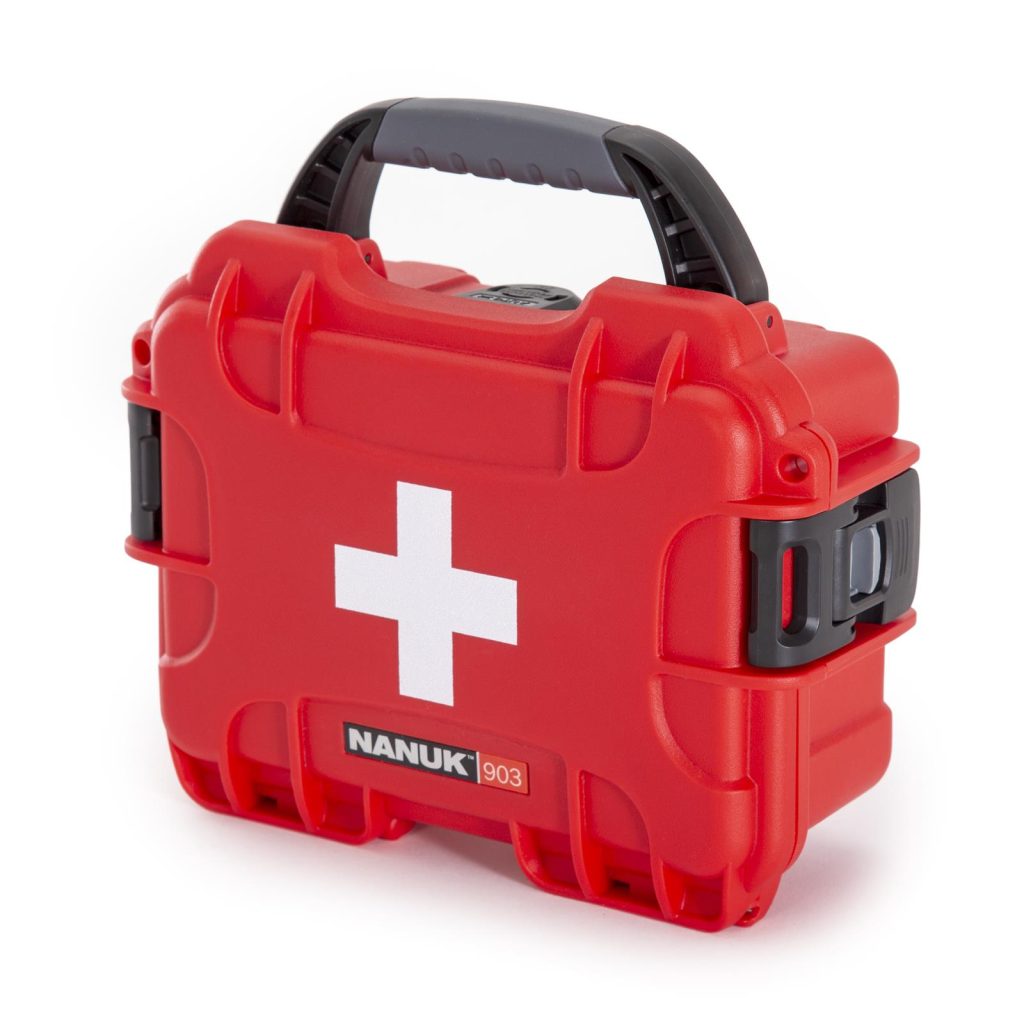 And while you're thinking about safety, check out these OnAllBands articles on Field Day Safety, How to Put up a Field Day Tower Safely, and Antenna Safety, Look Before You Install.
More Options for Safely Storing and Transporting Your Gear
Choose from 21 additional sizes of NANUK Equipment Cases, ranging from 9.1″ L x 6.8″ W x 3.8″ H to 55.1″ L x 17.3″ W x 6.6″ H. Models come in several options: with or without cubed foam inserts, with padded dividers, with padded dividers and lid organizer, with First Aid logo, or empty. Versions with wheels are also available. Cases now come in red and blue, as well as traditional options: tan, black, lime, orange, yellow, silver, olive, and graphite. Included cubed foam can be pulled away to create custom recesses for your gear. Also available are NANUK case/antenna analyzer combos.
Find the full lineup of NANUK cases, plus Gator Equipment Rack Cases and iPortable Pro2 Equipment Racks, at DXEngineering.com.