In August, OnAllBands announced that DX Engineering was now carrying shortwave radios, weather alert radios, and home emergency products from Eton Corporation—a Palo Alto, California-based company with an exceptional track record of designing and manufacturing innovative and reliable equipment since its founding in 1986.
Whether switching on a Blackout Buddy Swivel Emergency Flashlight when the power goes off or getting the latest information while camping with a rechargeable FRX2 Compact AM-FM-NOAA Weather Radio (powered by hand-crank, solar panel, or USB cable), the Eton name is your assurance that you've wisely chosen the right equipment when emergencies strike.
Over the coming weeks, we'll be highlighting some of the company's signature products, including its lineup of Elite Series shortwave radios (its latest model, the Elite Satellit, is on the way, so look for details as soon as its available at DXEngineering.com.).
We'll start right at the top with Eton's Elite 750 model—a classically styled portable radio that's loaded with features that make it perfect for shortwave enthusiasts or "radio-heads" who enjoy owning a fine piece of equipment that can expand their listening horizons.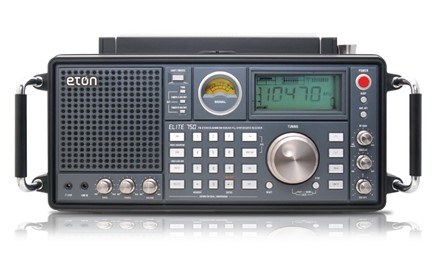 You can expect excellent reception and audio quality in a radio capable of receiving AM, FM, Longwave, Shortwave, SSB, and Aircraft bands. The radio employs Digital Signal Processing (DSP) technology to enhance tuning sensitivity. Further, its Selectable Wide/Narrow bandwidth lets listeners reduce interference on some frequencies. Other features include:
Easy station selection and tuning by directly entering the frequency with numeric keypad or button tuning, selecting the band and pressing up or down arrows, or spinning the prominent tuning knob
Auto Tuning function that allows you to scan from one station to the next
1,000 memory channels divided into two sets of 500 channels (100 for each band) plus 500 customizable channels, with automatic storage of the strongest AM, FM, and LW stations
Multiple antenna options: directional 360-degree rotatable ferrite-bar antenna for AM broadcast DXing; telescoping antenna for higher frequencies; and two BNC connectors and spring clip terminals for externally connected antennas
The ability to listen to your favorite music and media through the four-inch built-in speaker with a full 2W of audio output; audio devices can be connected through the line input, and sound adjustments can be made with the separate bass and treble controls
Two independently programmable alarm timers with snooze that allow you to set multiple alarms, by radio or buzzer, to start your morning in tune with your favorite music, talk show, or news
Radio comes with 6 VDC power supply; users supply four D cell alkaline, lithium, or Ni-MH batteries for portable operating.
Check out DXEngineering.com for the full lineup of Eton products.