For both portable deployment and permanent installation at your QTH, you can't go wrong with a dipole antenna—assuming you have the space to accommodate its installation. Widely praised for its simplicity, stealthiness, cost-effectiveness, and extreme efficiency at resonant frequency, the dipole has no shortage of raving fans in the ham radio community.
Now the great news! DX Engineering has made it easy to enjoy the benefits of using a single-band dipole with these new kits. Choose from five models of rugged yet lightweight antennas that give you all the proven, reliable performance dipoles are known for plus the benefits of being constructed from high-quality DX Engineering components.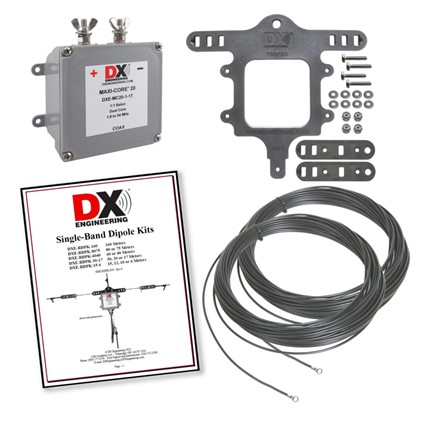 Check in at DXEngineering.com to see what models are currently in stock:
DXE-RDPK-160: For 160M, comes with two 132-foot wires
DXE-RDPK-8075: For 80M or 75M, comes with two 69-foot wires
DXE-RDPK-6040: For 60M or 40M, comes with two 46-foot wires
DXE-RDPK-30-17: For 30M, 20M, or 17M, comes with two 26-foot wires
DXE-RDPK-15-6: For 15M, 12M, 10M, or 6M, comes two 13-foot wires
The kit includes:
Two premium 14 AWG stranded copper, relaxed PVC antenna wires with crimped and soldered 1/4-inch ring terminal on one end of each wire
DX Engineering DXE-MC20-1-1 MaxiCore 20 1:1 Balun
Stainless steel hardware
Instruction manual
Wires are supplied long so any frequency of the desired band can be cut to resonance or lowest SWR. Add antenna rope and coaxial cable to put up and connect your dipole antenna. Your dipole can be installed horizontally between supports or as an inverted-vee with the center feedpoint on the highest support. The antennas have a power rating up to a legal limit of 1.5kW using the included DX Engineering balun. Limiting factors will be the height above ground and physical location.

Read DX Engineering's detailed and fully illustrated instructions for many more details, including safety considerations, other required items, cutting antenna wire lengths for a desired center frequency, installing the balun, tuning the dipole, attaching support line, maintaining the antenna, and more.
Sets of two pre-assembled antenna wires with installed 1/4-inch ring terminals can be purchased separately for each frequency range.