At OnAllBands, we focus a great deal of our attention on antennas. It's part of a philosophy that's echoed by hams the world over: Put all your eggs into a powerful rig but neglect the antenna and performance will suffer. In the days ahead we'll be highlighting the new DX Engineering Single-Band Dipole Antenna Kits as well as lesser-heralded antennas like the Carolina windom and skeleton slot.
Today, we're excited to showcase another new product from DX Engineering that boasts proven effectiveness, ease of construction, versatility, and hassle-free installation—the Multi-Band Off Center Fed Dipole Antenna Kit (DXE-OCF-KIT).

The kit lets you feed two different length wire dipole legs with a 4:1 balun. Compared to a single-band resonant dipole with equal length legs, the OCF dipole offers the benefit of HF multi-band operation at the "cost" of slightly to somewhat elevated SWR. Depending on band and antenna surroundings, in many cases the automatic antenna tuner built into the transceiver will provide the desired band coverage at good SWR. In some scenarios, a low-cost external tuner will provide better band coverage, while a more capable external tuner is required for high-power operations.
The DXE-OCF-KIT manual shows four versions of the OCF dipole that can be made from the kit, as well as including detailed assembly instructions, mounting considerations, tuning tips, analyzer scans, and more.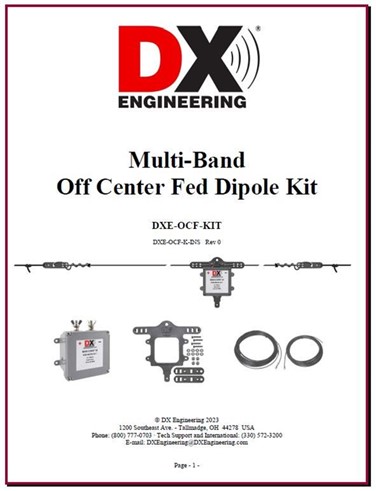 Designed to be rugged yet lightweight, the DX Engineering Multi-Band Off Center Fed Dipole Antenna Kit includes:
Two lengths of premium 14-gauge relaxed PVC antenna wire (48 feet and 113 feet) with a ring terminal soldered on one end. These can be trimmed based on desired coverage (80M-10M).
DXE-MC20-C4-1 DX Engineering Maxi-Core 4:1 Dual Core Balun
DXE-WA-BMB Mounting Bracket with end insulators. The insulators are made from a super high-strength UV-resistant black poly-resin compound and feature an exclusive serpentine wire-weave grip for insulated antenna wire. This method of threading the wire provides a grip strong enough to permanently support the antenna wires. This allows fast and easy field adjustments to the length of the antenna for tuning with no soldering.
Stainless steel hardware

The antenna typically delivers up to a legal limit of 1.5kW SSB and CW power handling, with reductions for high SWR and the appropriate 25% power restriction on high duty cycle carrier modes including AM, RTTY, FT8, and FT4.

For antenna installation, add rope and supports available from DX Engineering, such as a Premier Telescoping Carbon Fiber Mast or Fiberglass Mast Kit.

For additional information on OCF antennas, read this OnAllBands article by Mark, K8MSH: Off-Center Fed Antennas: Multitalented or Misunderstood.