The ham radio community has made Bioenno Power a go-to source for reliable Lithium Iron Phosphate (LiFePO4) batteries and chargers for low-power portable operations, including SOTA, POTA, and IOTA. DX Engineering has been thrilled to make these high-quality and rigorously tested products from Bioenno available to our customers.
Per the Bioenno website, here are some of the advantages they list for their LiFePO4 batteries:
Lower weight
Increased capacity
Enhanced power delivery
Expedited efficiency
Longer lifetime than other lithium-ion batteries
Better power density
Constant and stable discharge voltage
Increased battery safety due to thermal and chemical stability
Low environmental impact due to usage of phosphate rather than cobalt
Higher current/peak power ratings
Greater calendar life
Further, Bioenno Power offers customers its True Lithium Capacity Assurance policy, meaning the company individually inspects and quality-checks every battery when it is stocked into inventory and when it is shipped.
Here's what some DX Engineering customers said about their Bioenno battery purchases:
Five Stars (BLF-1206A LiFePO4 Battery, 12 VDC, 6 Ah): "Nice battery, much better than the lead acid types, lasts longer and for the IC-705 I haven't run it down yet. GOOD BUY."
Five Stars (BLF-1209A LiFePO4 Battery, 12 VDC, 9 Ah): "The right battery for the right job. The Bioenno 12V batteries work well with my radios with their Powerpole connectors. Also, they can easily be charged via A/C charger or a solar panel. I bought the 3, 6, and 9 Ah batteries to go in my various go-boxes. I like the dependability associated with a well-known brand."
New Battery/Charger Combos
DX Engineering has created 13 convenient combos that pair Bioenno LiFePO4 12 VDC batteries with the Bioenno chargers required for each. Now you can get them both in one easy purchase. Please note that SLA battery chargers are NOT compatible. Choose from these combos:
BLF-1212AS-P: 12 Ah, 20A, 240W, 3.53 lbs. ABS sealed battery and 1502 charger
BLF-1215A-P: 15 Ah, 30A, 360W, 4.19 lbs. battery and 1504 charger
BIP-BLF-1215AS-P: 15 Ah, 30A, 360W, 4.30 lbs. ABS sealed battery and 1504 charger
BIP-BLF-1220A-P: 20 Ah, 40A, 480W, 5.4 lbs. battery and 1504 charger
BIP-BLF-1220AS-P: 20 Ah, 40A, 480W, 5.73 lbs. ABS sealed battery with screw terminals and 1504 charger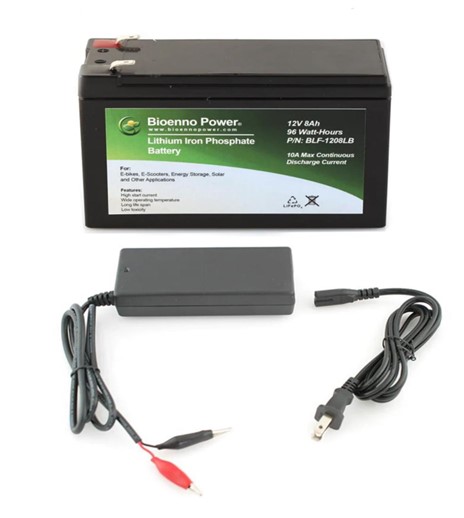 Also check out Bioenno Power foldable solar panels (28 to 120 watts) and solar charge controllers.
What do hams say?
Five Stars (SC-4830JUD Solar Charge Controller): "I'm liking this controller. Simple to use, lightweight, integral cooling fins. It's got it all."
Five Stars (BSP-40-LITE 40W Foldable Solar Panel): "This is a nice setup. It's very solid and robust yet folds up into a package that will in fact fit into a 'fat fifty' ammo can." (See below)