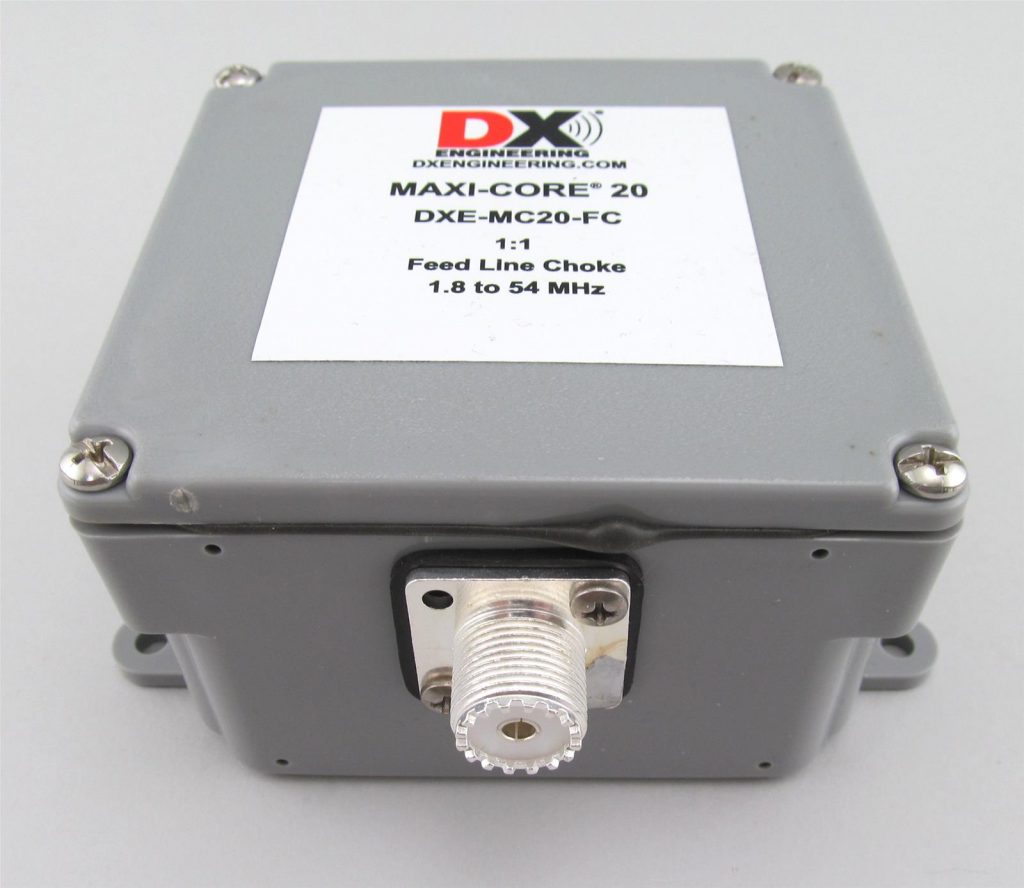 Maxi-Core® 20 Baluns and Feedline Chokes reduce or eliminate currents on the outside of your feedline allowing you to hear and to be heard much better. They keep more RFI/BCI out of your antenna and receiver and transfer more of your transmitted signal to the antenna for higher efficiency, the best antenna pattern and maximum performance.
Signaling a new era of RF performance across the 1.8 to 54 MHz frequency range, DX Engineering Maxi-Core® 20 Baluns and Feedline Chokes handle full-legal-power-plus and provide higher common mode impedance (CMI) across a greater frequency range than competing models and even previous DX Engineering and Comtek models. Years of R&D coupled with major advancements in test equipment and techniques combined with custom ferrite materials have allowed our engineering team to design the DX Engineering Maxi-Core® 20 Baluns and Feedline Chokes.
Common mode impedance (CMI), also known as choking impedance, is a measure of how well a balun or feedline choke reduces exterior RF currents traveling through it and on the outside of the coaxial cable. Currents that travel on the outside of the coax re-radiate signals directly to your antenna and then travel to your receiver. Even with a feedline isolator (choke) or balun at the antenna end of the transmission line, many times a feedline isolator is necessary at the transceiver side in order to squelch the noise currents picked up by the feedline on the way to the radio.
Modern testing methods clearly show that coiled coax, sometimes known as an "ugly balun," and inexpensive baluns provide minimal CMI over just narrow frequency segments of the HF range.
Maxi-Core® 20 Baluns and Feedline Chokes have high CMI across the AM Broadcast band and the HF/6M spectrum, which is essential to provide sufficient suppression of unwanted transmitted and received RFI/BCI current on the feedline shield exterior.
Optional mounting brackets are available for use on wire antennas or for verticals, Yagi and beam antennas. See the Suggested Parts tab after clicking "More Detail" on the DX Engineering web site on the model balun/choke of interest. Each model listing provides additional specific information. Combination packages that include balun or choke and bracket are also available.
Hear and be heard with DX Engineering Maxi-Core® 20 Baluns and Feedline Chokes! Features and benefits include:
Performance at the highest levels of efficiency in transmit or receive applications
Reduction or elimination of transmit RFI and receive noise
Currents on the feedline or antenna are forced equal for maximum efficiency and more symmetrical antenna patterns
Weather-resistant NEMA enclosure with convenient mounting holes
Four weep holes to help eliminate internal moisture
High-quality PTFE dielectric, silver-plated SO-239 connector
1/4-20 stainless steel hardware
For complete information on Maxi-Core® 20 Baluns and Feedline Chokes, visit DXEngineering.com.