CI-V stands for Computer Interface V (V representing the Roman numeral for 5 ). This is Icom's name for its rig interface to a computer or to another rig. Other manufacturers such as Yaesu refer to this as CAT (Computer-Aided Transceiver). You can find it on most HF and some VHF rigs manufactured since the 1980s, and its basic operating structure hasn't changed much since then.
However, manufacturers never settled on a standard protocol. Each manufacturer typically implements its own version. Icom kept the same protocol across its many transceivers, while Yaesu generally wrote a new protocol for every new radio. CAT and CI-V are infrequently used on VHF/UHF radios because most operations are on channels rather than frequencies.
Operation
To keep things simple, I'll use CI-V to represent both CI-V and CAT interfaces since they essentially perform the same function. I'll also refer specifically to the IC-7300 for examples since it's a well-known transceiver.
A CI-V interface is a piece of hardware that connects the radio and the PC, allowing them to communicate with each other. The CI-V interface itself doesn't do any communicating–it only provides the correct voltage levels or protocol required by both. The actual communication itself is between the radio and the software on the PC.
Using a CI-V program and interface allows you to control your radio from the PC. Changes you make (volume, tuning, RF gain, etc.) will be shown on the PC's screen via your software. Functionality depends on the radio's capabilities and what features the software writers included in the CI-V program.
Generally speaking, the more modern the radio, the more CI-V functionality it will have. CI-V is also useful on radios where there are multiple submenus in the menu system, allowing items to be easily changed via the PC. On many HF radios, the CI-V system is also used to program the memories on the radio, but you will need the appropriate programming software.
But there's more–it's not just a clone of your rig controls. If you run a logging program that supports CI-V, that software may take advantage of the CI-V system by retrieving frequency information to help fill in log details. You can use digital mode software such as Fldigi to control the radio using the computer and CI-V port.
In addition to controlling the radio, CI-V can connect to a variety of station hardware to facilitate in-shack or remote operation via a PC. CI-V can send frequency and status information that can be used by a remote antenna controller, rotor box, or coax switch connected to multiple antennas. For example, the Green Heron RT-21 is equipped with an RS-232 port and a USB "B" connection. Virtually all software that supports rotor control via a COM port can be used with the RT-21.
The Hamplus Desktop Antenna Switch AS-603AL operates directly from the CI-V with the appropriate radio interface cable. It has rear panel connectors to support up to three transceivers–even different models. The AS-603AL supports communication via Icom's CI-V remote port and via an RS-232 COM port for Kenwood, Elecraft, Yaesu, or others that use a compatible communication protocol.
Technical Details
The IC-7300 transceiver provides two separate ways to connect to the interface: through the USB port and through the remote jack.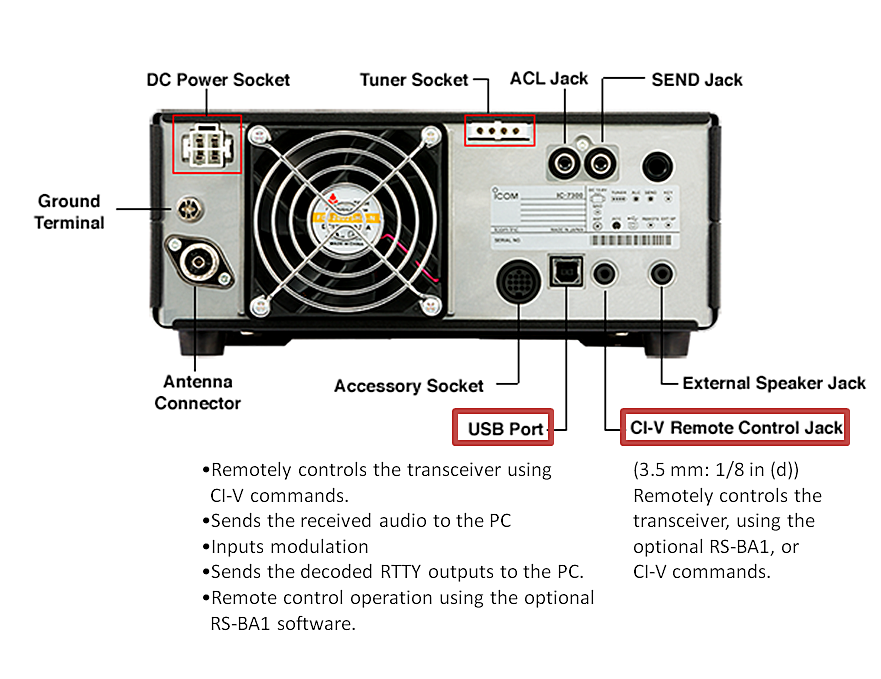 CI-V settings are located in the IC-7300 SETUP menu. Choose "CONNECTORS, CI-V" and there are two pages of settings that follow. Most software that addresses the CI-V port uses default settings found in the radio, so it's likely you'll make few or no changes in the settings.
Either the computer or a transceiver can send data; each can receive by simply sensing the voltage on the line. Each transceiver must be identified by an address–a hexadecimal number. Up to 19,200 bps is possible, and it's best to try to use the highest possible speed. The IC-7300 also has an auto option for speed detection, so make sure to set your radio and the PC to AUTO or check that the same speed is set in manual mode.
Want to connect two rigs? You need nothing more than a shielded cable with two 3.5mm mini jacks. The CI-V protocol uses single-byte addresses to communicate with individual rigs on the line. Each model has its own default address. If two or more rigs of the same model are connected to the bus, the addresses have to be changed so each has its own unique address. The number of rigs on a line is not limited, in theory, but Icom recommends a maximum of four units on a single line.
If your radio only has the remote mini jack and no RS232 DB9 connector, you can use an adapter. The West Mountain Radio RIGtalk RT1 USB emulates a serial port at the computer but communicates with a radio at TTL voltage levels.
Is CI-V for you?
Modern radios have more CI-V functionality when used with a PC, including rig control, logging assistance, and control of accessories in your shack. Explore what this interface can do to help your station become more flexible and efficient.