For more than 26 years, the automatic antenna tuning wizards at LDG Electronics have been devoted to helping amateur operators make QSOs, execute emergency ops, and get more enjoyment out of their time on the air, whether operating from a base station in the heat of a contest or handling a portable pileup from a mountain peak.
The family-owned, Maryland-based company's latest tuner, the Z-100A, comes with all the performance hallmarks that have made its impressive lineup of plug-and-play automatic antenna tuners the go-to gear for hams worldwide—ease of operation, long service life, high-grade components, precision results, simple pushbutton controls, transportability, and low power consumption.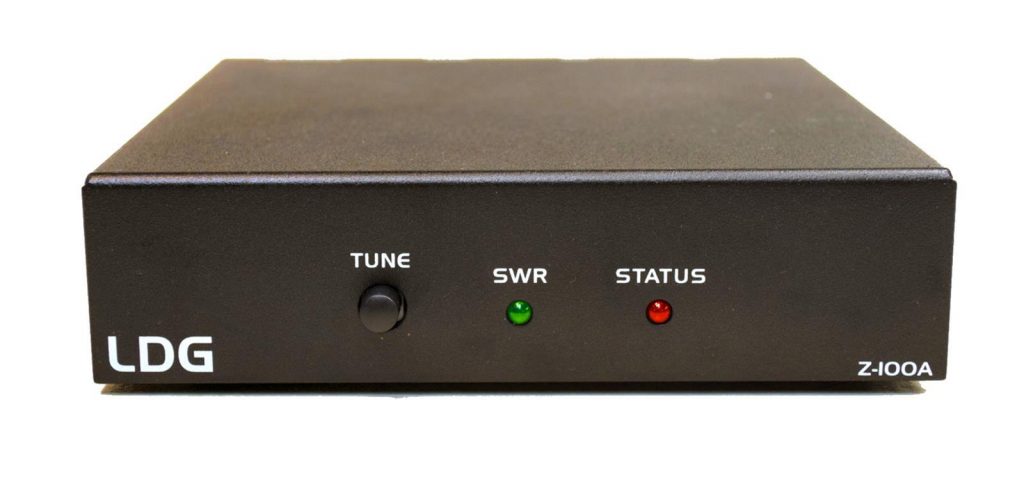 And now, for a limited time, DX Engineering and LDG have teamed up to offer the Z-100A automatic tuner bundled with seven 36″ cables: six interface cables for use with Alinco, Icom, Kenwood, and Yaesu transceivers; and one DC power cable compatible for use with Elecraft, FlexRadio, and other 100W rigs (part # LDG-Z-100A-DXE).
The standard Z-100A package only includes the interface cable for Icom rigs and the DC power cable.
About the Z-100A
Weighing only 1.5 lbs., the compact Z-100A (6.30″ W x 1.50″ H x 6.30″ D) features LDG's famous 10:1 SWR tuning range that matches dipoles, verticals, end-fed wires, G5RVs, or even off-center-fed dipoles and Windom antennas. Covering 160 through 6 meters, the Z-100A delivers 125W PEP SSB and CW, and 30W Digital. The tuner works with all HF radios up to 125 watts RF output and can be interfaced with dozens of modern transceivers (an interface cable is not required for semi-automatic operation).
Whether or not the Z-100A tuner is interfaced with the transceiver, users can benefit from its internal frequency counter and 2,000 memories to store each operating frequency with antenna tuning parameters. Memory retuning occurs in only 100 milliseconds, with the initial full tuning cycle requiring an average of only 6 seconds. Depending on the rig used, hams can execute quick automatic tuning either by pressing a button on the tuner or by pressing a button on the tuner or transceiver.
NOTE: If you're using the Z-100A for portable operations, it is recommended to make sure the device is properly protected since it is not weatherproof.
About the LDG-Z-100A-DXE DX Engineering Package
Here's what you receive:
ICOM IC-100: For use with any Icom 100 watt transceiver that supports AH-3 or AH-4 Icom antenna tuners. Compatible transceivers include the IC-706, IC-718 (select AH-4), IC-746, and IC-7000 (click here for a list of all applicable models)
Six interface cables, which let you use the Z-100A with a wide range of popular rigs while taking the guesswork out of making sure you have  the right cable:
Alinco IC-105: For use with Alinco transceivers that support the EDX-2 antenna tuner: DX-70, DX-70T, DX-70TH, DX-77, DX-SR8, DX-SR8T, and SR9
Kenwood IC-106: For use with Kenwood transceivers that support the AT-300 antenna tuner (see applicable models here)
Yaesu IC-108: For use with these Yaesu transceivers: FT-100, FT-100D, FT-857, FT-857D, FT-891, FT-897, FT-897D, FT-991, FT-991A
Yaesu IC-109: For use with these Yaesu transceivers: FT-450, FT-450D, FT-950, FTdx-1200, and FTdx-10
Yaesu IC-115: For use with these Yaesu transceivers: FTdx-101D and FTdx-3000
IC-104 DC Power Cable: For use with other 100W transceivers, including Elecraft and FlexRadio models
Visit DXEngineering.com for more about the LDG-Z-100A-DXE Automatic Antenna Tuner with Seven Cable Package available exclusively from DX Engineering for a limited time.