Plus a Look at an RM Italy Classic Amplifier Available at DX Engineering
Founded in 1974 by Remo Marchioni in Porretta Terme, Italy, RM Italy is a name that has become synonymous with finely crafted, high-performance linear amplifiers trusted in ham shacks around the globe. DX Engineering is pleased to offer the company's new LA-435 UHF amplifier to add to its lineup of UHF, VHF, and HF amplifiers available at DXEngineering.com.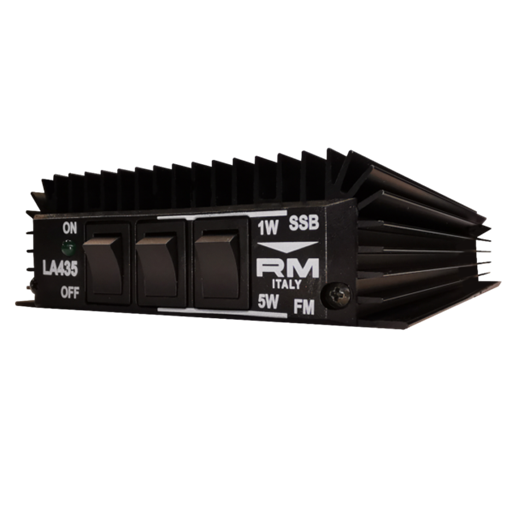 The compact LA-435 70cm amplifier boasts complete UHF frequency coverage (405-480 MHz) without any gaps; a nominal 60 watts of full output power, 70 watts PEP maximum; required input drive from 1 watt to a maximum of 5 watts—perfect for low-power handheld radios; and automatic "RF Sense" switching between RX and TX, which it bypasses when it is switched off for low-power operation. Other features include:
SSB mode adds a small transmit-receive delay for smoother voice operation
Rear panel European-style removable DC power connector cable facilitates easy installation with a user-supplied DC power cable fused for 15A at 13.8 VDC
Type-N input and output RF connectors to minimize losses
More from RM Italy
If you're looking for an affordable HF amplifier that's just right for low-power operating, check out this classic RM Italy amplifier also available at DXEngineering.com:
BLA350 Plus HF Linear Amplifiers: Designed for use with QRP transceivers from 160 through 10 meters, these compact and fully automated amplifiers can deliver up to 300W output when driven with less than 10W RF input. They can be used on all narrow band modes of transmission (SSB, CW, AM, FM, RTTY, FT8, et. al.), using reduced power for the high duty cycle digital modes. Two versions are available including the appropriate fuses and AC power cord: RMY-BLA350P-120 (110-120 Vac) and RMY-BLA350P-240 (207-244 Vac).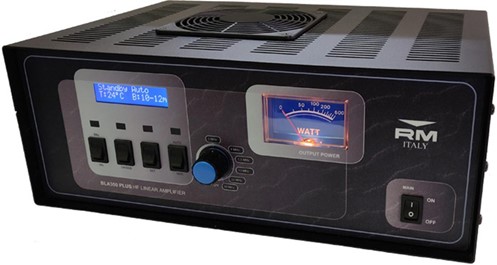 What do hams say about the BLA350?
Five Stars: "I don't have enough power in the shack to run a big amp, but this one gives me just enough of a boost to get stations I wouldn't have otherwise. It doesn't take up too much space and is fairly quiet. Simple to hook up and operate and it's almost too well protected from operator error."
Five Stars: "Great addition to the shack! I recently purchased an RM Italy BLA350 Plus linear amplifier from DX Engineering, which was delivered to my doorstep within days of placing the order. After a week or so of getting acquainted, this amplifier delivered everything I expected. It has a very effective self-protection suite against overdriving, high VSWR, and high temperature. The thresholds are set conservatively (a good thing) but this required care with interfacing with my particular rig, antenna tuner and antenna. This little gem affords me roughly an extra S-unit on transmit. Going with a full legal limit boots-on amp would only get me roughly a little over another S-unit, and would also require a heftier antenna tuner, re-wiring the shack for 220 Volts, re-vamping the ground system, ($$$)…For the money, the BLA350 Plus hits the performance-for-the-money sweet spot. This amplifier is also a pleasure to operate."
Also check out DXEngineering.com for the RM Italy BLA600 (1.8-54 MHz, 500W output), MLA100 (1.8-54 MHz, 100W output), HLA305 (1.8-30 MHz), 250W output, MUA100 Wideband UHF (405-480 MHz, 100W), and VHF linear amplifiers.