Written by: By Adrian KO8SCA, Hal W8HC and Yuri N3QQ
Motto: "Trust your heart if the seas catch fire, live by love though the stars walk backward." E.E. Cummings
At the far western edge of the state of Alaska lies a group of islands, spread like a string of pearls spanning a distance greater than 1,000 miles. These are the Aleutian Islands.
For a few days during July 2022, a team of six operators sailed to the Aleutians in what was a third DXpedition attempt to activate the rare IOTA group (IOTA NA-070, POTA K-0143) called Kiska Island, a desolate and inhospitable place within the Alaska Maritime National Wildlife Refuge.
The Aleutians
Alaska is a large state, and it's hard to comprehend some distances unless you use geographic comparisons. So here is one: the distance from Alaska's east to west border is farther than the distance between New York and San Francisco. In fact, Kiska Island is closer to Tokyo than it is to San Francisco.
The Aleutian Islands consist of 72 islands born out of volcanic eruptions 55 million years ago. They are located at the juncture of the northern edge of the warm waters of the Pacific Ocean and the southern reaches of the extremely cold and hostile waters of the Bering Sea. This juncture creates some of the most violent weather conditions in the Northern Hemisphere. Most of the far western Aleutian Islands, including Kiska, are uninhabited.
Kiska Island
The island is only five miles wide and 22 miles long. Desolate and uninhabited, it is covered by volcanic sand and tall grass. There are no trees or animals except some rats that are said to have roamed the island since the first explorers brought them on their sailing boats. At the far end of the island there is a 4,000-foot-tall active volcano. The weather is harsh, with only eight clear days a year amidst an average of 250 days of rain, powerful winds, and 100 days of bitter cold darkness. That pretty much describes a place that probably should be avoided by humans.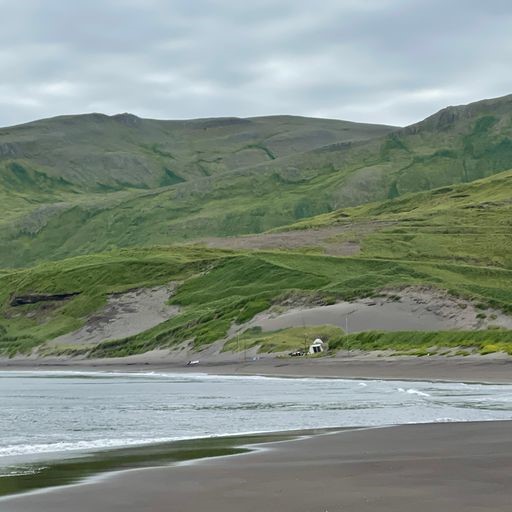 A view of Kiska Island
Kiska Island and its Role during WWII
Visiting Kiska Island requires close coordination with the U.S. Fish and Wildlife Service. If you plan an IOTA expedition to Alaska, you will need to contact the U.S. FWS in Homer, Alaska, first and begin the coordination process. Many of Alaska's islands are managed by the U.S. FWS and access to some have unique requirements. Access to Kiska is closed for general visits. One of the reasons is because some of the Aleutian Islands, including Kiska, are littered with unexploded ordinance (UXO), remnants of WWII. The year 2022 marked 80 years from the start of the Aleutian campaign of WWII, also known as the "1,000 Mile War," an event that was commemorated by our K7K DXpedition.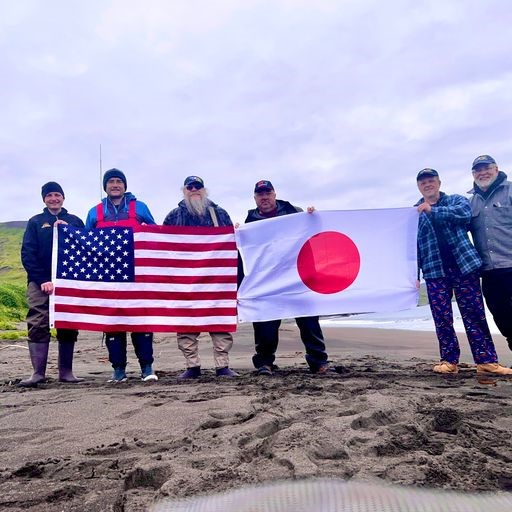 Alex, KL5CX; Adrian, KO8SCA; James, KB2FMH; Tim, NL8F; Yuri, N3QQ; and Hal, W8HC.
During WWII, Japanese forces were eyeing the capture and occupation of Midway Island, a tiny speck of land and a U.S. possession in the Pacific. Midway served as an important refueling stop for the U.S. bombers intending to reach the Japanese mainland.
Militarily, Japanese forces needed a ruse to draw the U.S. Pacific fleet away from Midway. The Aleutian Islands fit perfectly into that strategic scenario.
Luckily, however, U.S. intelligence services had broken Japanese naval codes. The Japanese plans were revealed and now known to the U.S. forces. Nevertheless, this remote region in the Pacific became a fiercely contested battleground with Japanese forces capturing two of the islands in the Aleutian archipelago—Attu and Kiska.
Some 6,800 Japanese soldiers occupied Kiska Island for nearly two years. To survive, they built multiple structures resembling a small town: living quarters, underground tunnels, water towers, telegraph poles, unpaved roads, a submarine base, and multiple military installations. Some of these structures are still standing today.
In the end, the fiercest enemy of both the Japanese and Allied combatants in the 1,000-mile-long Aleutian campaign was the weather. Following the Japanese loss, and 2,300 casualties suffered during an intense 19-day battle at Attu that ended July 28, 1943, Allied forces shifted their attention to retaking Kiska. Fearing similar defeat, the Japanese commander at Kiska realized he was in a no-win position and took advantage of the weather. With dense fog and harsh winds blowing sideways, 5,000 Japanese troops boarded vessels and left Kiska Island undetected by Allied command. On August 15, U.S. and Canadian forces invaded the island, still not aware that the enemy had left. Attacking from two sides of the island in dense fog, there were many servicemen killed or wounded by "friendly fire." The Aleutian Islands were now back in the hands of the U.S.
IOTA
The Islands on the Air (IOTA) program aims to recognize and certify ham operators for contacting islands around the world. For IOTA purposes, open sea islands of the world are grouped in 1,200 references.
The starting point in the program is confirming the first 100 references and being awarded the IOTA 100 certificate. Improving the score is a steady pursuit that can take many years of effort, making IOTA both challenging and rewarding.
Many of the world's islands are uninhabited and very remote, often requiring special permission to land on and operate from by the parent country. This is why some IOTA references are rarely operated from, and some perhaps for only a few days every five, ten, or even twenty years or so. More details about the IOTA program are available at its official website.
Kiska Island: Third Time is a Charm
The 2022 IOTA expedition was actually attempt number 3 to reach Kiska Island. In 2020 the pandemic curtailed our travel plans and forced the cancelation of the KL7RRC expedition after equipment and supplies had already been staged in Dutch Harbor, Alaska.
In 2021 our chartered, prepaid vessel incurred a medical emergency by one of its crew members prior to picking up the eight totes of gear at Dutch Harbor. The original plan called for team member Tim, NL8F, to help load the gear onto the boat and sail out to Adak Island (NA-039) where he would meet up with the other five members who would be flying into Adak from Anchorage. Tim was able to locate a vessel to take the totes out to Adak and thought there was a good possibility we could locate another charter from there. Unfortunately, Murphy struck again, and another vessel was not available.
The KL7RRC team, consisting of Tim, NL8F; Walt, N6XG; Hal, W8HC; Rob, N7QT; and Yuri, N3QQ, made the most of their time as they operated eight days from Adak Island. They logged over 10,300 QSOs with 102 different DXCC entities, many making their first-ever QSO with NA-039! During the operation, the group also experienced several great E openings on 6 meters with 820 QSOs in the log on the "magic band." Some of the members of the team left Adak Island hoping for another chance at elusive Kiska in 2022.
In 2022 the K7K Kiska IOTA Expedition team was made up of six operators:
Yuri, N3QQ, K7K team leader: A passionate and experienced DXpeditioner who activated many rare IOTA entities, Yuri was the main organizer, proponent, and decision maker in getting this tough project off the ground—and his perseverance certainly paid off.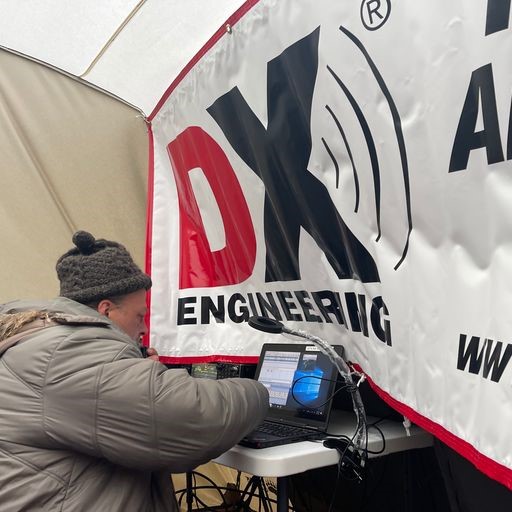 Yuri, N3QQ, operating CW with a DX Engineering banner in front. DX Engineering was an equipment sponsor of K7K.
Tim, NL8F: A native Alaskan, Tim was instrumental in finding the boat, the key to the success of our DXpedition. He is a mechanic by trade and owns a vessel repair business in Dutch Harbor. To say his mechanical repair skills came to the rescue multiple times during our stay on Kiska is an understatement!
Hal, W8HC: A veteran DXpeditioner and INDEXA officer, Hal brought an impressive amount of experience to K7K, as he had been a member of many DXpeditions to top 20 entities. His experience was welcomed by our team, and we all enjoyed listening to his stories from his past DXpeditions to some of the most remote places on Earth.
Alex, KL5CX: Also born in Alaska, Alex was the youngest team member. He works as a commercial pilot for one of the major airlines. His youthful energy was envied by the whole team. This was Alex's first DXpedition and others on the team are hopeful this will be the first of many. Among other duties, he was assigned the difficult task of piloting the Zodiac during our landing and departure excursions to and from the island. His skills were cheered by the entire team, especially when he was able to navigate the Zodiac in some very difficult conditions.
James, KB2FMH: A passionate POTA (Parks on the Air) activator, James can be heard often on the air from one of the myriad parks around the New York area. This was James' first DXpedition and one could easily see his excitement along the way. He was the first one to ask, "Where do we go next?" even before the K7K DXpedition had concluded. He would describe himself as someone who likes to…talk, and so he became the voice behind most of our SSB QSOs.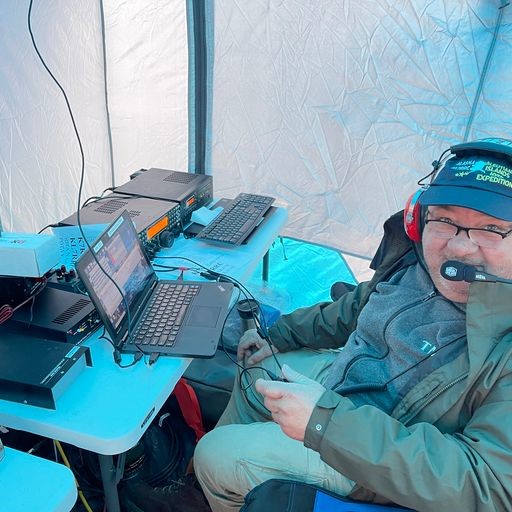 James, KB2FMH, operating SSB
Adrian, KO8SCA: K7K was DXpedition #29 for me. I love traveling. Blending that with ham radio is the perfect recipe for a great trip. K7K was no exception to this rule. Furthermore, the tough environment encountered on Kiska allowed me to test some of the gear that I brought to the 3Y0J DXpedition to Bouvet Island in January 2023.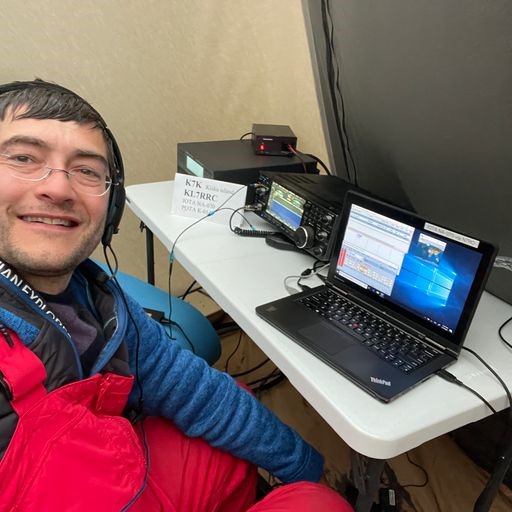 Adrian, KO8SCA, operating CW
Bringing two DXpedition first-timers, Alex and James, as members of K7K was a refreshing idea and the team was really excited about that. It is probably one of the most successful ways to bring younger people into our hobby and into DXpeditioning in general.
Our Vessel and Able Captain
Our DXpedition had a budget of about $50K, most of which was used to pay for the boat, its captain, and fuel. Our chartered boat for the July 2022 K7K trip to Kiska Island was the April Lane, a 56-foot fishing boat based out of Dutch Harbor. Navigating the treacherous waters of the Bering Sea requires an appropriate boat, and the 88-ton April Lane did the job perfectly.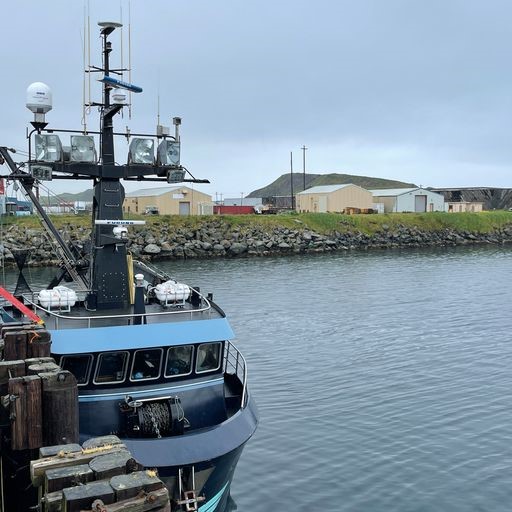 April Lane docked in Adak, Alaska
Alaska king crab fishing season normally opens in the fall and runs through the early winter months, usually between October and January. This time frame allowed us to find and secure this particular fishing boat for our trip in July. Having a suitable vessel is one thing, but having someone who knows what they are doing with it is another. Fortunately for us we had Captain Rick Fehst. Captain Rick, a jovial and experienced sailor of the Aleutians, entertained us with lots of stories and was a great companion during our voyage.
We learned that his skills as a seaman and unique personal charm actually enabled him to become somewhat of a TV celebrity. Rick was one of the featured captains in "Early Dawn" and main protagonist in Season 5 of the very successful "Deadliest Catch" reality television series on the Discovery Channel. If you are not familiar with the show, it follows crab fishermen in the Bering Sea during the Alaskan king crab and snow crab fishing seasons. Crab fishing is listed by the Occupational Safety and Health Administration as the deadliest job in Alaska, and the show gives the viewer a glimpse of the tough conditions in the Bering Sea and the intense physical labor associated with this type of job. Needless to say, our team felt quite comfortable and safe knowing that we had such a nautical veteran of some of the most treacherous waters on the planet.
Rick had told us on the voyage out that he was looking forward to the possibility of going ashore at Kiska when we were there. He was quite familiar with the island from his time fishing out in the Aleutians but could not take time away from fishing work to go ashore. He was especially interested in seeing the rusting military remnants from WWII—the Japanese mini-subs rusting on the beach, the sunken ship in Kiska Harbor, the anti-aircraft guns placed strategically around the island. Unfortunately, between the weather conditions and our operating schedule, we were unable to send someone over to the April Lane, which was anchored in the harbor, and relieve Rick so he could make the 300-meter Zodiac trip to the island. Captain Rick will have to put this on his bucket list if he ever wants to go out into the Aleutian extreme in order to set foot on Kiska.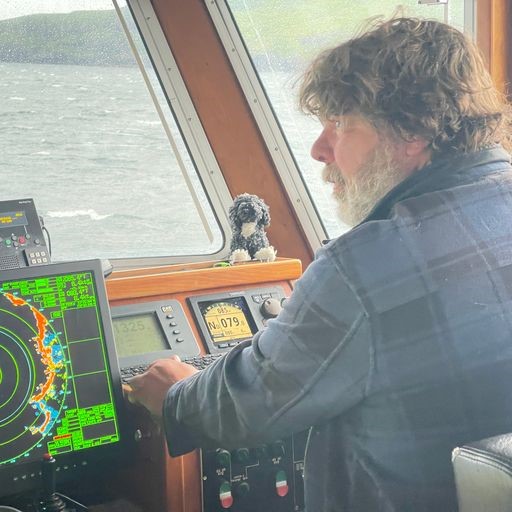 April Lane captain Rick Fehst
Preparing for Departure
All of the totes of gear that had been shipped to Adak in 2021 had been returned to Dutch Harbor through Tim's Alaskan shipping connections. Tim also provided warehouse space at his business to store the gear. The plan was basically the same as 2021, with Tim loading the vessel and traveling onboard the April Lane from Dutch Harbor to Adak where the other members of the team would be flying in to meet him. Tim asked if anyone from the team could possibly come to Dutch Harbor early to help him with all the preparations, make sure everything was accounted for and in proper working order, and then help him load everything onto the boat. Hal volunteered to go up early to assist Tim and made the long flight to Dutch Harbor from Charleston, WV, arriving on July 17.
Tim and Hal had three days to make sure everything was accounted for, functional, and ready to be loaded onto the boat. There were generators, tents, tables, chairs, fuel, water (there is no drinkable water on Kiska), food, antennas, coax, cots, etc. Keep in mind that the six members of our team would be living on an uninhabited island for a week. We would be building a "city" on Kiska, and we definitely did not want to forget anything. The nearest Wal-Mart was almost 1,400 miles away!
Time to Set Sail
Captain Rick, Tim, and Hal finished loading the boat on July 21. The first order of business was to tie up at the fueling dock where Rick topped off the fuel tanks. By early afternoon they were on their way to Adak Island, a three-day westward sail where they would pick up Yuri, Alex, James, and myself (we were able to fly directly into Adak). Even though Adak Island has a population of only about 50 people, it has an airport with a large runway allowing large jetliners to land. The island used to host a significant U.S. military installation until about 20 years ago, and the airport now uses the runway. Today, it is mostly a "ghost town" with abandoned buildings, many in much disrepair due to the violent weather there. As you arrive at the airport, you are greeted by a sign on the terminal, "Welcome to Adak, birthplace of Winds," a fitting tribute to a location that regularly experiences 120 MPH squalls!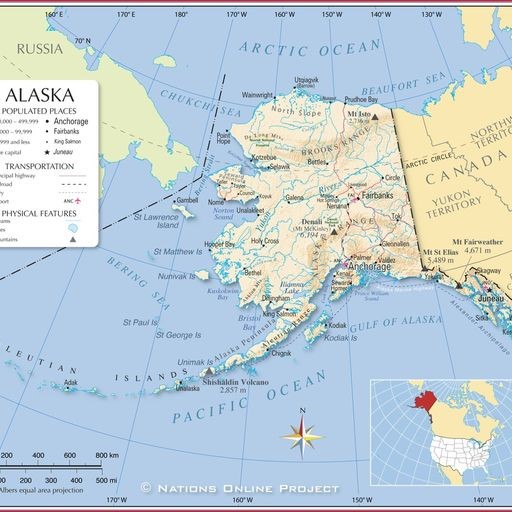 DXpedtion route to Kiska Island
The April Lane arrived late at night. As soon as we were boarded with our own gear and equipment, we were underway. Our voyage from Adak to Kiska Island was about 36 hours long. The DXpedition members spent time discussing DXpedition details and activating rare grids on maritime mobile on 6m. In retrospect, we all agreed that the boat and its captain were the keys to our successful DXpedition.
The Equipment
We had five antennas installed right on the beach. That, of course, is the biggest advantage of operating from an island. Using mainly vertical antennas, light and easy to assemble and repair, allowed us to hear signals from all directions. The 17m VDA provided by Walt, N6XG, was our workhorse. It is a simple antenna that really does wonders and put a significant number of the QSOs in the log. The CrankIR, which Tim took down and brought from his QTH, proved to be extremely convenient as it allowed us to easily operate in multiple bands with its simple and reliable mechanics.
The weather, of course, was a factor in choosing our antennas. As expected, heavy winds forced us to make daily equipment repairs. We had cold, wind, and rain all the time, except for one sunny day when we took pictures and explored the island.
We set up four tents, but on the third night we had an aggressive storm with winds over 35 MPH and a tent was completely destroyed. We then had to install a backup tent which was brought along "just in case."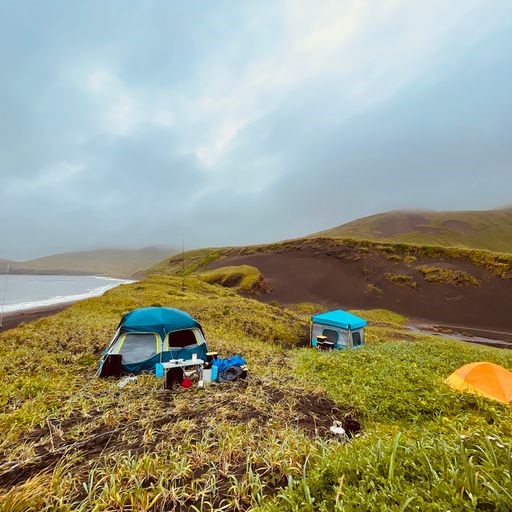 K7K tents and antennas
The tiny volcanic sand particles blown by the wind often ended up inside our reliable Furman 8KW power generator, causing it to stop. Fortunately, Tim's keen mechanical skills always came to the rescue. He would quickly have the generator back in service and our stations once again QRV. We also had a small Honda 2KW generator as a backup, but we didn't need to use it much.
The Icom and Elecraft radios were used mainly for CW and SSB operating. The SunSDR2PRO transceivers did a great job running the FT8 pileups.
Antennas
17m VDA
CrankIR multiband vertical from SteppIR
Spiderpole 40/30m vertical
Hustler 6BTV vertical
Cushcraft R7000 vertical
Radios
1 X Icom IC-7610
1 X Elecraft K3S
3 X SunSDR2Pro
Amplifiers
1 X Expert 1.3 Kw
2 X Juma PA-1000 1 Kw
1 X Ameritron ALS 600S
Gas Powered Generators
1 X Honda 2KW
1 X Furman 220V 8KW
Life on the Island
Most of our time was spent operating, and we tried to keep three stations going with one on each mode, CW, Phone, and FT8. There were many times, especially as we were trying to work Europe, that it was nearly impossible with Phone and we would switch to FT8. Outside of operating, time was spent working on the antennas, securing the tents, sightseeing around this incredible island, and eating.
There were cases of Mountain House "Adventure Meals" that are basically a meal in a pouch—just add hot water, stir, reseal the pouch, and wait a few minutes. They were actually pretty good! Yuri and James brought an assortment of meats, from headcheese to sausages and "tushenka" (broiled canned meat with spaghetti).
Hal, W8HC, preparing a meal
But we were in for a real treat on one late afternoon when Captain Rick radioed over to us asking Alex to bring the Zodiac out to the April Lane. He said he had dinner ready for us. And indeed he did! Rick had prepared a near-gourmet meal in the boat's galley. Alex returned to the beach as we anxiously pulled in the skiff so we could help take this Grub House on steroids meal for the K7K team to savor: fried chicken, scallop potatoes, fresh salad, and for dessert, homemade chocolate cake with vanilla frosting. He also sent over a half gallon of milk and a "Black Box" of Chardonnay wine. Needless to say, our QSO rate went to zero while the team convened on the beach to enjoy our first and only "home-cooked" meal on Kiska.
The Hardest Part
Captain Rick kept a close eye on the weather reports and would radio to us news of any impending storms and strong winds. We had already lost the one tent and we didn't have any spares. The day before we were to depart, Rick radioed us and said the weather forecast for Kiska included a bad storm coming later that night but would be clearing up mid-morning. He said the weather would be good for about six hours, followed by another storm front. That night the winds and rain became pretty intense. Several times during the night, Hal said the operating tent with him and Tim felt like it was going to blow away.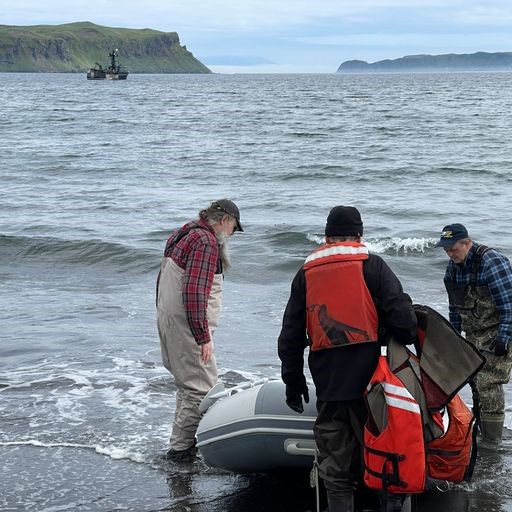 Landing and departing the island were the most difficult moments of the DXpedition.
In the morning there was no sign of the break Captain Rick talked about, but the team began the task of tearing down K7K stations and antennas and taking everything to the beach. The breakers on the beach were running about three feet, so we would have to wait to ferry our stuff out into the harbor and back onto the April Lane. We didn't keep count, but I would guess that getting everything on and off Kiska Island required about 20 trips in the Zodiac!
By late morning, just as the weather forecast predicted, the winds calmed, the rains stopped, and the sun actually came out, so we took advantage of this window and started taking everything back to the boat. Alex once again was the designated Zodiac driver and did a fantastic job piloting the skiff off the beach and beyond the breakers. Most of us did get wet making the crossing. We also had a few occasions where Tim had to work his magic on the five-HP outboard motor. There were some tense moments that had us holding our breath when the motor would stop in the middle of the harbor; Alex would have to get the paddle out and row us back to the boat or shore to bring the motor back to life. It seemed that the black volcanic sand was finding its way into the motor's cooling system, causing it to shut down. After nearly four hours of loading and unloading the Zodiac, we had everything off the island and loaded back on the April Lane in eight totes lashed to the afterdeck. All of us were dog tired but happy to be safely onboard. Clean, dry clothes were the first order of business!
Lessons Learned
There is no doubt we took too much food with us. In truth, we probably had enough to sustain us for a month or longer! It was like this with some of our other gear and supplies as well. I think this is a natural approach—you are going on a DXpedition and if you think you need four of one thing, you will take eight. You need 20 gallons of drinking water and you take 60, etc. The "I'd rather have too much than too little" philosophy looms large in DXpeditioning! And nothing drives this point home more than when a team member himself loads, unloads, ferries and sets up a DXpedition camp like we did at Kiska. It makes you realize, maybe next time we should take a little bit less food and backup gear/equipment. I think we added a lot of extra work for ourselves carrying around "dead weight" we did not use.
Statistics
K7K concluded with almost 12K QSOs in the log and the statistics below speak for themselves. Because of proximity and the advertising we received in Japan about our DXpedition and the 80-year Aleutian campaign anniversary, Japanese stations were prevalent in our log. Europe was, of course, the hardest to work from our location, but we were able to contact many European IOTA enthusiasts.
Being far from inhabited places, there was no RF noise and that allowed us to hear better than we were being heard. But being so far up north, the propagation is not as good as the lower latitudes, and we encountered many periods of time when there was no propagation or propagation was marginal, perhaps caused by disturbances across the polar path.
QSOs: 11,676
First QSO: 28-Jul-2022 07:37
Last QSO: 31-Jul-2022 09:08
Countries: 95
Unique callsigns: 5,205
CW: 3605, 30.9%   
FT8: 6218, 53.3%   
SSB: 1853. 15.9%
NA: 36.1%
SA: 0.7%
EU: 17.2%
AF: 0.2%
AS: 44.3%
OC: 1.5%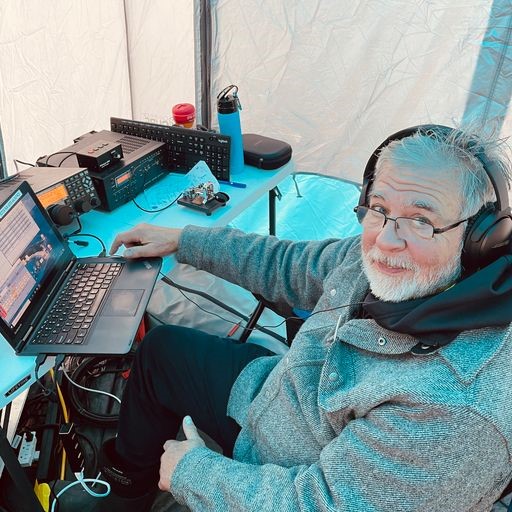 Hal, W8HC, operating CW
Conclusion
We thank all of the sponsors, individuals, clubs and companies that supported us! Special thanks to the U.S. Fish and Wildlife Service in Alaska! Our QRZ page has a myriad of interesting details and pictures.
DXpeditions to difficult areas of the globe are not easy to plan or execute. There is always the unknown element that could take you by surprise or the force of nature that we cannot tame. And there are many small details that need to fit together like the gears inside a clock to make a DXpedition a success.
Although we are relying on technology to help us, in the end it is the team of PEOPLE put together by the team leaders, the DXpedition team, who work together. Each member brought to the table his unique skills that got the desired end result: the sound of the pileups from a rare DX entity. And when things don't work out as planned, you have to persevere as there is no failure except in no longer trying.