Here's an excellent chance to put Samoa in your logbook this fall. The 5W0LM DXpedition by 9A7Y, 9A2NA, S50B, and 9A3MR is scheduled to run from October 1-14. The 5W0LM team will be operating from the city of Apia on 160-6M on CW, SSB, and FT8.
Apia, Samoa's capital city, has a population of around 36,000 and is located on Upolu, the smaller (434 square miles) but more populated (145,000 inhabitants) of Samoa's two main islands—the other being Savai'i (654 square miles, population 43,000). Samoa also has two smaller inhabited islands, 1.2-square-mile Manono (population 900) and 247-acre Apolima (population 75), along with several uninhabited islands. Samoa, officially known as the Independent State of Samoa and as Western Samoa until 1997, gained independence from New Zealand in 1962.
Samoa (prefix 5W) ranked as the 168th most-wanted DXCC entity per Clublog's list as of August 2023. Located in the South Pacific 3,500 miles east of Australia, this Polynesian island country is frequently confused with smaller and less developed American Samoa (prefix KH8), an unincorporated U.S. territory which lies southeast of Samoa. Collectively, the 1,170-square-mile archipelago known as the Samoan Islands covers all of Samoa and most of American Samoa.
American Samoa July DXpedition
In July, DX Engineering sponsored the KH8RRC 17-day activation of Tutuila Island, the largest and most populous of seven American Samoan islands. The three-operator team used DX Engineering equipment, including Maxi-Coreâ 20 1:1 Current Choke Baluns and RG-8X PL-259 Low-Loss 50-ohm Coax Cable Assemblies, to record more than 27,000 SSB, CW, and FT8 QSOs during their stay atop Tutuila's Mount 'Alava. They reached 139 countries, all 50 states, and 39 CQ zones on six continents.
Football Connection
With the 2023 National Football League season underway, it seems the right time to feature QSL cards from the Samoan Islands. Check out these statistics from a 2020 article in the Harvard Crimson: "With American Samoa located nearly 6,000 miles away from the United States mainland with a population under 60,000 people, it's insane that Samoans make up about 3% of the NFL—about 50 players, nearly 40 times Samoans' proportional share of the U.S. population."
Additionally, there are around 300 Samoans playing in Division I collegiate football in the U.S. This prompted one prominent American sports agent to estimate that a Samoan male is 56% more times likely to play in the NFL than an American non-Samoan. The list of prominent players of Polynesian descent past and present includes Dolphins quarterback Tua Tagovailoa; 49ers guard Jesse Sapolu; 49ers, Cardinals, and Seahawks guard Mike Iupati; Ravens tackle Haloti Ngata; quarterback Jack Thompson, the "Throwin' Samoan"; Chargers linebacker Junior Seau; and, in this blogger's humble opinion, the most dominant defensive presence ever to step on the gridiron, Steelers strong safety Troy Polamalu.
Polamalu said in his NFL Hall of Fame induction speech, "I come from a culture where discipline, humility, and respect are not only the foundation to our survival but the key to our existence. I am a first generation American-Samoan, and proudly represent my family's lineage to America through the NFL."
QSL Cards
The active hams at DX Engineering have had great success contacting the Samoan Islands over the years—a good reason to contact them for help with your gear if you'd like to do the same. Here are a few of the QSL cards from their collections.
Tom, KB8UUZ, DX Engineering technical writer, received this card from 5W0W.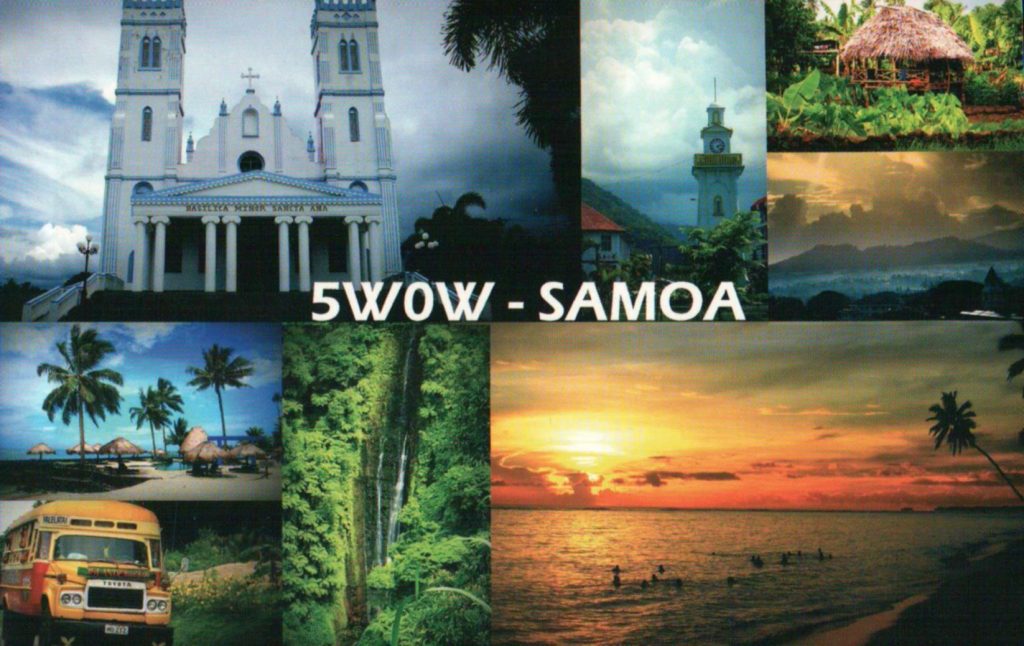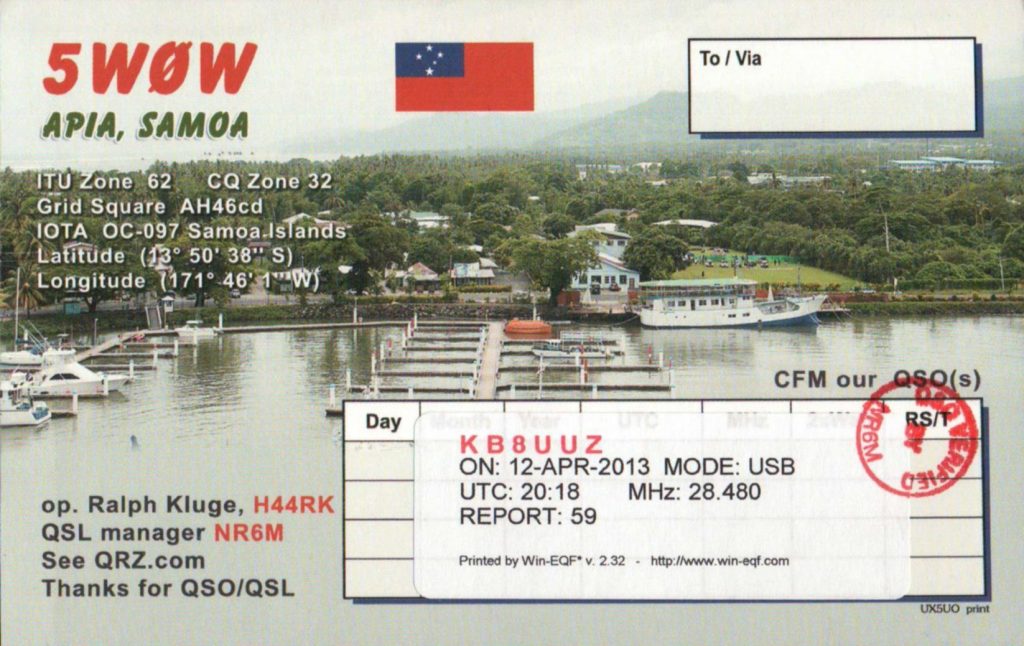 Mark, W8BBQ, DX Engineering customer/technical support specialist, reached 5W1SA from Apia on 20, 12, and 10M CW over several months in 2012. He made contact with 5W0IR from Upolu Island in April 2011 on 20M SSB. Reality TV fans might remember that Upolu was the site of four seasons of the American version of Survivor.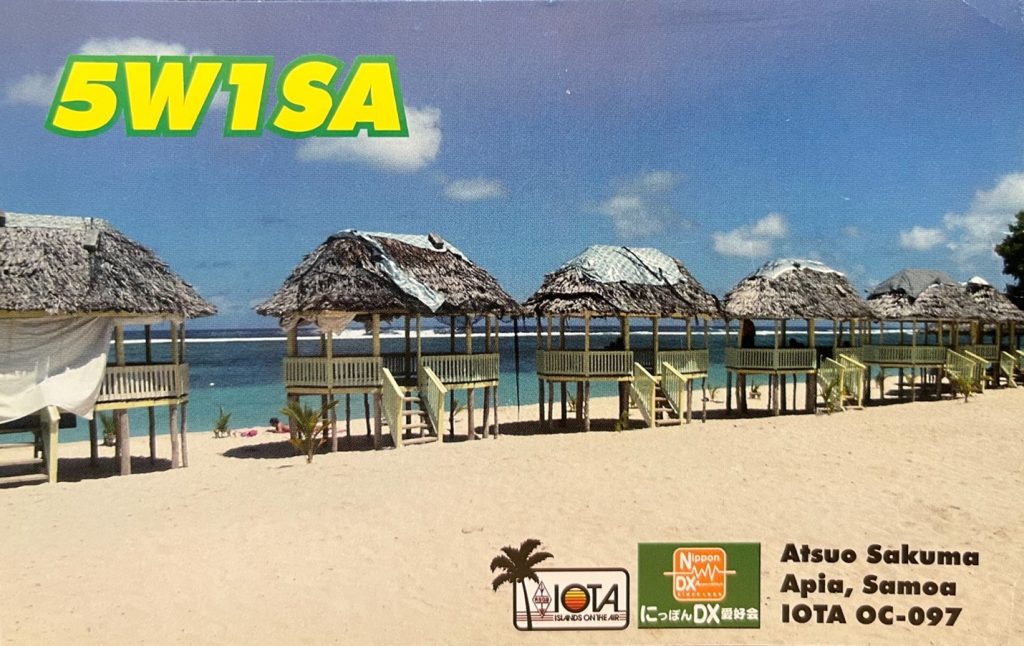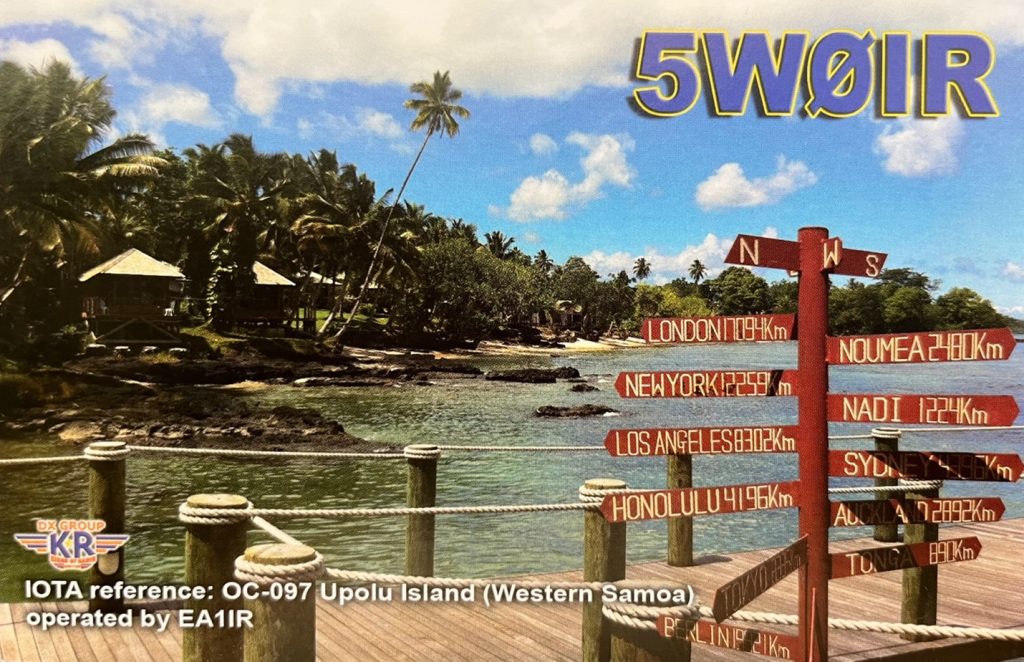 Dave, K8DV, DX Engineering customer/technical support specialist, worked 5W5AA on 15M SSB and 20M CW back in February 2007.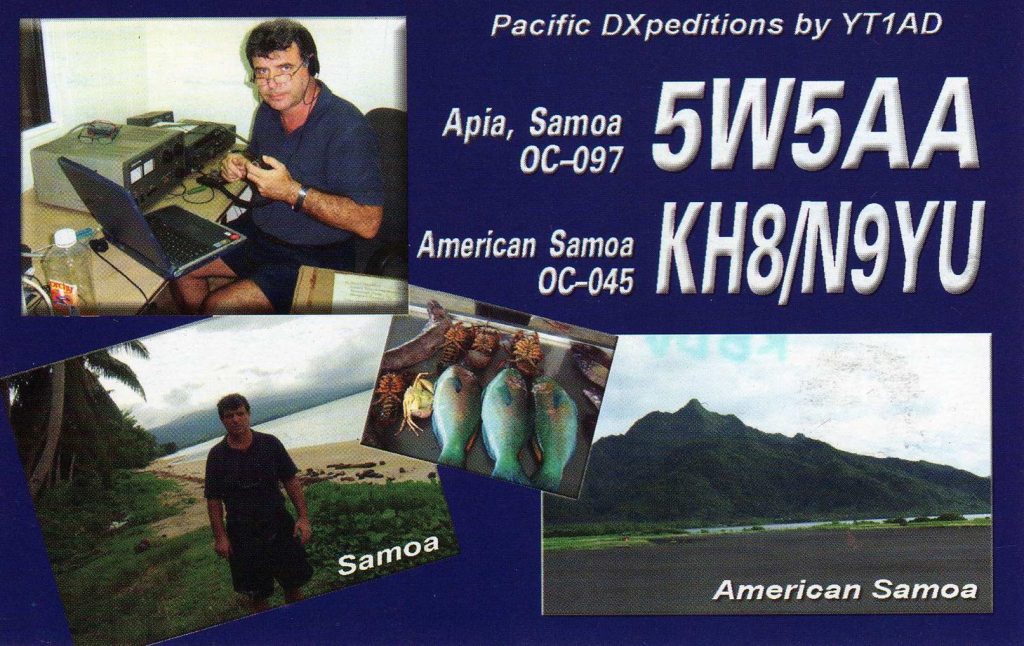 Wayne, K8FF, DX Engineering customer/technical support specialist, received this card from the K8H 2022 DXpedition by Al, K7AR, and Bob, W7YAQ to Tutuila Island.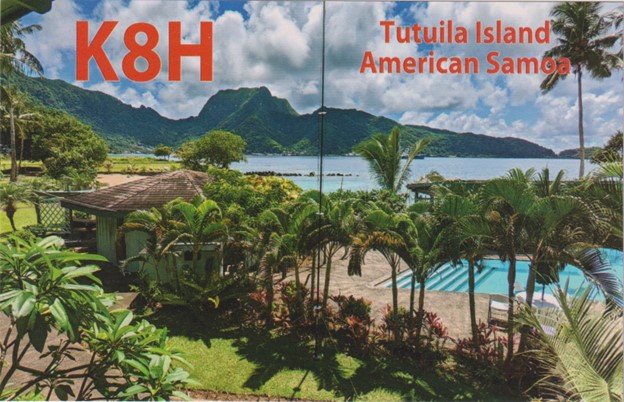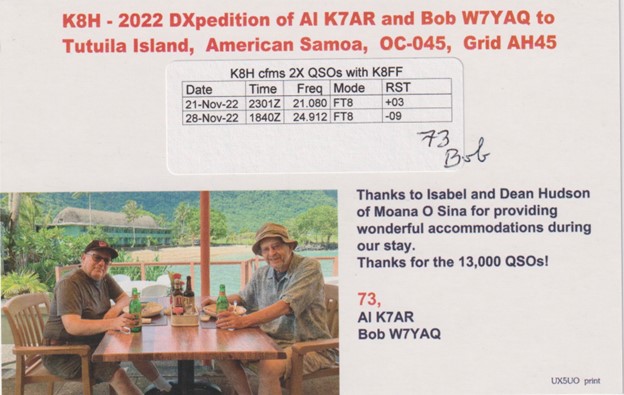 George, K3GP, DX Engineering customer/technical support specialist, made a 15M RTTY contact with 5W0SF in October 2000.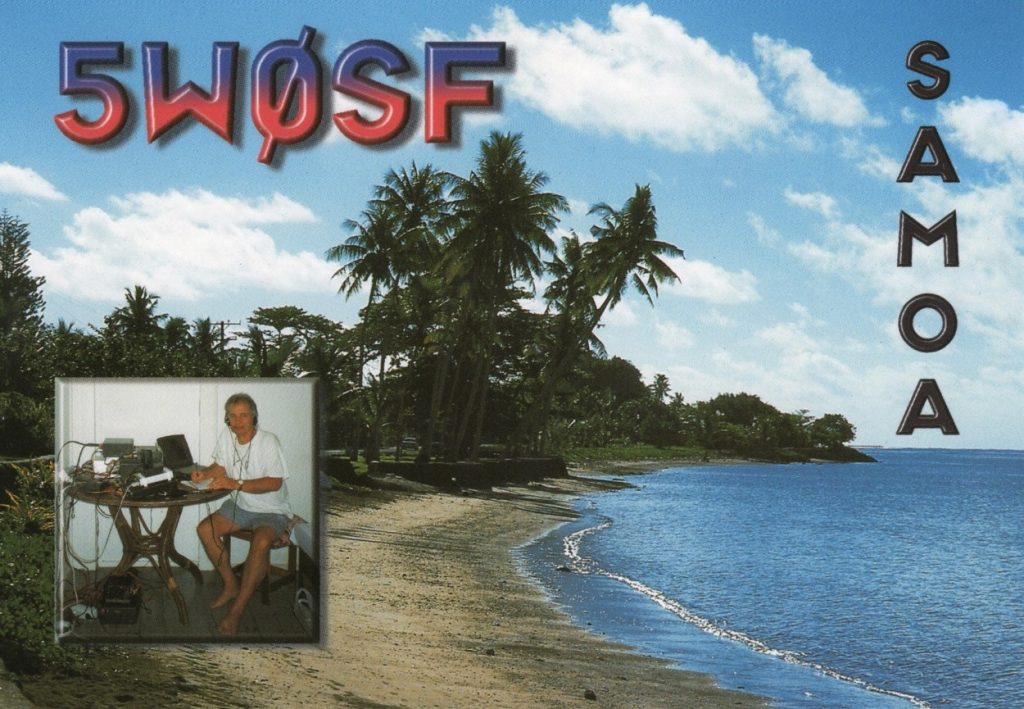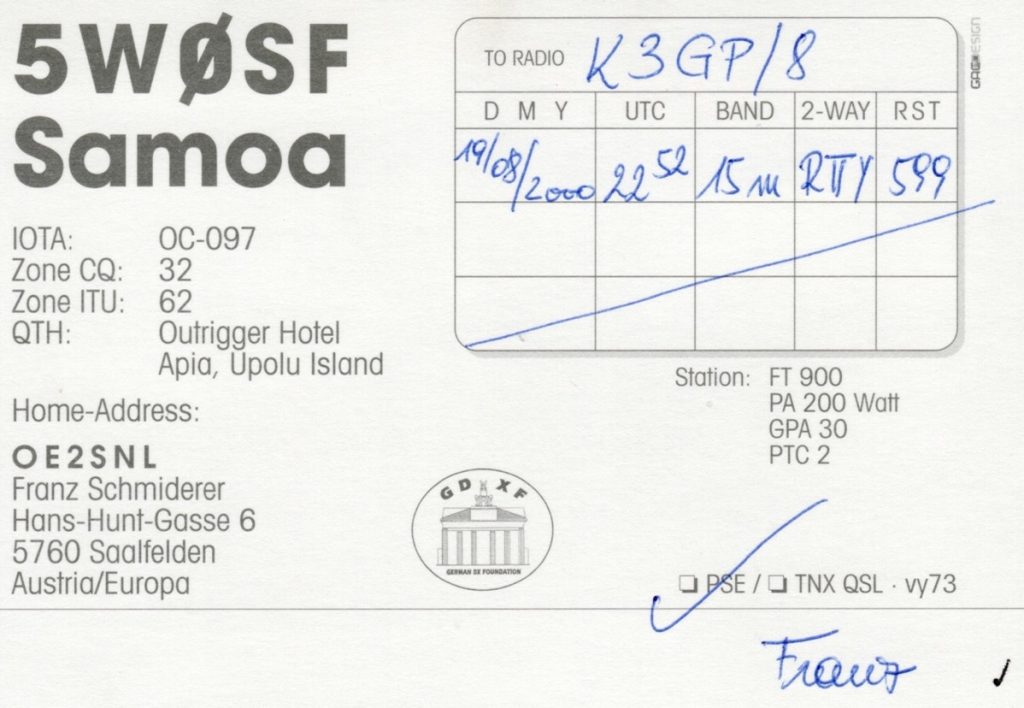 Want to upgrade your DXing capabilities? Find everything you need at DX Engineering, including transceivers, amplifiers, antennas, headsets, and more.
Editor's Note: Every month, DX Engineering features QSL cards from our team members' personal collections. To highlight upcoming DXpeditions, we'll be displaying a few of our favorite cards along with details about what it took to make these contacts. We're excited to share some of the special cards pulled from the thousands we've received over the years. We look forward to seeing your cards as well!