AM DXing—it's just about the simplest way to discover the magic of hearing distant signals with not too great of an investment and no need to transmit. Just listen and enjoy what you receive from transmissions across the country or even around the world. For many, AM DXing, also known as Medium Wave (MW) or Broadcast Band (BCB) DXing, was their gateway activity to earning their license and leaping into a lifetime of ham radio fun, which allows you to transmit as well as receive. For others who may be mic shy or don't want to tunnel any deeper into the rabbit hole of radio pursuits, AM DXing is enough, and, as Stuart Smalley liked to say, "That's okay."
Our latest article on AM DXing from Sean Kutzko, KX9X ("An Introduction to AM DXing") received such a positive response that we thought we'd follow up with a blog post on some of the gear available from DX Engineering designed to enhance your enjoyment of this simple, low-stress, and satisfying part of the hobby.
This highly regarded antenna manufactured by DX Engineering delivers excellent broadband reception from 100 kHz to 30 MHz. The low-profile antenna's modular construction and modest 38″ diameter loop make installation and maintenance easy. When rotated, the antenna provides deep nulls for effective reduction of directional noise and interfering signals. Ideal for ham radio, SWL, and AM DXing, the loop offers up to 30 dB rejection of electrostatic field noise. No manual tuning required. Loop includes specially designed low-noise preamplifier.
What do hams say about the RF-PRO-1B?
Five Stars: "One word describes this product: extraordinary! I have a 43′ vertical antenna. For most of 2019, I didn't have too many RFI problems but after those stimulus checks started rolling in, people started buying all sorts of toys in my neighborhood. The RFI problem became a significant barrier for me. I went through the ropes and did my best to eliminate all local sources of RFI but was still left with a significant noise floor problem. I did some research, and this receive loop seemed like a good idea. I received it and all I can say is WOW. The proof is in the pudding as they say. Highly recommended."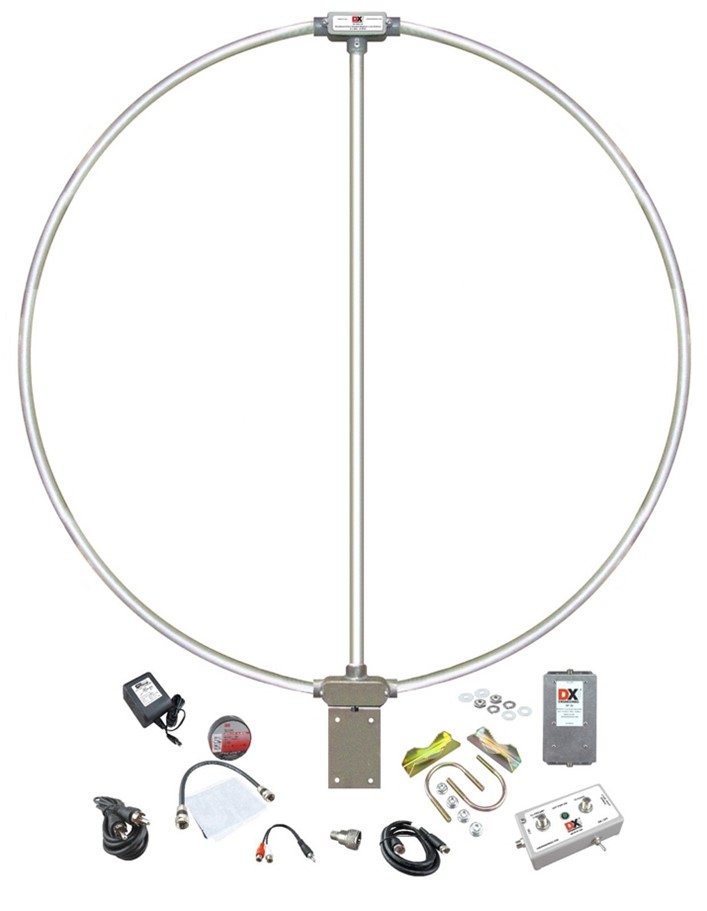 Eton Elite Shortwave Radios
While just about any radio can get you started with AM DXing, a higher quality radio can make all the difference for improved results—and Eton has six excellent models to choose from in a range of prices.
Eton's finely crafted portable radios come in several configurations, all loaded with state-of-the-art features. Choose from the top-of-the-line Elite Satellite model (spelled "Satellit" by Eton) which combines a stylish design with AM, FM, SW, LW, and Air coverage. Advanced features include digital HD quality, 1,700 memory channels, and high dynamic range for detection of weak signals in the presence of strong signals.
The Elite 750, which covers AM-MW, FM, SW, LW, SSB, and Air frequencies, includes a 360-degree rotating AM antenna for pulling in weak signals, the ability to program up to 100 channels for each band, 1,000 station memories, and MP3 player connectivity.
The compact and powerful Elite Executive model, which comes in an attractive leather case, receives AM(MW), FM with Radio Data System (RDS), LW, SW, SSB, and VHF Aircraft band frequencies, plus includes a PLL tuner to ensure AM signals are strong and clear. The Bluetooth-ready Elite Field radio lets you enjoy AM (MW), FM with RDS, and SW frequencies along with streamed music and podcasts. The Elite Traveler shown below (AM-MW, FM, LW, and SW) features 500 memory stations and sleep timer/alarm clock, making it a great companion on the road.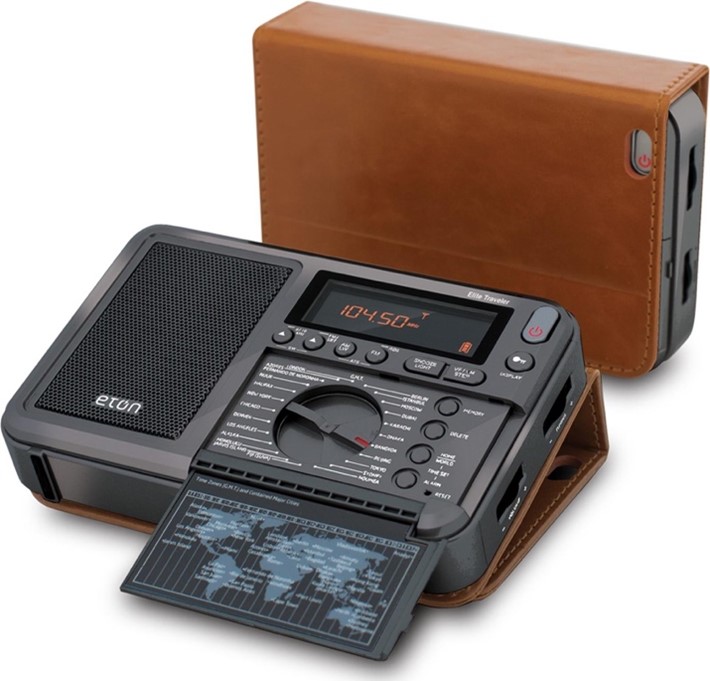 Finally, the Elite Mini AM/FM shortwave model comes in a custom leather pouch and packs a powerful punch thanks to its internal AM antenna and telescoping FM/SW antenna for local and worldwide listening.
Enjoy dramatically improved weak-signal reception with unparalleled rejection of extraneous signals and noise. Systems come with four or eight Receive Short Element Active Vertical Antennas, featuring upgraded AVA-3 Active Matching Units; 8.5-foot, three-piece aluminum whip; directional control console; array controller; 1,000 feet of RG6U cable; connectors; hardware; and tools. They're the ultimate high-performance, directional receive antenna systems for HF, SWL, or AM DXing.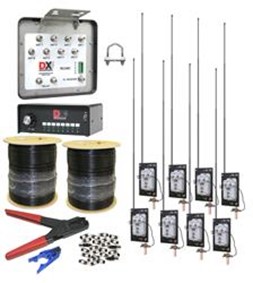 DX Engineering carries a number of Sangean radios for shortwave listening and AM DXing, including Sangean's ATS-405 World-Band Portable Radio, which comes with full 14 shortwave bands, five tuning methods, and easy-to-use control panel (shown below); and the ATS-909X World-Band Portable Radio, featuring wide-band coverage from long wave, medium wave, and shortwave to AM/FM broadcast, along with 406 presets, an RF-gain control, and a 42-zone world clock.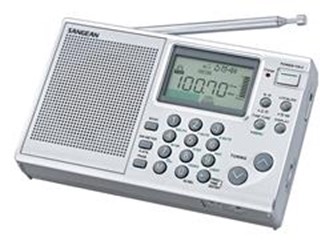 Boasting HF receive from 2.3-30 MHz (SW) and AM Broadcast receive from 522-1710 kHz (MW), this 8″ diameter mini-loop antenna is an excellent addition whether you're at home or out of the shack in a camper or RV. It features a control base and BNC loop connector, gain control, USB-C charging port, internal battery, and female BNC output. You also receive male BNC-to-BNC and BNC to 3.5mm adapter cables for connection to your receiver and a USB-A to USB-C cable to connect charging power from a laptop (AC adapter not included).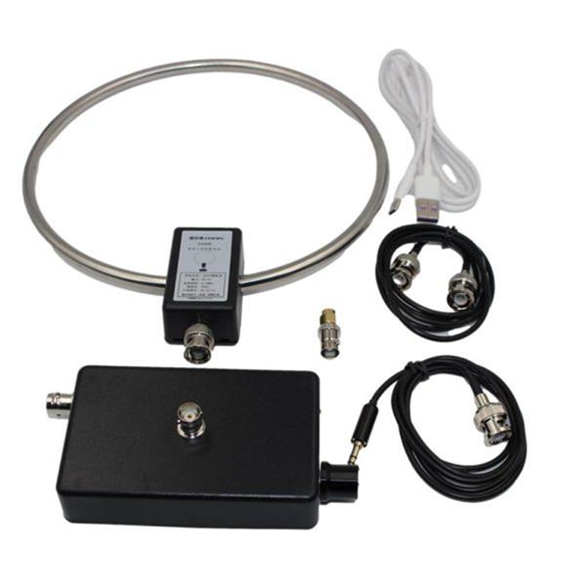 Also check out the DX Engineering NOISELOOP Portable Receive Flag Antenna Kit, the new Chameleon RXL Pro Receive Loop Antenna, and many other choices at DXEngineering.com.