Getting a ham license used to be an involved process. Before 1984, most amateur radio licensing examinations were only administered directly or indirectly by the FCC. Amateur radio exams could be taken at one of the 23 FCC district offices scattered around the country. The FCC also had examiners who conducted quarterly sessions in major cities. I remember traveling to Pittsburgh to test for my General class license—about a 100-mile round trip.
Today it's much more convenient. You're likely to find several exam sessions nearby in any given month and even some in your own community. You can breathe easy—you're taking exams given by peers instead of government employees, and in a much more relaxed atmosphere. These Volunteer Examiners (VEs) have been an essential part of ham radio for nearly 40 years.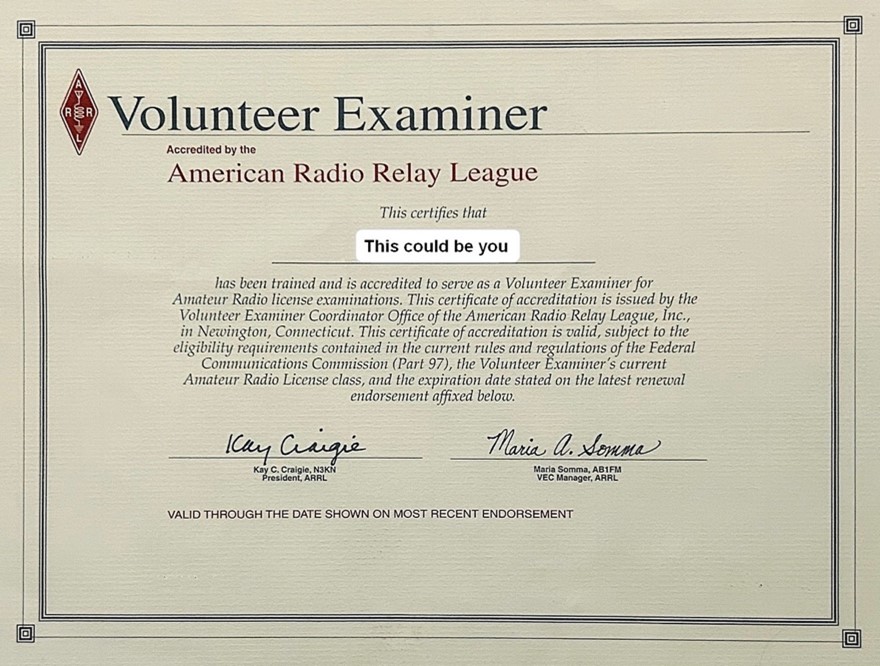 Don't forget that the answers to the license test are available online—in the form of question pools for each of the three amateur radio licenses. Typically, there are approximately 400 to 600 questions in the pools, depending on the license. The Dick Bash (KL7IHP) license guides, which were based on reports from those who took the exams, were the closest thing to having the pool of questions when I took my General class license test.
Why it Changed
The Volunteer Examiner program was established for several reasons, but primarily because of budget cutbacks. The federal government decided to discontinue administrating most categories of radio license examinations. On September 13, 1982, the Communications Act of 1934 was amended, permitting the FCC to accept the services of private organizations to prepare and administer examinations for people who wanted to obtain or upgrade an amateur radio license.
Records indicate the first VEC exam was given in Alaska on April 17, 1984. There are currently 14 FCC-appointed VECs, but 90% of all ham radio testing is conducted by only two of them, the ARRL-VEC and the W5YI-VEC. Ham testing is now widely available in all areas and in some foreign countries as well.
What VEs Do
It's more than just giving tests. There's a fair amount of preparation to be done before and after the session. I currently serve as an ARRL VE Team Liaison and contact person for those who sign up for testing sessions. My job is to secure all the testing materials we use and submit all the paperwork to the ARRL VEC after the session. Another person in our group arranges a location for testing, which we try to do several months in advance.
The remainder of our group takes care of the testing session. One welcomes those taking the exam, signs them in, and checks their identification and copies of their current license if they have one. Another collects the $15 testing fee. Others prepare the testing folder with their Form 605, test booklets, and answer sheets. We like to keep everything together since the completed test is passed on to three different VEs for grading.
During the test, we're available to clarify directions and maintain a relaxed and positive atmosphere—no need for test anxiety. I still remember the FCC examiner who looked over my shoulder at the notes I took during a code test several decades ago. He said, "You won't pass—you didn't write enough down." Things like that don't happen at our sessions. If you're wondering, I passed the code test.
Upon completion, three of the VEs check the test and a Certificate of Successful Completion of Examination is issued if they passed. If not, we'll gently break the news and offer some suggestions on how they can become more successful the next time.
Regardless of outcome, we provide contact information if they have questions or need help. This is also a good opportunity to share info about our club, website, ham radio activities in the area, and weekly nets on local repeaters. With their email and permission, we'll continue to keep them informed of things happening in the local ham world, including Field Day and hands-on activities for new hams.
Does it Make a Difference?
Absolutely. You may be one of the first people they meet who's enthusiastic about the best hobby in the world. You could possibly be sowing seeds which may take root sooner or later. At a time when many thought ham radio was dying, VE testing breathed some new life into ham radio. It made licenses more obtainable by many, and the number of ham radio operators continues to slowly but steadily increase.
Qualifications to be a VE according to §97.509(b)
Be accredited by the coordinating VEC
Be at least 18 years of age
Be a person who holds an amateur operator license of the class specified below:

Amateur Extra, Advanced or General Class in order to administer a Technician Class operator license examination
Amateur Extra or Advanced Class in order to administer a General Class operator license examination
Amateur Extra Class in order to administer an Amateur Extra Class operator license examination
Not be a person whose grant of an amateur station license or amateur operator license has ever been revoked or suspended
If you are interested in becoming a Volunteer Examiner and serving the amateur radio community, it's easy. Here is information for the two major VE groups with links for the necessary documents and instructions:
ARRL VEC—Review the Volunteer Examiner Manual, paying special attention to Chapter 2: Becoming a Volunteer Examiner. Read the information that extends and supports the published manual: Supplemental Information. Complete and sign the VE Application form and open-book review.
W5YI VEC—Review the W5YI  VE manual and fill out the application. Be thoroughly familiar with the FCC Part 97 Rules & Regulations, especially Subpart F, 97.501 through 97.527.