In past blog posts, OnAllBands has featured some of the game-changing headsets from the audio pros at Heil Sound, including the Pro 7, Pro Micro, Pro Set 6, and BM-17 Emergency Communication models—all available at DXEngineering.com. With Contest Season rapidly approaching, we turn our attention to Heil microphones, which are uniquely crafted to address the specific needs of the ham radio community.
Thinking it might be time to upgrade your audio capabilities? Some questions to consider:
Are your transmissions coming through clearly on the other end? Could a lesser-quality microphone or a mic more suited for general purposes be hurting your on-air results? Is your mic showing signs of degraded performance? Is your mic compatible with the rig it's hooked up to? Are you unsure of what's the right microphone for your setup and amateur radio interests?
As for the last question, not to worry. DX Engineering's staff of experienced and active operators can guide you in the right direction, starting with the Heil microphones highlighted below. But before we get to our featured products of the day, a little microphone trivia:
Where does the term "microphone" come from? If you guessed that the device was invented by someone named "Mike," you would be incorrect. It is actually derived from two Greek words: micro, from mikros for "small," and phone, meaning "sound." The term microphone was coined by English scientist and inventor Sir Charles Wheatstone in 1827. He created a stethoscope-like device designed to amplify and transfer hard-to-hear sounds. Wheatstone's brainstorm bears little resemblance to what we recognize today as a microphone, but the name has stuck.
When did "dropping the mic" become a thing? The act of dropping one's mic—known as a "mic drop," became a staple of comedians and rappers in the 1980s—a triumphant way to proclaim, "Let's see you top that!" A Late Night skit in 2012 famously featured then-President Barack Obama dropping his mic after delivering news about student loans. *While microphones are built tougher than ever, it is important to note that sending your mic downward to a floor or tabletop is not recommended if you want to keep your sensitive equipment in top shape.
Now to a couple of excellent shack upgrades from Heil worthy of a (simulated) mic drop:
Gold Elite Microphone
The Heil Gold Elite model is specifically designed for amateur radio. It contains two distinctly different high-performance dynamic elements that are available at the flip of a switch to meet different types of communication needs.
The "wide" position has the Heil Elite full-range element producing smooth, articulate 60 Hz to 16 kHz audio with the traditional Heil +4 dB peak centered at 2 kHz. This gives the Gold Elite excellent voice articulation, along with its "big bottom" low end that is so important for producing a well-balanced, studio-quality SSB signal.
The "narrow" position features the HC-5.1 dynamic element. In 1982 Heil Sound revolutionized amateur radio audio with the tailored response HC-4 and HC-5 (radios had no transmit tone adjustments at the time). Now that today's transceivers have some form of microphone DSP EQ adjustments, Bob Heil designed the HC-5.1 with the great mid-range articulation of the original HC-5 and added 100 Hz to the low end that helps smooth the response. The HC-5.1 allows you to adjust your transmit tone to be anything from casual "rag chew" audio to the pileup busting DX and contest audio.

Transmit control is provided by a "soft touch" PTT switch. The Gold Elite uses Heil CC-1 microphone cables. It comes with a foam windscreen and a 5/8″-27 microphone clip designed for booms and desk stands.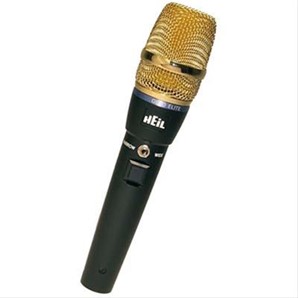 What do hams say about the Gold Elite microphone?


Five Stars: "It's nice getting unsolicited audio compliments! Works very well. Nice looking. Sounds good. Good improvement to the shack at a reasonable price."
Heil iCM high-performance microphones are specially designed for owners of older Icom transceivers that exhibit low gain in the microphone amplifier stage. They utilize a high-quality dynamic element with a broad frequency response of 35 Hz to 12 kHz, and their high output is crafted for compatibility with the older Icom rigs that were made without microphone equalization settings.
The HLS-ICM mic is housed in a platinum-finish enclosure, making it ideal for handheld use or for mounting on a boom or desk stand. It comes with microphone clip compatible with Heil base stands/booms and is fitted with an eight-foot length of Heilwire cable terminated in an eight-pin Foster connector that's wired for Icom transceivers. A ¼-inch inline phone jack accepts PTT input from a foot switch or hand switch. A "light touch" PTT switch is mounted on the body. The ICM-BG model (below) comes with a black body and gold screen.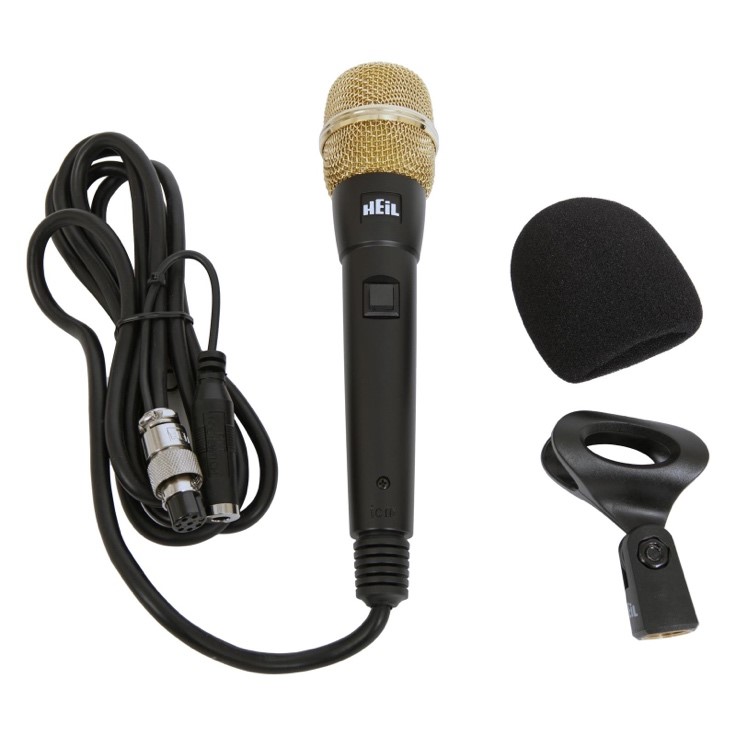 What do hams say about the Heil iCM microphones?
Five Stars: "This is the second iCM that I own. The first one is over 20 years old and still works well. The new one is for a second transceiver. The response from other hams is that the mic has a great sound with no issues."
Visit DXEngineering.com for many other fine Heil microphone models, mic booms, boom mount hardware, adapter cables, mic mounts, base stands, and mobile-style hand mics. You'll also find quality desktop microphones and accessories from INRAD, Icom, Kenwood, and Yaesu. Read more in this OnAllBands microphone buyer's guide.
Also, check out this video from DX Engineering team members Rod, K8RR, and Mark, W8BBQ, covering topics such as how close you should get to the microphone when transmitting and different mic types.