It has been almost two and a half years since the FCC approved the Icom IC-705 transceiver for sale in the United States. I have had the privilege of owning and operating mine for approximately ten months now. I was eagerly looking forward to this radio being released—and not just because it had its very own bag! (We'll cover accessories in the next article.)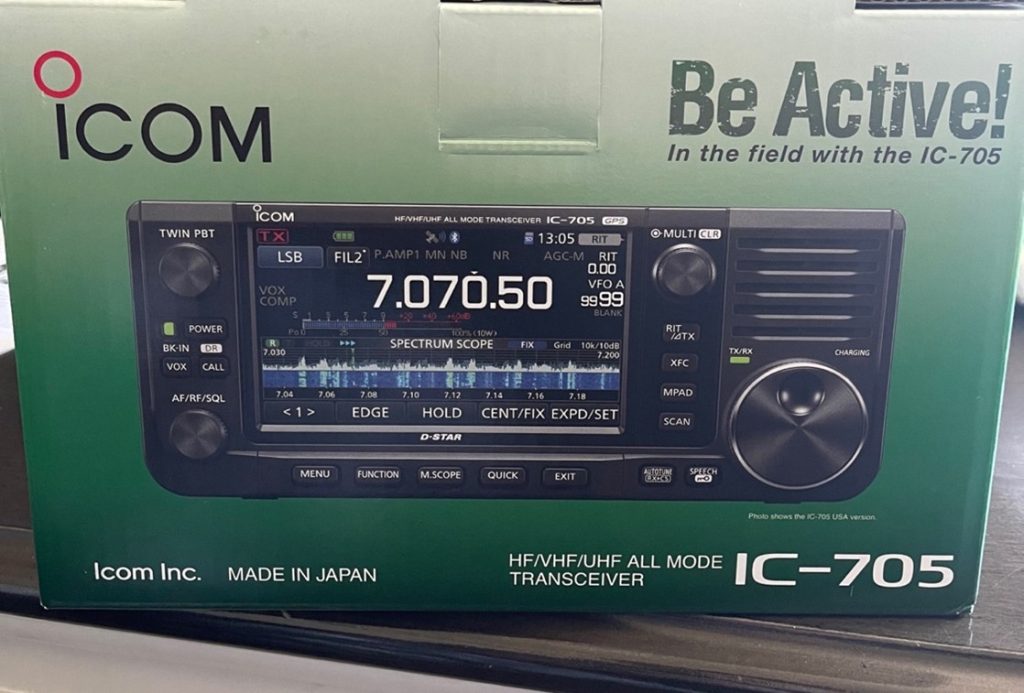 The IC-705 was announced by Icom in 2019, and many people (including me) fell in love with the look of this transceiver. It resembles one of Icom's most popular radios, the IC-7300, but miniaturized. Unlike the IC-7300, which can output 100 watts, the IC-705's maximum output is just 10 watts with an external 12V power source, or 5 watts with the supplied battery pack, making this an ideal QRP radio. Here are some of its most notable features:
Frequency range: TX 160-6M, 2M, 70cm; RX 0.030-470.000 MHz
Modes include SSB, CW, AM, FM, DV, and RTTY
4.3 inch color touchscreen, readable in full sunlight
Multiple means to power/charge: Icom BP-272 battery pack (supplied) for 5 watts output; via 12V power supply or 5V USB phone charger with standard MicroUSB plug; external power for 10 watts of output
Wireless LAN connectivity that even allows for native remote control
Built-in Bluetooth
Built-in GPS
Built-in digital recording
Full D-STAR functionality
RTTY can be sent and received/decoded natively
Multiple standard connection points on base for mounting
Supplied speaker mic is compact and has programmable buttons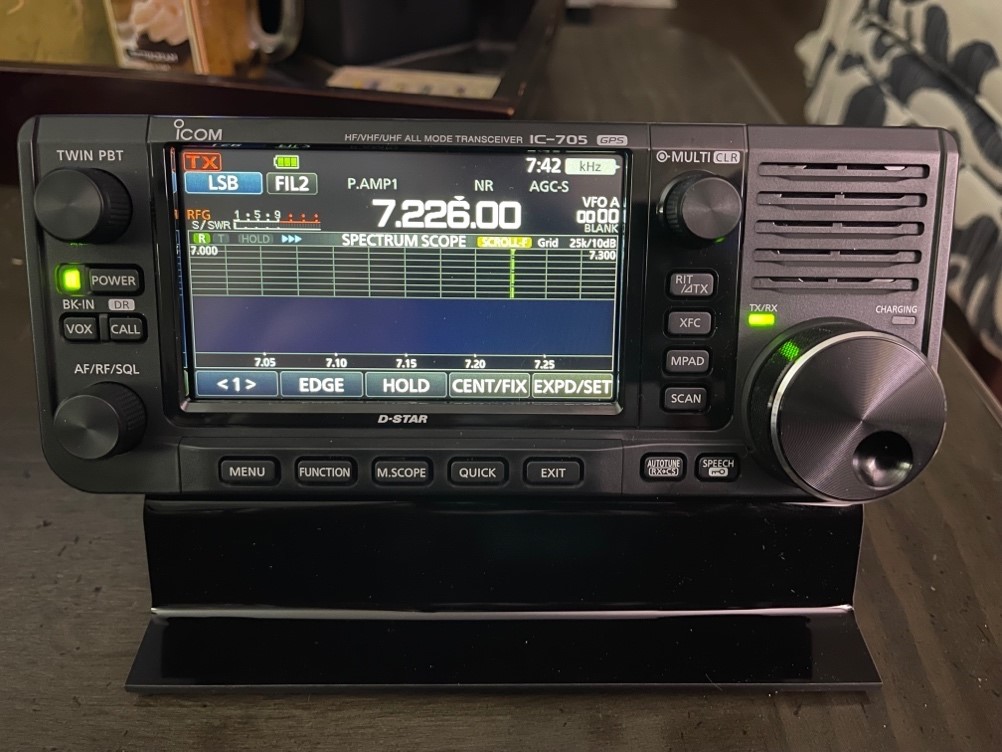 The user interface is well implemented. The touchscreen gives access to almost all functions intuitively just by tapping on the relevant area or indicator. The main dial tuning is very smooth, and there are three other rotary controls that can be pushed to change their functionality.
The compact size of this well-built radio makes it ideal for travel, backpacking, and POTA operations. It has a bottom plate to attach it to items like a tripod or other accessories using a 1/4″ screw. When the radio is placed on a table, an accessory can be used to tilt it upward. The screen is large in comparison to the size of the radio and is very bright and visible, even in the sun. The supplied speaker microphone has a spiral cable split on one end and connects to the radio by two jacks–a 2.5mm 4-pin for the mic and a 3.5mm 3-pin for the speaker.
Perhaps the best feature of all is the spectrum scope and waterfall display. It can be easily configured in many parameters, can be resized, and is fast and responsive. You can quickly see band activity as well as find a clear frequency.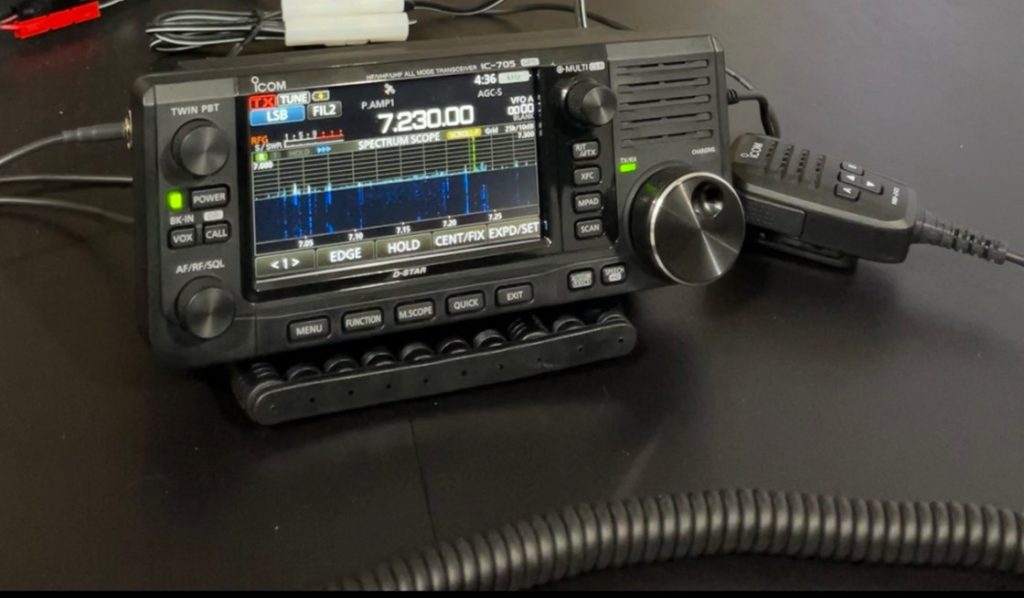 I own KX3 and G90 radios, so I am familiar with QRP rigs for the sake of comparison. I also own an IC-7100 and have extensively used an IC-7300 and IC-7810, which allows me to compare the IC-705 to bigger and more powerful rigs. The IC-705 can function as a good desk radio as well as a good portable backpack rig. Obviously, the antenna functionality and placement are going to make a big difference, especially if a tuner is needed.
The IC-705's digital modes, like the other newer Icom rigs, are simply without equal. You need just a simple USB cable to connect to a tablet or computer for all functionalities. A built-in sound card takes away the headache of configuring and using an external sound system.
Another of the IC-705's best capabilities is that you can go without the various wires often required to hook up digital modes or speakers and headsets that exist with other rigs. Turn on the IC-705's Bluetooth and connect it to everything from a handheld tablet to a headset and you have full capability!
I haven't done much with the D-STAR capabilities, as I have an HT with the same functions. I did try out that mode for this review and was able to hit a local D-STAR repeater and connect on the first try. Like the ID-51/52A, the IC-705 can use your GPS coordinates to automatically find the closest D-STAR repeater and load the frequency and settings from the default database on the IC-705 MicroSD card.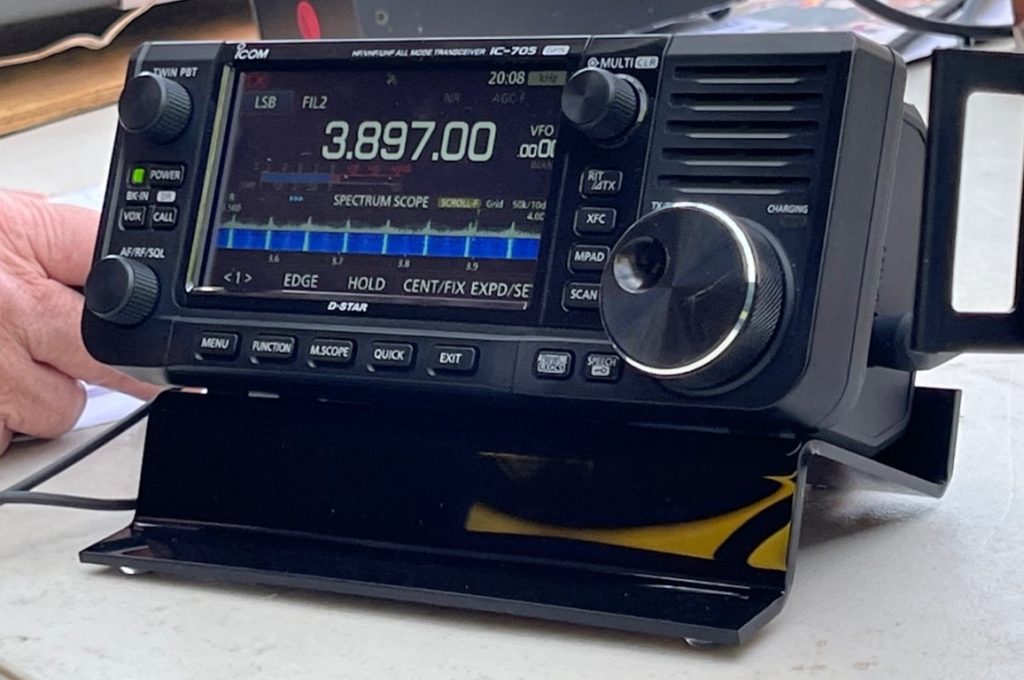 I have long found that the perfect radio doesn't exist. Each rig has pros and cons. While I just stated pages of pros for this transceiver, there do exist a few cons:
No internal ATU option (need accessory)
No built-in tilt stand (need accessory)
Some minor ease-of-use issues: Angled speaker/mic connectors can be challenging to insert as they are too close to the recessed area behind front face, especially for those with larger fingers, fingernails, or in cold conditions in the field; MicroSD card also difficult to access–I gently use needle-nose pliers to remove and insert
Questions? Items to add? Share them in the comments below or email me at KE8FMJ@gmail.com