Earlier this month we looked at mobile rigs you should consider for your road trip to your vacation destination, including the Icom IC-2730A VHF/UHF FM Transceiver, the Yaesu FT-2980R 2M FM Transceiver, and DX Engineering's Getting Started Mobile Packages, which come with mobile transceiver, mount, upgraded antenna, and coaxial cable assembly.
Today, we move inside your four-wheeled chariot once again to look at some new products from Lido for mounting your mobile rig (these have been added since the DX Engineering Catalog came out).
In the OnAllBands New Product Spotlight in April, we posted a video of an interview with Lido Mounts founder Jim Newcomb along with links to some of the company's latest mounting solutions, including the LM-802-705 Cup Holder Mount for IC-705 and IC-7100; the LM-L-MAX Heavy-Duty Seat Belt Mount for the IC-705, ID-5100, TM-D710, FT-7800, cameras, GPS devices, et. al.; the LM101EXT-2-6 Vent Mount for IC-5100 and IC-2730 series; and others.
You'll find all Lido mounts (gooseneck, cup holder, seat rail, and grip vent, plus extension brackets, microphone hooks, and more at DXEngineering.com.
Here are some new Lido products now available at DX Engineering:
LM-101 Vent Mount features a clampdown, vise-style lever that grips vertical or horizontal vent louvers for a secure installation. The kickstand-style brace is designed to support heavier devices. Mount includes a four-hole AMPS mounting pattern and can also accommodate a handheld transceiver's belt clip.
LM-101-H Side Grip Vent Mount conveniently lets you mount a smartphone or transceiver head to vertical or horizontal air vents. The mount includes the LM-H side grip holder, which accommodates devices from 2-1/4 to 3-1/2 inches in width. It comes with a brace to support the device's weight.
LM-502H Low Vibration Suction Cup Mount is built to install on most smooth, flat surfaces. It includes an adhesive disc for dash mounting and spring-loaded side grip holder to attach HT or other mobile device, and four-hole AMPS adapter for remote head unit brackets.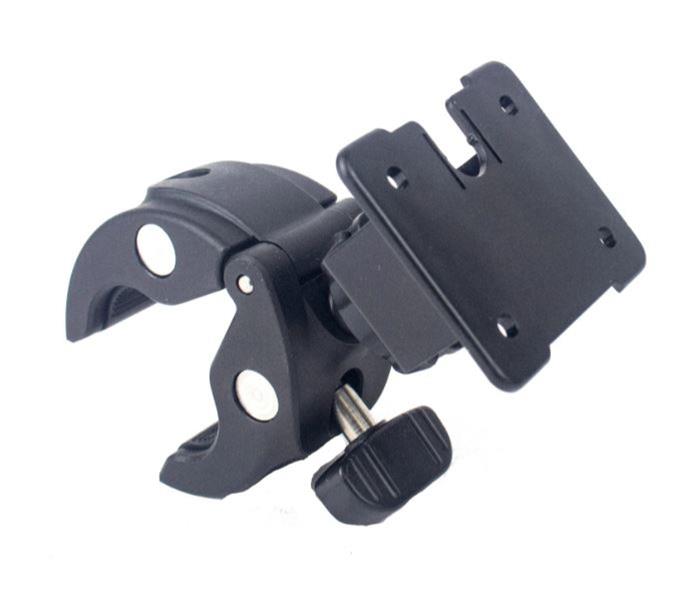 LM-1001 Rail Mount
LM-1001 Rail Mount securely clamps to the neck of the LM-300, LM-300HD, and LM-803 Cup Holder Mount and L-MAX base mount. It features a four-hole AMPS mounting pattern for microphone holders, speakers, and other accessories.
LM-1205 Microphone Hanger works with all button-type mounts typically found on Yaesu and TYT microphones or HTs with a belt clip. An included 3M VHB adhesive pad eliminates the need to drill holes in your dash, or you can use the four pre-drilled holes and included bolts for a bolted-down installation.
LM-AD-5 Large Ball Mount Adapter for Icom IC-705 and IC-7100 provides a secure fit when installing one of these heavier transceivers onto the Lido LM-500DB, LM-802, or the LM-Wedge mounts.