It's true that food is an integral part of many Field Day weekends, allowing operators to maintain their strength during long operating sessions. But since five-bean salads and nachos aren't available through DX Engineering, today we're offering up a smorgasbord of quality gear to satisfy your hunger for making more QSOs while effectively powering your temporary stations. And just so you can impress your friends with your linguistic knowledge during Field Day mealtime, let them know that smorgasbord is derived from two Swedish words: smorgas for "open sandwich" and bord for "table."
This portable 2,000W generator (AIP-SUA2000I) from A-iPower features an air-cooled, four-stroke engine; 1.1-gallon fuel tank; built-in inverter; two 120V outlets; recoil starting system; 65 dB operational volume (muffler is included); low-oil shutdown; 15 amp 120V circuit breaker; 1,600W maximum AC output; and 7-hour run time at 50% load. Perfect for your outdoor amateur radio pursuits, the 46 lb. unit delivers clean, quiet, reliable, and convenient power when you need it.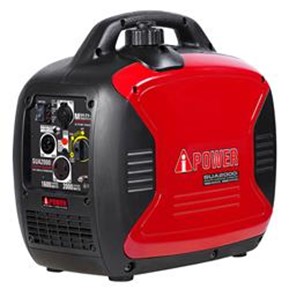 Also available is the 4,000W, 208cc AP4000 model from A-iPower. Weighing 105 lbs., it features a 7-horsepower, air-cooled 4-stroke gasoline engine; recoil starting system; automatic voltage regulation; low-oil alert and shutdown; and caster wheels. The 5,000W, 223cc AP5000 version (below) has a 4-gallon tank and can run up to 9 hours at 50% load.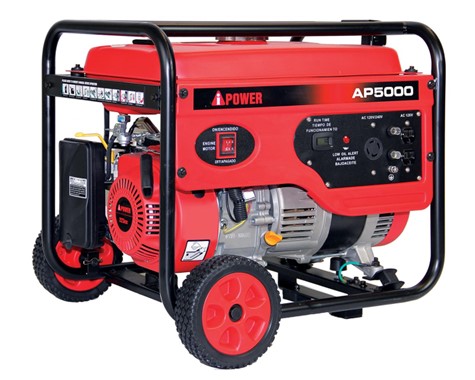 Batteries
DX Engineering also carries an excellent selection of batteries to power your portable stations, including deep cycle AGM batteries from Optima and XS Power, and Bioenno Power LiFePO4 (Lithium Iron Phosphate) batteries.
Bioenna Power batteries available at DX Engineering range from 3 Ah to 20 Ah, with maximum discharges from 7A to 40A. Below is the Bioenno Power LiFePO4 12 VDC BLF-1215A model, featuring 15 Ah capacity and integrated Protection Circuit Module that provides complete internal cell balancing and management, as well as protection from over current, under voltage (over-discharge), over-voltage, and short-circuiting.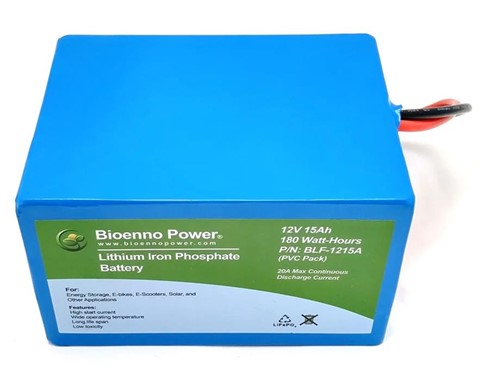 Solar Panels
If you're planning on adding points to your Field Day score by powering your station via the sun (check 0ut 2023 Field Day rules here), DX Engineering has you covered with Bioenno foldable solar panels and solar charge controllers.
These high-output monocrystalline solar panel systems (28W to 120W), feature dual large-sized panels designed for ease of use. They are ideal for Field Day and other applications where you are outdoors for extended periods with plenty of sunlight on hand but no access to the power grid. When paired with Bioenno Power Packs, these solar panels allow you to fully exploit the maximum power from the sun and provide power to most electronic devices, including laptops, radio equipment, communications gear, and PA systems. Below is the BSP-100-Lite 100W foldable solar panel.
Bioenno Solar Charge Controllers are designed for use in solar systems to charge LiFePO4, AGM, and SLA batteries. Solar Charge Controllers maintain a regulated output voltage to charge batteries and maintain a regulating output voltage for loads. Their LCD display provides a visual presentation of the usage status of your solar system.
Power Supplies
Power supplies provide stable DC voltage for transceivers, amplifiers, and other equipment. These devices convert the power supplied by the commercial source, generator, or battery to make it usable to power your station. For example, a power supply would convert the 120V AC or 240V AC from a commercial source into the +13.8 Vdc output needed to power a transceiver. Here are a few top switching power supplies available from DX Engineering:
The Samlex SEC-1223BBM 23 Amp Desktop Switching Power Supply (SXA-03064) provides a well-regulated DC output voltage of +13.8 Vdc. Compact and lightweight, this advanced 120 VAC switch-mode DC power supply produces clean, reliable power and is well-filtered to suppress unwanted noise and RFI. Safety features include over-current, short-circuit, and over-voltage protection. It also comes with a built-in battery backup module.
Astron 30 Amp SS Series Switching Power Supply (below): This highly regulated unit (ASR-SS-30-AP) is designed for moderate to high power applications. It provides a well-filtered +13.8 Vdc output for the operation of mobile or portable equipment. Features include:
Short-circuit and over-voltage protection
Automatic over-temperature shutdown
Output current rated at continuous service
Front panel USB charging ports and Powerpoles
Precision regulation of output voltage
Fully EMI filtered
Internal fuse access
Switchable 120/240 V input voltage (auto-select with power cord change)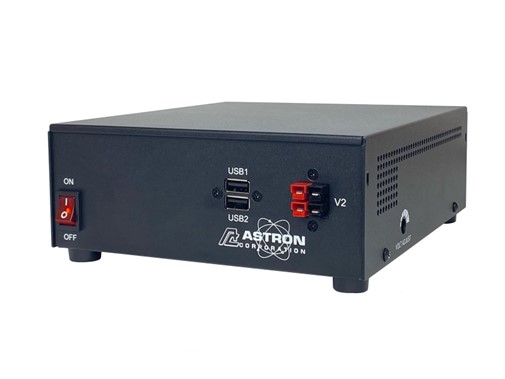 The SS-30M-AP model comes with separate backlit DC-Volt and DC-Amp meters.
DX Engineering carries a full lineup of power supplies from Alinco, Ameritron, Astron, Daiwa, Diamond, Kenwood, MFJ, Samlex, Yaesu, and others. Not sure which one is right for your Field Day stations? Contact the Elmers at DX Engineering for expert guidance.