Fox and Hound mode, often shown as Fox/Hound or F/H, is also known as the DXpedition mode. This mode is a special operating feature that enables DXpeditions to make FT8 QSOs at very high rates.
According to the FT8 DXpedition Mode User Guide by Joe Taylor, K1JT:
In FT8 DXpedition mode, QSOs between the DXpedition ("Fox") and calling stations ("Hounds") can be completed with as little as one Fox transmission per QSO. Moreover, authorized Foxes can transmit up to five signals simultaneously, thereby allowing QSO rates up to about 500 per hour in ideal conditions.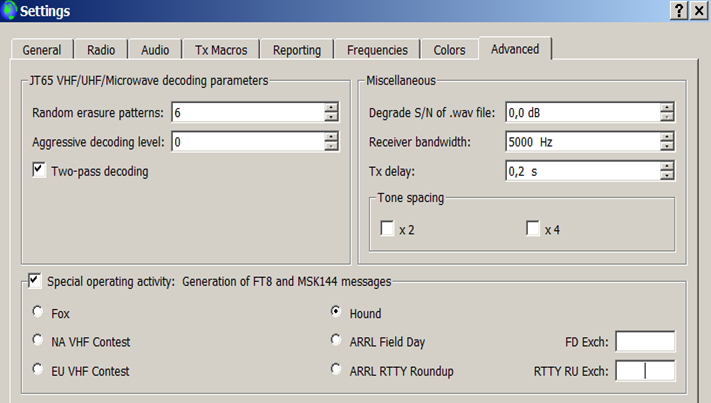 I admit that I have struggled with Fox/Hound mode in the past. The official instruction document, linked above, is full of great knowledge. However, one might get lost in the details. So, I would like to show you some simple steps to use this mode as a "hound."
1. Configure Split Operation
For most users with standard rigs, it is best to disable split operation and let the program handle it automatically. Go to the "File – Settings" menu option, select the "Radio" tab, and make your selection among these options: "None," "Rig," or "Fake It."
Note: The program recommends using either the "Fake It" or "Rig" options; however, in my experience the option that works perfectly is "None." Learn your rig and find out what works best for you. It is important to realize that this recommendation is only for Fox/Hound mode. For normal FT8 operation, you must set the Split Operation to "Rig" or "Fake It."

2. Enable Fox/Hound mode
Select the "Advanced" tab under "File – Settings," click the "Special operating activity" box, and select "Hound."
Note: Due to the recommended settings, you will get a warning message about the Split Operation setting. You can just hit okay at this point.
3. Receive the Fox's signal
Monitor the correct frequency and confirm that you are receiving the DX station, not just their callers. The Fox/Hound mode should not be run on the standard FT8 frequencies. You most likely will need to add this frequency in your table under the "Frequencies" tab so the software will run correctly. You should receive the Fox signal somewhere between 300 and 900 Hz, while the callers should be all above 1000 Hz. You will want to set your TX above 1000 Hz before transmitting.
4. Call the Fox
When you have confirmed that you are receiving the Fox's signal and have selected a clear frequency above 1000 Hz as your TX frequency (red mark on the top of the waterfall), double click on the callsign and the "DX call" box will be automatically filled.
Note: The Fox always transmits in the even periods, so the "Tx even/1st" box is grayed out because you will be transmitting in the odd periods.
5. Wait until the Fox replies
The program will automatically keep transmitting. The Fox will set up how many signals they will transmit simultaneously. These responses will be shown to the hounds with each separated by a semi-colon. The Fox has many more settings that can be configured. For more in-depth information on being the Fox, please consult the FT8 DXpedition Mode User Guide.
6. Continue until the Fox sends the RR73
When the Fox receives your return signal report, they will send an RR73 confirming that the QSO is complete and that you are in the log. At this point the contact is finished and you do not need to transmit the final 73. The program will automatically disable the transmission.
Please note these restrictions and prerequisites:
FT8 DXpedition mode is intended for use by rare-entity DXpeditions and other unusual circumstances in which sustained QSO rates well above 100/hour are expected. Do not use the multi-signal capability if you do not satisfy this requirement.
DXpedition Mode must not be used in the conventional FT8 sub-bands. If you are contemplating operation as Fox in DXpedition Mode, find a suitable dial frequency consistent with regional band plans and publicize it for the operators you hope to work. Remember that on-the-air signal frequencies will be higher than the dial frequency by up to 4 kHz.
Everyone, including Fox and all Hounds trying to work Fox, must use WSJT-X Version 1.9.0 or later.
Everyone should check "Monitor returns to last used frequency" on the "Settings – General" tab.
Fox transmits at audio frequencies between 300 and 900 Hz. When transmitting multiple simultaneous signals, the signals are spaced at 60 Hz intervals.
Hounds make initial calls anywhere in the 1000-4000 Hz range. Fox will not respond to Hounds initially calling below 1000 Hz. Hounds acknowledge having been called and send their "R+rpt" messages at the same frequency at which they were called by Fox, nominally in the 300-540 Hz range. If a Hound needs to send "R+rpt" more than once, subsequent transmissions will be moved 300 Hz higher or lower. These frequency conventions are enforced and orchestrated semi-automatically by WSJT-X. (Source: FT8 DXpedition Mode User Guide.
Questions? Share them in the comments below or email me at KE8FMJ@arrl.net.