ARRL Field Day 2023 (June 24-25) is rapidly approaching. Are you ready? Here are a few friendly reminders to help make this year's event the most successful ever.
Be Prepared
Whether you're operating alone from your backyard or as part of a larger group in a park, make sure you have everything you'll need for a successful weekend well ahead of the event. Don't wait until the night before to check off all the boxes on your "must-have" list. Have everything organized and ready to go, from the wire antennas you intend to deploy to the extra cable assemblies, logbooks, mosquito spray, and signage you'll need to let visitors know what you're up to. Keep a close eye on the weather forecast to ensure that you bring along appropriate attire, as well as umbrellas and canopy shelters should things turn soggy. Scope out your operating site well ahead of the date and create a safe and effective plan for setting up your temporary stations and other tables.
Be prepared but also be flexible. It's rare that anyone's Field Day plans are executed without a hitch or two. Stay cool and focused when the unexpected occurs—good practice for when you're operating during a real emergency. Take the time now to form strategies on minimizing interference on Field Day. Still don't have all the details ironed out for the event? Visit DXEngineering.com for everything from power supplies to weatherproofing kits. Also be prepared to look spiffy with ARRL Field Day 2023 T-Shirts (below) and ARRL Field Day 2023 Mugs.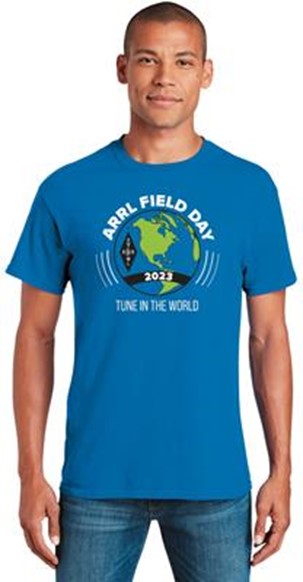 Communication is Critical
If you're in charge of a specific element of Field Day for your club, make sure your communications are timely, clear, and consistent. That means letting everyone know their responsibilities, their role in setting up and tearing down, what they're supposed to bring, and if and when they'll be operating. Ensuring that everyone is on the same page will go a long way toward conducting a smoothly run weekend.
Safety First
When it comes to Field Day, safety should be your paramount concern. While staying safe during Field Day is mostly common sense, don't assume everyone's up to speed. If you're the safety officer for the event, provide participants with information regarding prudent Field Day practices and take steps to ensure that non-ham visitors can attend without fear of injury. This entails everything from eliminating tripping hazards to properly installing and marking tent stakes. As a reminder, here are a few safety tips from the ARRL to keep in mind plus an article from Mark, K8MSH, that every ham needs to read, whether you're setting up a permanent or temporary antenna: "Antenna Safety: Look Before You Install."  From a few years back (Field Day 2019), check out this article from Ward, N0AX, "How to Put Up a Field Day Tower Safely."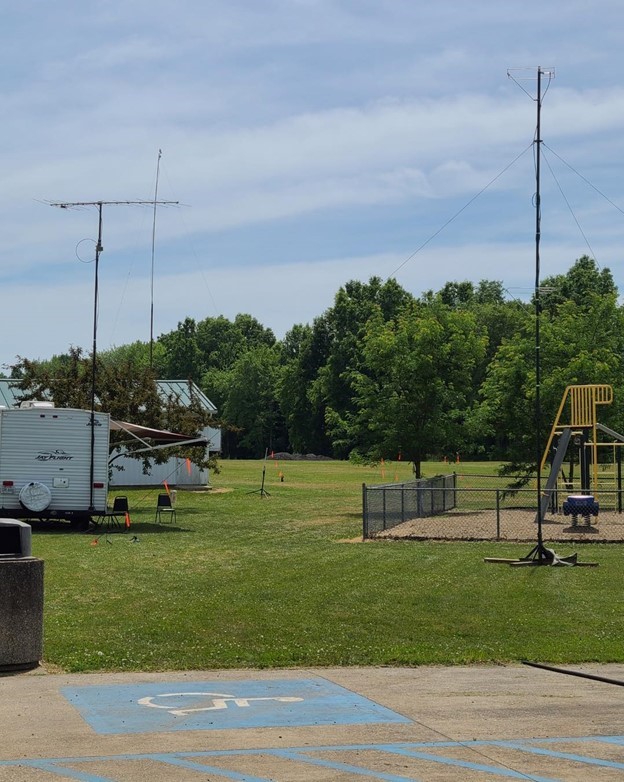 Don't Forget Field Day's Original Purpose
Today, Field Day means different things to different hams. For some, it's a chance to experiment with a home-brew antenna or unusual power source. Others seek to push their club to the top of the contest rankings. Many relish the opportunity to swap stories with ham friends who may not get a chance to see each other throughout the year. But as Mark, K8MSH, notes in this OnAllBands article, "Field Day Tips: How to Fine-Tune Your EMCOMM Skills During Field Day," the event's primary purpose since the 1930s has been to test the field preparedness and emergency communication abilities of the amateur radio community. Read his article for advice on putting this purpose into practice.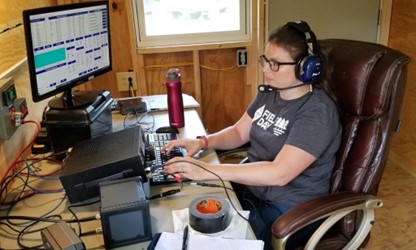 Make Sure It's Fun for Everyone
While honing emergency skills can be serious business, running the operation like a drill sergeant or being dismissive of operators who are just learning the ropes is a sure way to leave participants—especially first-time attendees—with a negative impression. Remember, Field Day is a celebration of ham radio. It's an opportunity to show newbies the very best of the hobby in action and demonstrate to visitors that even in this modern age of cellular communication, amateur radio remains an important part of the mix.
Reflect a positive attitude. Reach out to new club members to make sure they are included in making a meaningful contribution to the weekend, whether helping to deploy an antenna or passing out literature. When talking with guests, focus on the practical, fun, and intriguing aspects of ham radio (e.g., EMCOMM, contesting, satellite operation, meteor scatter, etc.) rather than bombarding them with jargon. You'll find excellent advice on promoting ham radio during Field Day in this OnAllBands article by Sean, KX9X, Five Tips for Successful Field Day Public Relations.