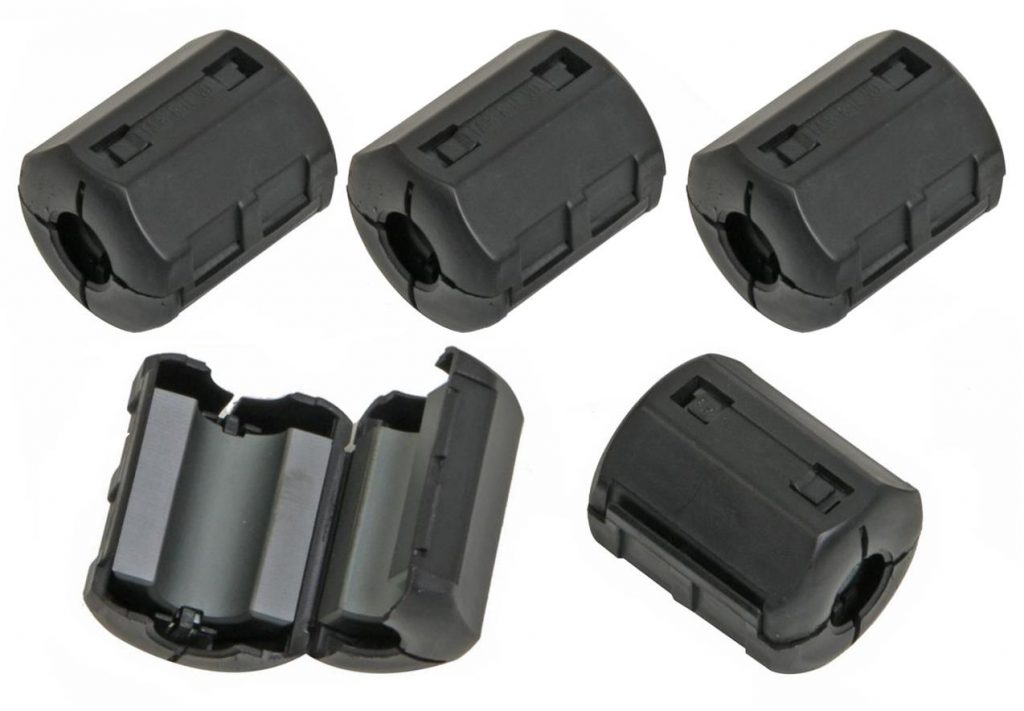 We've talked a great deal in OnAllBands about the benefits of using selected mixes of ferrite toroids and beads to block and dissipate RF currents—a technique for suppressing radio frequency interference. There's a good reason why we keep returning to this topic to further explore this often misunderstood but proven product. When properly employed, these noise-suppression devices can have a major impact on your enjoyment of the hobby, while making only a small dent in your amateur radio budget.
For an overview of what is ferrite, what is a ferrite choke, what ferrite is used for, and tips on winding, click on these links to OnAllBands articles by Ward Silver, N0AX.
Also, check out this Ham Nation episode which is entirely devoted to RFI (Radio Frequency Interference). At around six minutes, Tim Duffy, K3LR, DX Engineering's CEO, discusses RFI on coax shields, DX Engineering's color-coded ferrite products, and other topics.
What's Available from DX Engineering
DX Engineering carries kits containing snap-on beads and toroids of various sizes in different mixes of ferrite (a ceramic made from oxides of magnetic metals). Each mix of ferrite works best over a certain frequency range. Kits are designed for specific applications (AC/DC Generator, AM Broadcast, Linear Amplifier, HF Base Station) or for universal use. DX Engineering ferrite products are color-coded, taking the guesswork out of finding the piece with the appropriate mix to place on your feedlines.
For example, the DX Engineering DXE-AM-RFI kit for suppressing AM Broadcast noise includes five toroids and eight snap-on beads made from Mix 77 ferrite, which covers 100 kHz to 50 MHz. The DXE-LA3-RFI kit for linear amplifiers has one toroid and two snap-on beads of the popular Mix 31, covering 1 MHz to 300 MHz.
Snap-On Ferrite Bead Kits
The DXE-CSB31-525-5 kit features five medium-size snap-on beads (0.525 inch I.D.) that can be used to effectively decouple or choke unwanted RF and RF noise from automobile ignition systems, speaker wires, control cables, or other wires and cables suspected of absorbing or radiating RF interference. The beads close and fit over cable sizes such as RG-8, RG-213, LMR-400, and DXE-400MAX as well as many power supply, mobile computer, ignition and injector system cables, and control wires.
Benefits of the DXE-CSB31-525-5 Medium Snap-On Bead Kit include:
Reduced or eliminated ignition/injector noise in mobile applications (3 S-units improvement is not uncommon)
Ability to hear more stations
Good for mobile, home, or shack use—any RFI application
Other Snap-On Bead Ferrite Kits from DX Engineering:
Check out the details of all 29 DX Engineering Color-Coded Ferrite RF Noise Reduction Kits.
What do Hams say?
Five Stars (DXE-CSBE31-525): "Highest Quality Snap-On Ferrites: Excellent for reducing noise or stray RF coming through power, speaker, or control lines, especially in mobile installations. Prevents RF shutdown or erratic conditions of remote dual-band radio heads."
Five Stars (DXE-CSBE31-525): "Before I put these beads on my coax the noise floor was pretty high. After I put these beads on my coax the noise floor dropped considerably. Even my wife, who is not a Ham, noticed the difference."
Five Stars (CSB31-COMBO, includes four small, two medium, and two large snap-on beads, Mix 31): "I live on a smaller city lot and my antenna is somewhat close to the house. When I would key down on 40 meters my wife's hair dryer would buzz! Clamped a mix 31 ferrite on the power cord and the buzzing disappeared."