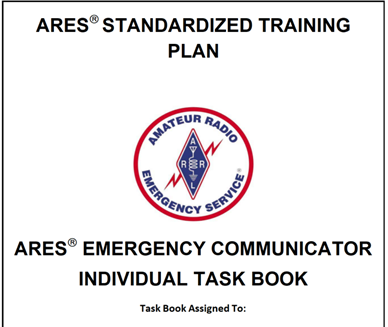 According to the ARRL…
The Task Book is a working document that enables those ARES® communicators electing to participate in the ARRL training plan to track and document their training plan elements as they are completed toward the various levels of increasing proficiency. The Task Book should contain all training plan items, completion dates and sign-offs as the ARES® communicator transitions through the three skill levels. The ARES® communicator is responsible for maintaining his/her Task Book and having it with him/her during training and assignments. The Task Book also contains sections with definitions of the communicator levels, as well as common responsibilities.
The Task Book is not a requirement by any means; completion is voluntary. Many amateur radio operators will continue to volunteer without using one. That might cause you to ask, "Why would I want to fill this out?" Meeting the Task Book qualifications for any of the three levels tells public safety agencies, hospitals, and other organizations being supported by ARES that your training and ability as an ARES member is properly aligned with the National Incident Management System (NIMS). When ARES personnel train, practice and work together, they are better prepared to provide support in an emergency or disaster in accordance with the ARES Mission Statement.
Local mentors in various subject areas can help you maintain your own Task Book. Your local ARES leadership can provide direct assistance or point you to someone who can provide what you require. There are also many good references from around the amateur radio community. ARES and other emergency groups throughout the country have great resources available. Some information will be tailored to specific needs and served agency requirements. As an example, amateur operators in California support the many wildfire efforts. Their structures and operational requirements will be different than what's needed for blizzard events in the north or hurricane support for the Atlantic and Gulf coasts.
Four levels of training allow ARES communicators to enter the program and migrate to higher levels of qualification and service:
Introductory Level: This is the temporary entry level for those who are new to amateur radio or emergency communications. The training in this level will include an introduction to ARES and will initiate any required background checks. As an Introductory Level member, you are expected to achieve Level 1 status within a year.
Level 1: This level focuses on the fundamentals of emergency communications and provides instruction on how communicators are to conduct themselves. The key requirements for achieving Level 1 are completing EC-001, any local specific ARES training, and demonstrating key skills such as programming and using your radio properly.
Level 2: This is the level necessary to participate in any operation which interacts with served agencies and emergency deployment outside your county. To qualify for this level, hams must complete the following courses: FEMA ICS-100, ICS-200, ICS-700 and ICS-800. They will also need to demonstrate the skills necessary to communicate with other counties and state levels.
Level 3: This level prepares ARES communicators to take on leadership positions such as EC, ADEC, DEC, ASEC, SEC and other designated positions in the ARES program. Hams are required to complete ARRL's EC-016, Emergency Communications for Management, along with the FEMA Professional Development Series of courses, ICS- 120, ICS-230, ICS-240, ICS-241, ICS-242, ICS-244, and ICS-288. Amateur operators are also encouraged to complete the FEMA courses ICS- 300 and ICS-400 should they be available locally.
Responsibilities:
 Individual
Reviewing and understanding Task Book requirements
Identifying desired objectives/goals
Satisfactorily demonstrating completion of tasks for each level
Assuring the evaluations are completed
Maintaining and keeping the Task Book up to date
Making the Task Book available during assignments
Evaluator
Responsible for submitting completed Task Book to Section Management
Being knowledgeable and proficient in the tasks being evaluated and approved
Meeting with communicator and evaluating past experiences, current qualifications and desired objectives/goals
Reviewing tasks with communicator
Documenting completion of tasks with Task Book sign-offs
Completing the sign-off, comments and qualifying
Section
Responsible for maintaining database for ARES participants in Training Plan
Questions? Share them in the comments below or email me at KE8FMJ@arrl.net.