The Military Auxiliary Radio System (MARS) started in November 1925 as the Army Amateur Radio System (AARS) to provide a pool of trained radio operators to augment the Signal Corps during mobilization in time of war and provide an extension of the Signal Corps' radio network to support civil authority in natural disaster relief efforts. The AARS continued to operate until the United States entered World War II on December 7, 1941. At that time, amateur radio was banned from the air and the AARS was deactivated.
In 1946, the importance of AARS was recognized as a government benefit and was reactivated. AARS was changed to Military Amateur Radio in 1948 with the creation of separate Army and Air Force programs. The acronym was coined by Captain Robert L. Gabardy, K4TJ SK, referencing Mars, the Roman god of war. The name was changed again in September of 1952 to Military Affiliate Radio System in recognition of the growing number of civilian volunteers.
The Navy-Marine MARS program was established in August 1962. The program changed names to the Military Auxiliary Radio System in December 2009. The change from affiliate to auxiliary put the program in line with the emergency communications' mission, equal in status with the Coast Guard Auxiliary and Civil Air Patrol. The United States Navy-Marine Corps program closed its operation in September 2015.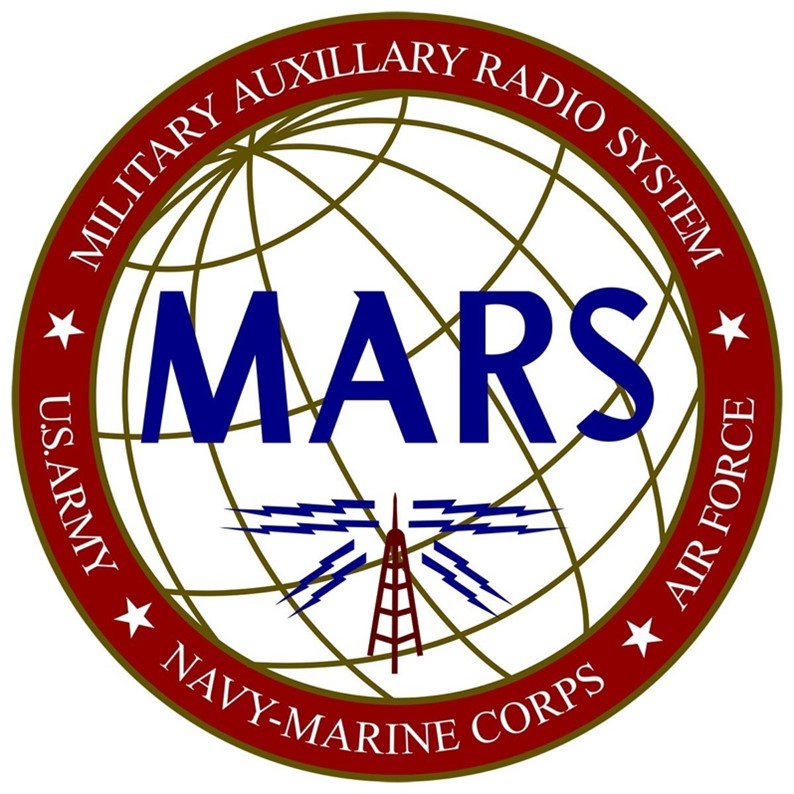 Mission
According to the U.S. Air Force Military Auxiliary Radio System (AFMARS) website:
MISSION: The United States Air Force Military Auxiliary Radio System provides contingency communications support on behalf of the men and women of the Department of Defense and other U.S. Government users in support of their important and diverse national security missions whenever, however and wherever required.
VISION: To support the Department of Defense and U.S. Government in any manner within our capability by providing first-rate, on-demand contingency communications services that rival far more complex and expensive systems' levels of service and quality, and to do so in peacetime or times of national crisis, on an around-the-clock basis, and at no expense to the U.S. taxpayer. Members will utilize their own resources and time to provide these service[s].
VALUES: We, the members, view our services as a patriotic duty. We utilize our God given talents and resources to meet this obligation. At all times we strive to provide our communications services in a manner consistent with the finest traditions of the United States Military.
According to the U.S. Army Military Auxiliary Radio System (AMARS) website:
AMARS is an elite group of dedicated citizen volunteers who support the Department of Defense (DOD) in a variety of circumstances, including complex catastrophes and cyber denied or impaired conditions. MARS is a DOD program that trains, organizes and tasks volunteer Amateur Radio operators.
AMARS citizen-volunteers demonstrate the Army's values of Loyalty, Duty, Respect, Selfless-Service, Honor, Integrity and Personal Courage, freely and generously giving their time and resources as a reflection and measure of devotion to our nation. The world has changed dramatically since the MARS structure was first developed and implemented but what has not changed is the dedication of these citizens to serve.
So you want to volunteer?
In order to apply for MARS membership, applicants must:
Be eighteen years of age or older.
Be citizens of the United States or individuals who have been lawfully admitted to the United States for permanent residence under Title 8, United States Code, Chapter 12 (8 USC Chapter 12).
Hold a valid Federal Communications Commission (FCC) amateur radio license.
Agree to operate per the regulations prescribed for participating in the Army MARS Program.
Have no prior record of being terminated for cause by another Service MARS Program (may be waived by the Chief/Army MARS upon review of mitigating information and consultation with the other Service).
Have unrestricted access to a radio system consisting of a transmitter and receiver (or transceiver), antenna, modem, computer equipment, and associated software. This system must be capable of operating on all radio frequencies between 2 and 30 MHz in accordance with NTIA Manual of Regulations technical standards with an output power of at least 100 watts in order to communicate effectively over long distances. The system shall use single side band as described in MIL – STD – 188 – 141 and the serial phase key shifting data mode described in MIL – STD – 188 – 110A. "Unrestricted access" means the individual may use the radio system on demand and as required to support MARS activities without conditions.
Be of good moral character (for example, trustworthy, honest, reliable, respects and upholds laws), have no felony convictions or be under indictment in any court for a felony. Have no associations with known terrorist organizations. Not use illicit drugs. Not have been declared mentally incompetent. Not have been discharged from the Armed Forces under other than honorable conditions.
Be willing to sign a non-disclosure agreement and submit to a background check. If information is discovered on a background check that prevents the applicant from becoming a MARS operator, the individual may provide mitigating information to the Office of the Chief, Army MARS, who will make a final determination on the application.
Be able to maintain radio and computer systems without assistance, including loading and configuring software and operating systems, configuring and operating local area networks, and recover corrupted computer systems.
Once you are a MARS member, there are ongoing requirements. You must:
Submit a monthly capabilities report.
Complete a required minimum of 72 hours per calendar year of HF radio operations on Army MARS radio nets to renew membership. This should be divided into 18 hours of HF radio operation per quarter in order to demonstrate performance standards.
Participate in at least one Army MARS national level exercise each year.
And you will be expected to perform basic radio network tasks such as:
Check into MARS radio nets.
Call MARS radio nets when requested or directed by MARS leadership.
Load and change encryption keys; maintain and update software; code and decode messages.
Transmit, receive, and relay messages efficiently and effectively using voice and MIL – STD data modes.
Gather information locally and from amateur radio stations.
Originate, relay, and/or distribute messages to authorized recipients such as Army MARS members, Army MARS leadership, DOD, and authorized civil authority personnel.
MARS Today
MARS has a long history of providing worldwide auxiliary emergency communications during times of need. Members work by the slogans "Proudly Serving Those Who Serve" and "Proud, Professional, and Ready." The combined two-service MARS programs, Army and Air Force, have a volunteer force of over 3,000 dedicated and skilled amateur radio operators. The main benefit of MARS membership is enjoying the amateur radio hobby through a diverse, constantly changing MARS service to the nation when access to traditional forms of communication may no longer be available.
Questions? Share them in the comments below or email me at KE8FMJ@arrl.net.