The team at DX Engineering is always looking for ways to help hams get the radios, antennas, and accessories they need as easily as possible. After all, they're active operators like you, so they understand that quicker service equals more time on the air and less time waiting. With this in mind, DX Engineering is pleased to announce major improvements designed to make ordering even more efficient.

Smartphone-Friendly Website Upgrades
For the many amateurs who depend on DXEngineering.com to search for products and place orders, DX Engineering has enhanced the website to make it simpler to use when accessed on a smartphone or other smart device. Instead of viewing the desktop/laptop version condensed onto a smaller screen, the smartphone-optimized site now allows users to choose products and receive help from four easy-to-use drop-down menus—no zooming or pinching required:
Shop by Department (from Amplifiers to Transceivers)
Shop by Brand (from AlexLoop to Yaesu)
Check Your Order Status
Help Center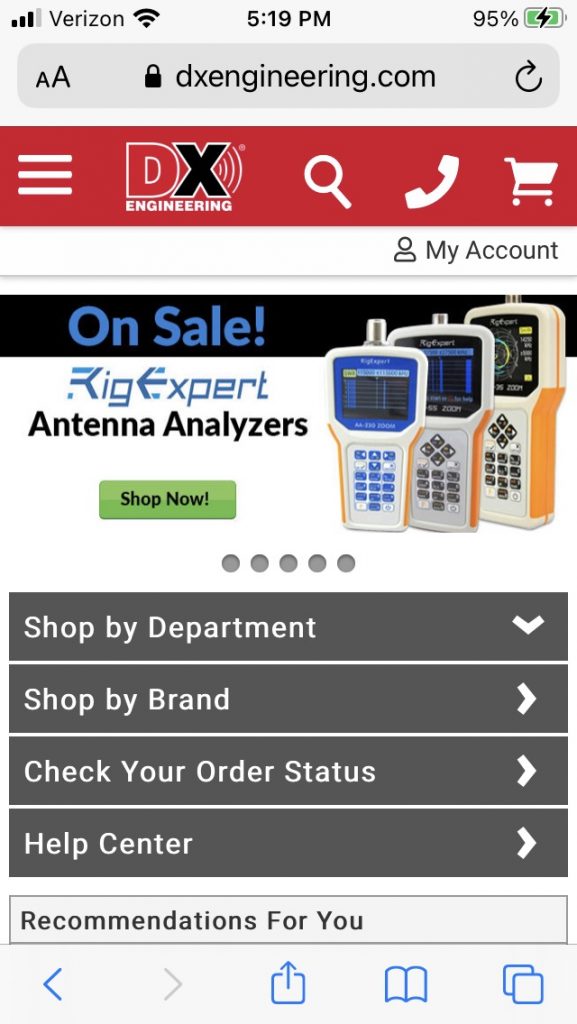 Large "Search," "Phone," and "Shopping Cart" icons make it simple to find a product, call for assistance, and check your order. Other popular features of the DXEngineering.com desktop version are now optimized for smart device use, including the Mast Load Estimator and Custom Cable Builder. A menu on the top left of the screen provides quick links to Hot Deals, Gift Card Ordering, Tech Info, and more.
"We listen to our customers and work hard to make every interaction with us exceptional," said Tim Duffy, K3LR, DX Engineering CEO. "The new smart device-friendly website has taken many hours of research, development, and testing to ensure that it meets the needs of customers who asked for an easier way to order amateur radio products no matter where they were located, at home or out of the shack. We believe our fellow operators are really going to benefit from this significant improvement."
Among other upgrades, DXEngineering.com now enables shoppers to easily search for in-stock items and seamlessly add multiple items to their carts.
More Hams to Serve You
For those who prefer ordering directly by phone from a sales/technical support representative, DX Engineering has added more active operators to its team—already recognized as the most responsive and knowledgeable in the industry. That means it's faster than ever to get in touch with someone who can answer your questions, help you find the correct equipment, and guide you through the sales process. Learn more about DX Engineering's team below: