What do you do if you want to connect a dedicated receive antenna (e.g., passive loop, Beverage, pennant, flag, or receive array ) to your HF transceiver, but your rig doesn't come with a separate receive antenna input? There used to be two solutions to this dilemma: purchase a special transceiver-specific module (many of which are no longer available) or shell out serious cash for a high-end HF transceiver that had the right input but still offered clunky switching between the default transmit and connected receive antenna.
Recognizing that neither option was particularly appealing, the Hams at DX Engineering went to the drawing board several years back to find a more practical and affordable answer. The result was the innovative RTR-1A Modular Receive Antenna Interface for Transceivers.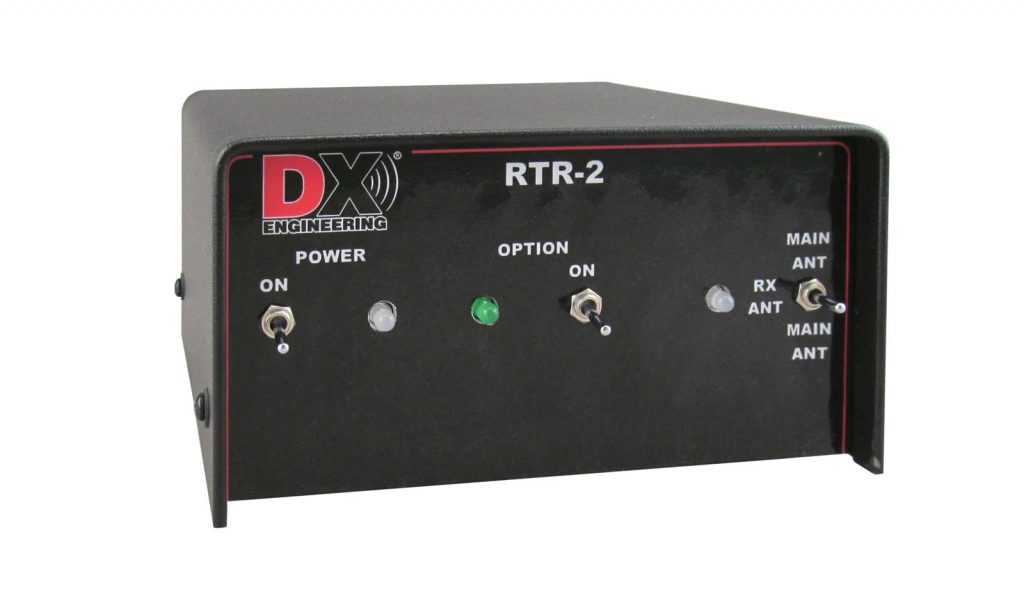 Now available in the upgraded RTR-2 version, this device allows operators to easily and safely take advantage of using a separate, high-performance receive antenna that exceeds what you can expect from your transceiver's receive capabilities. That means better results on the HF low bands, including improved DXing on 160 and 80 meters; reduced receive noise; the ability to pull out weaker signals on the crowded HF bands; and overall greater enjoyment of your time on the air.  
In addition to allowing Hams to connect an external receiving antenna to a transceiver lacking external antenna ports, this receive-transmit relay unit enables automatic or manually switching of the RF output connector on any HF transceiver between a receiving antenna system and a standard transmitting antenna. A simple front-panel mode switch lets you listen to either antenna system. Users also benefit from:
RF overload protection and improved preamplification, which incorporates safeguards and switching flexibility
Keyed, bias tee voltage on the receive antenna input for all types of powered receive antennas, including DX Engineering's Active Vertical Receive Antenna and Active Magnetic Loop
Failsafe relay system that protects the unit, the plug-in modules, and the receive antenna equipment from transceiver RF output damage
Fast-acting relay (about 4 ms) that diverts the transceiver output (up to 200 watts CW) fast enough for QSK, full break-in CW, and prevention of hot switching and timing errors that are common on other transmit/receive relays, especially dangerous RF sense circuits
Ability to interface antennas to older phasing or noise cancelling systems
Receiver protection for close-spaced antennas without performance degradation of diode circuits
The RTR-2 also includes three internal slots for DX Engineering performance-enhancing and protection accessories:
For installation instructions, diagrams, receiving antenna spacing guidelines, typical configurations, and more, check out the DX Engineering RTR-2 owner's manual here.
What do Hams think?
"The ability to switch from my loop to the transmit antenna is a nice feature to compare signals. I have not seen any signal loss in either TX or RX. Overall, this is a solid solution for a Ham who needs a separate RX antenna but their rig doesn't have a separate RX antenna connector."
"Recently I purchased the DXE-RTR-2 Receive Antenna Interface along with the Receiver Guard and Preamplifier plug-in boards. After some assistance from the staff at DXE, my interface is performing very well on 160 through 30 meters, my bands of interest. The quality of the interface and plug-ins is excellent and, equally important, is the high quality of the customer service. I would rate these products A+++ and recommend them to other Hams who are interested in operating on the low bands."
"I have just set up this unit to use with my SunSDR2 QRP and Yaesu FT-891 radios. If you want to use a low-noise RX antenna with your single-antenna-port radio, then you will be very pleased. I use it with my low-noise Beverage; it is very well made."