Question: What's an easy and inexpensive way of improving my mobile radio receiver performance?
Most mobile installations, for safety reasons, position the radio out of the way, under the dashboard, on the passenger side of the vehicle, or even under the seat! As result, the mobile radio speaker is often facing down, away, up at the dashboard, or into the carpet.
Some radios, like those from Yaesu that includes the FTM-3100R and the FTM-3200DR, include a "front facing" speaker. This is an improvement, but it might be facing your passenger's knees rather than your ears.
So, what do you do?
Answer: Use an external speaker, and mount it closer to your ears!
There are many options available, but DX Engineering has a very economical speaker that works great: the DXE-281. This will allow you to position the speaker closer to your ears and reduce the interference from road and other noise.
How and where do you mount it? There are as many ways as there are different vehicle styles and configurations. You may have to use your imagination. In this writer's case, there is an unused sunglasses holder built into the headliner of the vehicle.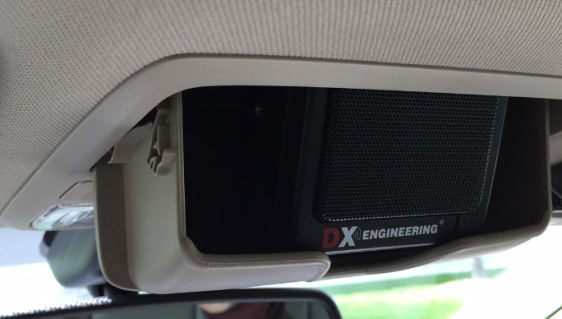 This provided a perfect place to position the speaker much closer to the driver's ear, and it required no drilling or other modification of the vehicle. This is but one example of a simple, inexpensive, but effective mobile installation upgrade, and it cost less than $20!