The convenience of having a ham station at home is tough to beat. Being able to work stations at any time of day or night, without worrying about the cold rain and snow, is mighty nice. But as appealing as home operating is, there's a great allure in operating away from home. Setting up a portable station is a way many hams get a sense of adventure; for others, it's the only way they can get on the air.
For years, my motto in ham radio has been, "Never let your living conditions keep you off the air." When I moved to Connecticut to work for the ARRL, I lived in a small Faraday cage of an apartment and had no hope of getting an antenna in the air. I started operating portable out of necessity, and quickly found a subset of ham radio dedicated to transmitting away from my home QTH.
Why Operate Portable?
Most hams experience portable operating for the first time through the ARRL's annual Field Day event. There is so much more to portable operating than Field Day, however. Operating away from home offers several benefits:
Urban noise sources are growing more and more common. If you have a high noise level at your home that makes ham radio difficult, moving your station to a portable site can lower that noise, which increases your enjoyment of radio.
If you live in an apartment, HOA, or other housing where ham radio is restricted, operating elsewhere can keep you on the air.
It gives you the chance to be the sought-after station. It's fairly easy to set up a station in a rare state or county for a State QSO party or for any of the "On The Air" operating programs such as Parks On The Air, Summits On The Air, or US Islands.
If you're interested in EmComm, operating portable is a fun way to keep your skills sharp and gear in good shape in case you need to help during a communications emergency.
Defining Portable
When talking about "portable operating," many hams default to thinking it involves hiking or backpacking to a remote location. However, that's not always the case. Portable applies to any operation that doesn't use your standard ham radio infrastructure at home. That leaves a lot of room for interpretation. Setting up a station in your back yard with a different antenna and power source is a portable operation, as is every major DXpedition. Whether you're using an HT in a local park or transmitting during a weekend in your mobile home, portable operating is a much broader style than first meets the eye.
The Basic Needs
All forms of portable operating need three basic components to function: a radio, a power source, and an antenna. A backpacker on a multi-day hike in the back country will have different needs than a team activating a rare state for a domestic contest like ARRL Sweepstakes. What equipment to bring all depends on one factor: How much are you willing to carry?
The First Step: Planning
Every successful portable operation begins with a detailed analysis of what your goals are:
Where are you going?
What are your weight and transportation restrictions?
Will you be on the air for hours, days, or longer?
Do you have access to electricity or do you need to bring your own power?
Will you need to recharge your power source?
Who are you trying to contact?
What bands and modes do you want to operate?
Once you get the answers to these questions nailed down, you can start planning your operation.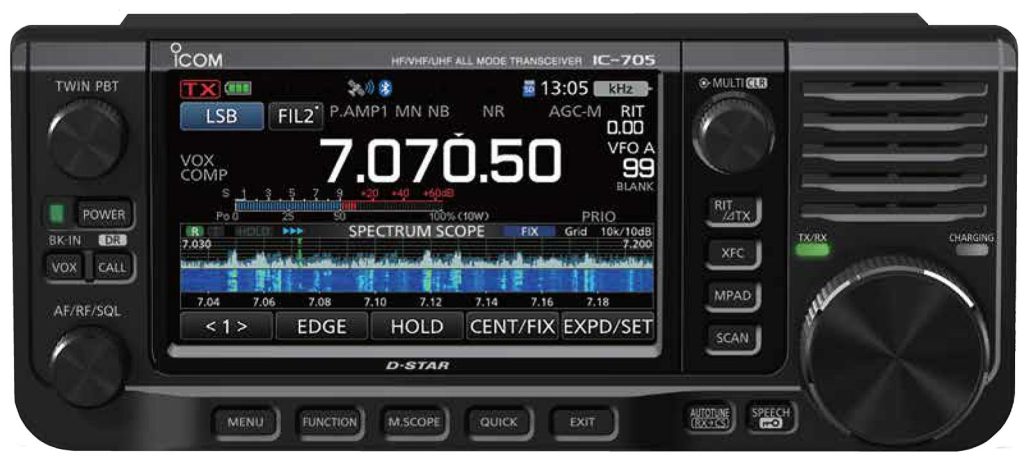 Backpackers are naturally going to be very concerned with weight. QRP radios may be preferred here, along with simple wire antennas and LiFePo batteries. Numerous radios exist to fit the bill, like the Icom IC-705, Yaesu FT-818, and the Elecraft KX2 or KX3. There are even some extremely lightweight transceiver kits, designed by QRP clubs, that weigh under a pound and have extremely low current draw, which saves your batteries.
Wire antennas are a great solution for the weight-conscious portable ham operator. From end-fed half waves to multi-band dipoles, thin-gauge wire antennas can weigh next to nothing and put out a very respectable signal. It's awfully difficult to beat a resonant, half-wave dipole for a lightweight, low-cost antenna. Resonant antennas also don't require an antenna tuner, which adds weight to your pack.
Your power source has a lot of variables. If your portable operation has access to commercial power, take it! If you're going on an extended trip off grid, you'll likely need to recharge batteries. Explore your battery and solar panel options. For car camping, get the largest amp-hour battery you are comfortable carrying and research solar power for charging.
There are two major types of batteries: Sealed Lead Acid (SLA) and Lithium Iron Phosphate (LiFePo4). SLAs are less expensive but weigh a lot. LiFePo4s weigh half as much as SLAs but are much more expensive. Both types of batteries require a specific type of charger; you can't use a charger for an SLA on a LiFePo4 battery. There's no right answer here; choose the battery that fits your needs, capabilities, and budget. Be sure to check online for ham radio solar power options as well.
Portable Operating Activities
Once you've decided to go portable, you can pursue radio in myriad ways. The first thing you can do is… well, anything you would do at home. If you're a DXer, chase DX. If you like checking into your favorite net, no reason you can't do that from another location.
There are a lot of activities geared toward being a portable operator. Many "On The Air" programs are geared toward operating at a different location, such as Parks On the Air, Summits On the Air, and US Islands. There's even a program for operating from castles and lighthouses.
For the more competitive crowd, take your gear elsewhere during an on-air contest. State QSO parties are lots of fun and generally less intense than some of the major competitions from the ARRL or CQ. Rent a cabin in a rare county, set up your station, and have fun!
For the VHF/UHF crowd, there are always going to be rare grid squares to activate on 6 meters, 2 meters, and satellites. Portable stations on the VHF+ bands generally require smaller antennas; the FM satellites can often be worked using just a dual-band HT and a dual-band handheld Yagi antenna, offering some great radio time with a very compact station.
Operating portable gives you new ways to enjoy radio with some superb scenery and (in some cases) less noise than home. If you've never tried operating portable, take a small step and try it; you may discover an entirely new way to enjoy radio.