For many Hams, there's no greater thrill than making contact with an astronaut aboard the International Space Station (ISS). This is true whether you're a seven-year-old STEM student obsessed with building LEGO rockets or a 77-year-old amateur operator who can recite every original Star Trek episode verbatim. Personally, I envision my own transmission to the ISS someday beginning, "Ground control to Major Tom…" while Gustav Holst's "Jupiter" booms in the background. I suspect I'm not alone in having this contact on my bucket list (your choice of music may vary).
Students worldwide realize the dream of speaking directly to an ISS astronaut (stationed about 240 miles above the Earth) through participation in the Amateur Radio on the International Space Station (ARISS) program. Since its formation in 1996, ARISS has inspired young science enthusiasts by arranging opportunities for classrooms and community groups to communicate with the ISS in-orbit crew. This is made possible through sponsorship by Amateur Radio organizations and space agencies in the U.S., Canada, Europe, Japan, and Russia. Read more about the program here. And watch this video of students from McConnell Middle School in Loganville, Georgia, speaking to astronaut Chris Cassidy, KF5KDR, on the ISS on October 7.
Fun fact: The ISS cost a whopping $100 billion to build, making it the most expensive single object on Earth, and easily the most expensive Ham Radio shack. (Feel free to use this figure when justifying the next amplifier purchase for your station.) Find more details on the ISS here.
Slow Scan TV (SSTV)
Currently, the ISS is manned by the Expedition 63 crew: NASA Commander Cassidy, KF5KDR, and Roscosmos Flight Engineers Anatoly Ivanishin and Ivan Vagner. You can find upcoming contact opportunities—or chances to listen in on an educational contact in real-time—on the ARISS website.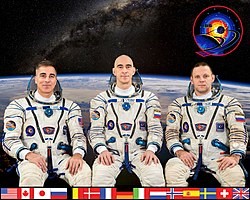 While the dream of having a rag-chew or even a fleeting QSO with an ISS astronaut may be as remote as the Crab Nebula (6,500 light years away), there are still opportunities to be part of the ISS's contribution to Ham Radio, including downloading Slow Scan TV (SSTV) images. These are periodically transmitted by the ISS Russian crew using a Kenwood D710 mobile dual-band transceiver running up to 25W output from the Russian Service Module. The best part: SSTV—a way of sending video over a voice bandwidth—is open to all Hams, including those with only Technician license privileges.
"All you need is an audio interface between your radio and your computer and software to decode the images. Windows users can use MMSSTV, while Mac users can use the SSTV app. Apps are also available for mobile phones and tablets," wrote OnAllBands blogger Sean, KX9X, in his excellent post, "Hams in Space: Contacting the International Space Station."
For more details on capturing SSTV images from the ISS, read this article from AMSAT-UK. AMSAT, the Radio Amateur Satellite Corporation, provides additional information here.
Most recently, SSTV images, with the theme of "satellites," were transmitted by the ISS from October 4-8, 2020. Ken Dorsey, KA8OAD, DX Engineering customer service/technical support specialist, received these SSTV images commemorating the launch of Sputnik on October 4, 1957. He used a 2M rig, 2M vertical antenna, and MMSSTV software.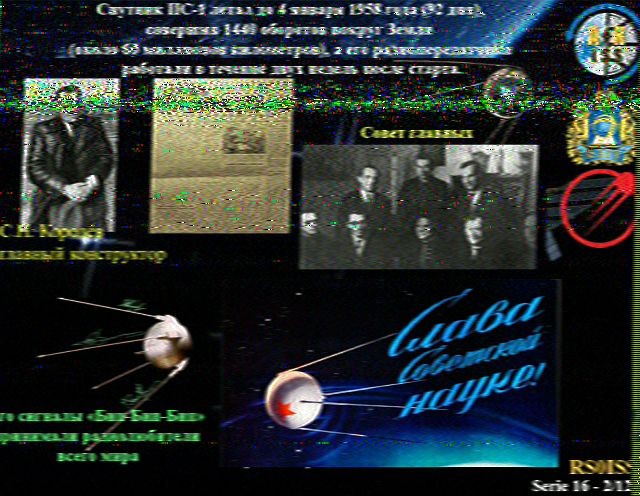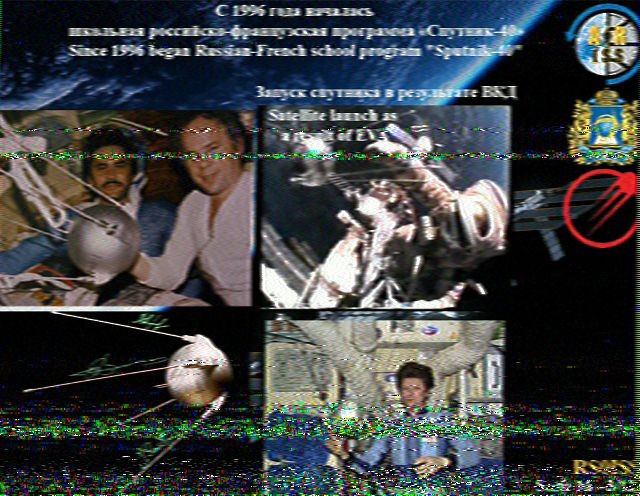 Ken received this certificate confirming his contact:
Click here for a gallery of images from the recent SSTV event. Get updates on SSTV events at the ARISS website. And here's an OnAllBands post on QSL cards from space. For articles and videos about operating satellites, go to OnAllBands and enter "satellite."
Interested in contacting the International Space Station or operating Amateur Radio satellites? Reach out to DX Engineering for expert assistance and gear, including handheld transceivers, mobile transceivers, base station satellite-friendly transceivers, and handheld satellite antennas.