We begin today's blog post with a riddle:
What's better than one new transceiver from Yaesu?
Any amateur operator who has been paying attention to the favorable buzz in the ham radio community should have a quick answer to this one:
Well, two new transceivers from Yaesu, of course.
The Japan-headquartered amateur radio giant has added the FT5DR dual-band digital handheld and the FTM-6000R dual-band mobile transceiver to its already accomplished stable of high-performance rigs featuring the value, ruggedness, reliability, ease of use, array of ham-friendly functions, and breakthrough technology that are hallmarks of Yaesu's impressive lineup. Both rigs are in stock and ready for purchase at DXEngineering.com.
Let's have a look at why you should give serious consideration to finding a prime space for both of these rigs in your shack, vehicle, Go-Kit, or backpack.
The new full-featured FT5DR dual-band HT delivers all of the functionality and benefits of its sister model (FT3DR) plus some significant upgrades that make it stand out from its worthy predecessor:
Lightweight, ergonomically designed, and compact (2.44″ W x 3.94″ H x 1.34″ D), the FT5DR provides a reliable 5 watts of RF power output and an upgraded and noticeably louder 1 watt of audio power that has been tuned for quality audio.
The FT5DR's rugged and shock-resistant construction includes rubber protection on the bottom corners of the main body—added insurance for accidental fumbles in and out of the shack.
It's upgraded waterproof rating of IPX7 means that the radio can be submerged in water at a depth of one meter for 30 minutes—a nice perk for EMCOMM specialists, storm spotters, and anyone who operates in the elements or has set up portable ops by a body of water.
The comfortable size and form of the full-flat back body provides excellent grasp.
A high-resolution display highlights the frequency of the operational band. The color of the operating band frequency can be selected from white, blue, or red. Three touch panel keys and seven operation keys below the display offer intuitive operability.
The new TOUCH & GO operation allows users to immediately start communications on an often-used frequency. By pressing and holding the "PMG" key, the frequency of the current display is registered into Primary Memory Group. After registration, pressing "PMG" displays the receive status of the registered frequencies as bars on a graph. By simply touching the bar, the user can instantly recall that frequency.
Other features include:
Real Dual Band Operations (V+V, U+U, V+U, U+V) are available with two independent receivers. Large individual LED indicators for A band and B band present the status and communication modes (C4FM or Analog) of each band instantly. The new FT5DR supports simultaneous C4FM digital (C4FM/C4FM standby).
Band Scope function monitors in real time up to 79 displayed channels that are centered around the current VFO frequency. The center frequency can be tuned by the dial knob or by touching and moving the frequency of a displayed channel bar.
C4FM digital communication functions include Automatic Mode Select, Digital Group ID operation, and Smart Navigation.
The FT5DR supports the WiRES-X Portable Digital Node Function. A portable digital node can be easily set up with the new FT5DR, an internet-connected laptop PC, and the optional SCU-39 Cable Kit.
Even more advanced features of the FT5DR:
Wireless hands-free operation using the optional Bluetooth® headset (SSM-BT10)
VOX function
Memory Auto Grouping (MAG)
VFO Band Skip function
Wide-range RX coverage with continuous reception from 0.5–999.99MHz (A Band) and 108–580MHz (B Band)
Built-in high-sensitivity 66 channel GPS receiver
1200/9600bps APRS Data modem
2,200mAh High-Capacity Li-ion Battery Pack (SBR-14LI) is standard
Voice Recording function
Simultaneous AM/FM broadcast reception while monitoring two frequencies
Micro SD Card Slot
An included Quick-Release Holster (SHB-26) allows single-touch attaching and detaching of the transceiver while wearing the holster on a belt.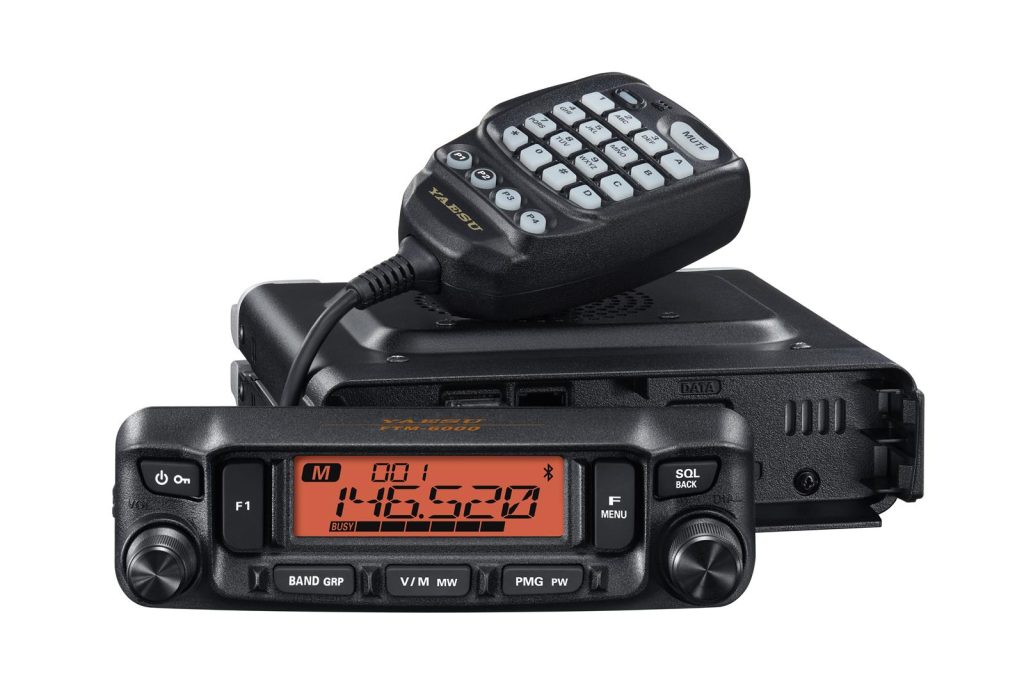 If you're in the market for a basic mobile rig that doesn't skimp on many of the latest functions that amateur operators demand in their transceivers, get your hands on the Yaesu FTM-6000R. Here are just some of what you'll find packed into this dual-band radio, which can be made Bluetooth-capable with the Yaesu BU-4 plug-in module:
Brand-new user-intuitive operating interface (E2O-III). E2O stands for "Easy to Operate," making it a great choice for both new and experienced hams. The interface has three modes for users to assign functions and settings, including a mode that allows operators to recall the most frequently used functions with the touch of a single key.
50 watts of stable and reliable transmit performance
Heavy-duty heat sink equipped with Funnel Air-Convection Conductor
Speaker delivers 3 watts of clear and crisp receive audio specifically tuned for radio communication
1,100 memory channels with alphanumeric tags
Detachable front panel that can be mounted at the most desirable operating position
Supports optional Bluetooth wireless operation using the SSM-BT10 Headset or a commercially available Bluetooth headset. Installation of the Yaesu BU-4 Bluetooth Adapter Unit is required. The BU-4 model replaces and is fully compatible with the BU-2 adapter.
Scanning functions: VFO Scan, Memory Scan, Primary Memory Group Scan, Programmable Memory Scan
Up to five channels can be registered in the PMG. Often-used PMG frequencies can be shown in an easy-to-distinguish display just by pressing the "PMG" key.
The MAG (Memory Auto Grouping) function automatically groups memory channels so they may be easily recalled by band.
New Band Skip function permits unused bands to be skipped while the registry memory channels can be called, even if the frequency is in the skipped band.
FTM-6000R supplied accessories:
Mounting Bracket
Bracket for Control-Head
Control Cable (10 ft.)
USB Cable
DC Power Cable
Operating Manual
Visit DXEngineering.com for more details and to order the Yaesu FTM-6000R mobile and Yaesu FT5DR handheld transceivers.