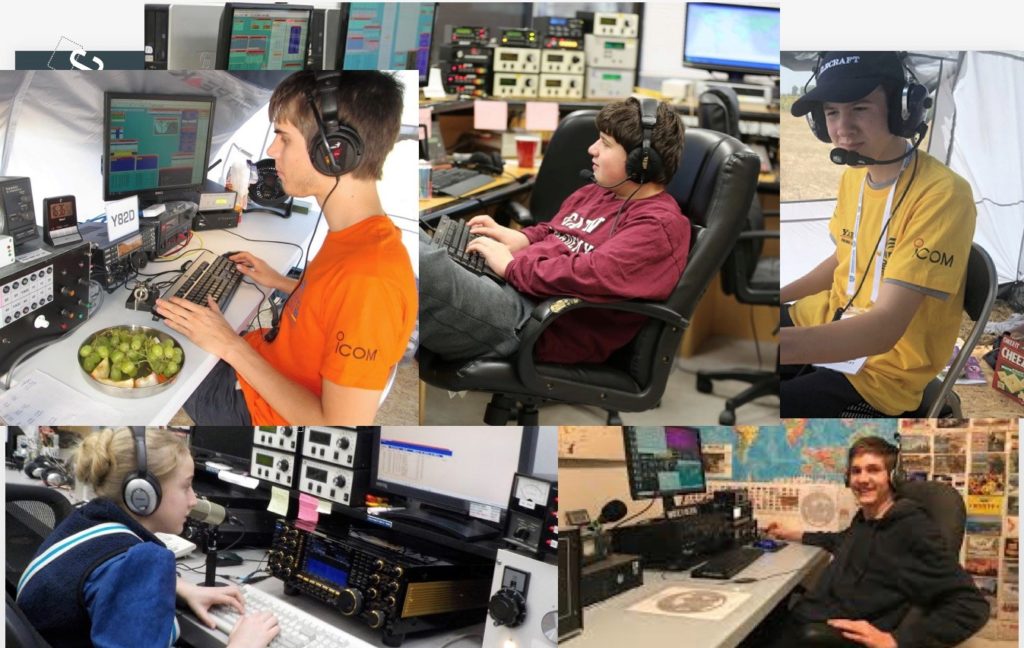 The future of Ham Radio is coming to DX Engineering!
Six of the world's top young contesters, Team Exuberance, will be making a stop at DX Engineering's headquarters near Akron, Ohio on Friday, March 29, before heading to superstation K3LR to compete in the CQ WW WPX contest March 30-31.
Tim Duffy, K3LR, DX Engineering Chief  Operating Officer, will be hosting the team, all under the age of 21, as they get the opportunity to use top-level equipment to challenge more experienced teams in the annual CQ WPX phone contest.
The international team is made up of Violetta, KM4ATT; Marty, NN1C (ex-KC1CWF); Bryant, KG5HVO; David, VE7DZO; Tomi, HA8RT; and Levi, K6JO.
The idea to field an international team of young operators started with Violetta and David, who participated in the 2018 Dave Kalter Memorial Youth DX Adventure to Curacao. Violetta shared her idea with Tim Duffy, who was thrilled about giving young Amateur Radio enthusiasts the chance to contest at the highest possible level.
"My hope is that both large and small station owners will reach out to youth with operating opportunities like this," Duffy said. "Such encouragement and mentoring has been part of Ham Radio from the beginning. The effort the Ham Radio community puts forth today will make a huge difference for the next generation of EMCOMM specialists, contesters, you name it. It's very important that we step up and make this happen."
Duffy further noted that contests such as these provide young people with a host of benefits that will stay with them throughout their lives, such as the ability to work as a team and the skills to interact with people of various backgrounds.
"Most importantly, we want everyone to have fun," he continued. "After all, that's why we love this hobby. We wouldn't do it otherwise. They are all top-notch operators. I have no doubt they will represent the K3LR callsign with pride."
Duffy emphasized that while he will be available to coach Team Exuberance, all contacts will be made by the six operators. The team will man four stations during the 48-hour contest.
DX Engineering—a designer, manufacturer and provider of Amateur Radio equipment worldwide—will be treating Team Exuberance and their parents to lunch during their visit. Each team member will be given the opportunity to talk about how they became interested in the hobby and their plans for the future.
"At DX Engineering, we believe in giving back to the hobby that has given us so much over our lives," Duffy said. "This idea is ingrained in how we operate as a company."