When troubleshooting less-than-desired Amateur Radio station performance, sometimes it's best to think small. You'll have plenty of opportunity to look at the "big picture" later (antennas, transceivers, etc.), but it's often the little things that can cause a big disappointment, or make a major difference.
Take bulkhead coaxial cable connectors, for example. While there's nothing technically wrong with economical nickel-plated connectors, the old adage holds true: You get what you pay for. And when it comes to choosing a connector, silver is, well, the "gold standard," possessing the highest conductivity of ordinary metals.
Additionally, silver is the only metal whose oxide conducts even better than the bright metal. With nickel, tin, and other metal connectors, oxidation will result in a loss of conductivity and increased resistance. In short, RF loves silver oxide.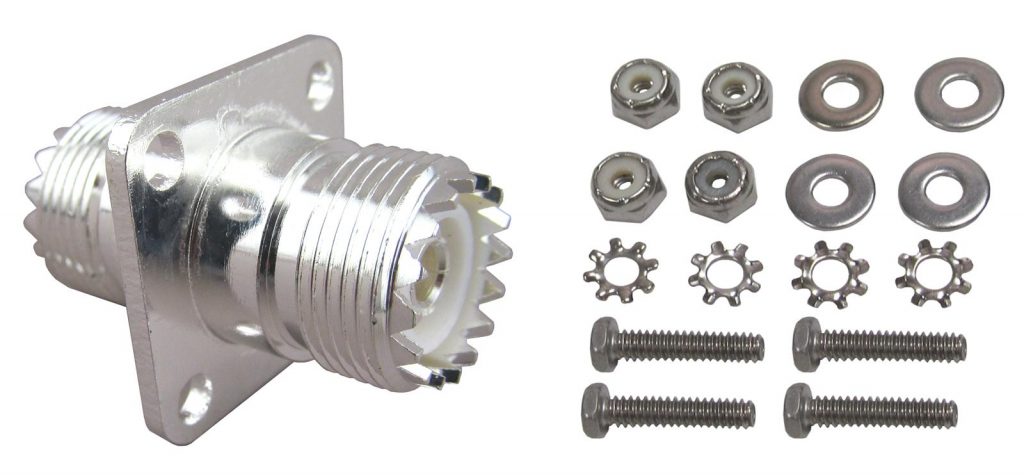 DX Engineering's Silver-Plated Female SecureMount Bulkhead Connector Kit features a superior-quality silver-plated connector that provides positive, permanently secure connections for coaxial cable. The connector is an ideal fit for the DX Engineering Radial Plate. Also, when using the Radial Plate, tower leg bBrackets, or SO-239 Mounting Bracket, the SecureMount Bulkhead Connector provides a dependable way to bond your coax to ground.
Unlike many common nickel-plated bulkhead connectors, the silver-plated SecureMount bulkhead connectors have no air space within their midpoint. This area of solid and superior PTFE dielectric between the center conductor and body maintains constant impedance and ultimate performance. Variances in impedance can result in high SWR and losses.
The kit includes:
One two-sided female connector with silver-plated brass body and silver contact
SecureMount flange that prevents the bulkhead connector from working loose like units with concentric nuts and washers
DXE-FSM-HWK Hardware Kit, including four 4-40 x ½ inch hex head bolts, four flat washers, four star washers, and four nylon locking nuts designed to keep the flange-mount coaxial connector in place
What do Hams think?
"This connector is an exact fit for the DX Engineering Radial Plate. Most other connectors on the market are not a proper fit."