Many of us have fond memories of our first rigs. My first rig was a TenTec Argonaut 515. My decision to purchase this particular rig was actually greatly influenced by events well before I got my license. As a teenager, I was interested in Amateur Radio and was also active in Boy Scouting, so the idea of a radio that I could take camping had great appeal. While reading through Amateur Radio magazines of the day, I saw an ad for the TenTec Powermite. The Powermite was a low power (QRP) solid-state rig that a battery could easily power. Unfortunately, things didn't work out according to my plans. First, I did not get my Amateur Radio license at that time, and at $54.95 ($380 in 2021 dollars), the price was a little high for my paperboy salary!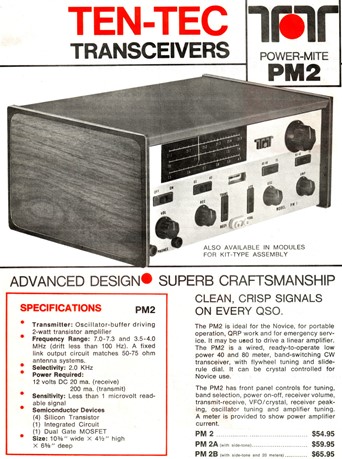 Fast forward about ten years. Done with college and married, my wife Linda told me about a Ham Radio class available at a local club. Linda and I took the class and, in the summer of 1981, became KA8ODP and KA8NRC. I was now in the market for a rig and my thoughts went back to that Powermite. Unfortunately, the Powermite was long out of production. I got some more recent literature from TenTec which contained their current offering, the Argonaut 509.
When it finally came time to buy my rig, the current Argonaut model was the 515. So my decision was made. Later that fall at the Cleveland Hamfest, I purchased a brand-new TenTec Argonaut 515 from AES (Amateur Electronics Supply). The price was $369 ($1,266 in 2021 dollars).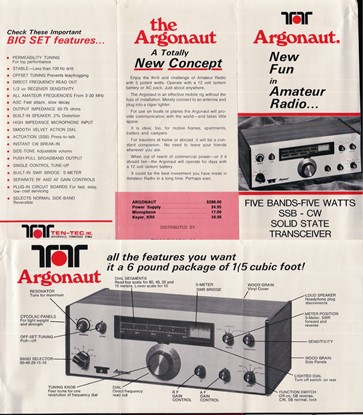 The Argonaut 515 covered 80 through 10 meters on both CW and SSB. As was typical of rigs at the time, it was described as 5 "watts in" or what would now be described as 2 "watts out." The 515 had an improved receiver over earlier versions of the Argonaut and was considered an excellent performer at the time. It was 100% solid state, including the amplifier output. This was unlike many rigs of the day that still used tubes, at least for the finals. Like the tube radio, though, it was necessary to "tweak" the tuning when you changed bands (not for transmit but for receive). This was done with the "Resonate" knob. The 515 was the first of the Argonaut series to sport a black finish instead of TenTec's typical eggshell-color and faux wood grain end panels.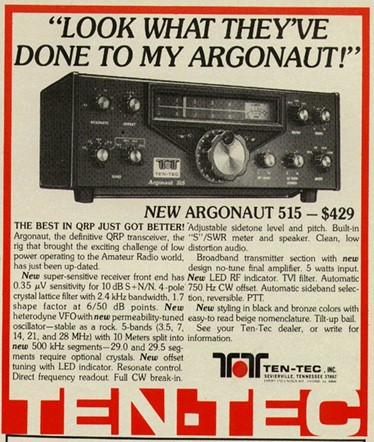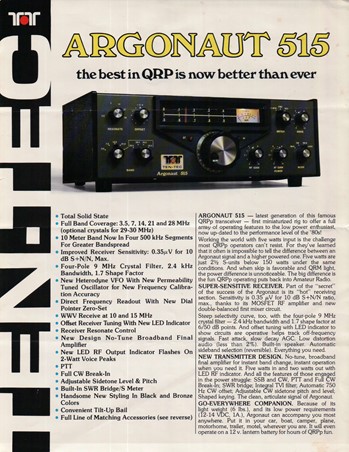 We lived in a two-story duplex at the time, and there was no extra room for a Ham Radio shack. I would need to store my radio when I was not using it, then take it out and put it on the desk when I was ready to operate. This situation led me to my first "go-kit," although I did not know anything about go-kits at the time. With my father's woodworking assistance, I put together a shack in an open front and back wood case with a carrying handle on top. I included extra shelves to accommodate a power supply, SWR/power meter, and manual antenna tuner. We would now call it a rapid deployment go-kit; simply set it on the desk, plug the power supply into the wall socket, attach the coax from the antenna to the back of the antenna tuner, and begin operating. The antenna was a folded dipole made from 300-ohm twin-lead that stretched from one corner of the roof of the duplex to a 15-foot PVC pipe in the backyard. Because I had a Technician class license at the time, my HF operations were limited to transmitting in Novice CW portions of the band. Occasionally I would do some listening in phone portions of the other bands, especially 20 meters, dreaming of future operating privileges to come. I worked my first WAS with this arrangement. A few of the kit items have been switched out over the years as I added a matching CW filter and power supply.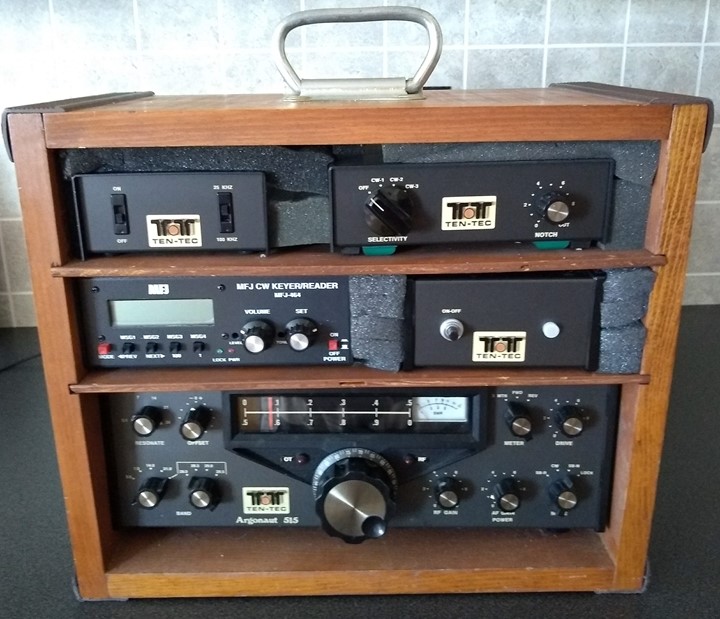 Although I have had many rigs over my Ham career, I still have my original Argonaut 515. I take it out for a spin every once in a while. It still works well (the dial cord has been replaced, and the replacement is starting to show some slack). The audio sounds great, but it can't handle close-in interfering stations like the DSP in newer rigs. I have even run FT8 and FT4 with it (you don't need CAT to run these if you are willing to tune the radio manually). As it turns 40 years old later this year, it is in great shape, still a lot of fun, and I plan to keep it through the rest of my Ham Radio years.
Like many dreams, my old desire for the Powermite did not go away. Over the years, it became a minor obsession. I eventually acquired a used Powermite. I also began to purchase many used earlier Argonauts, like the 505 and 509 models. My very young son and daughter could recognize that familiar TenTec eggshell color in the booths of Hamfests we were visiting and would come back excited to tell me news of their discovery of an Argonaut for sale.
An enduring aspect of purchasing the QRP Argonaut as my first rig has been a lifelong QRP operation pursuit. Many rigs and many QSOs later (>93,000), my QRP DXCC total is currently 326 Mixed, 315 CW, 302 SSB and 217 FT8/FT4. I have Worked All States QRP on 11 bands (160-6M).
For more on TenTec Argonauts, read my articles "QRP Community: The Odyssey of the Argonauts" and "The Continued Odyssey of the Argonauts" and visit www.k8zt.com/tentec. For more information on QRP operations, read "The Five-Watt QRP Movement in the US, 1968-1981" by Adrian Weiss, W0RSP, "QRP Amateur Radio", and visit www.k8zt.com/qrp. For information on go-kits, read "Amateur Radio "Grab & Go"Boxes" and "KX3 Rapid Deploy Tackle Box Go Kit".